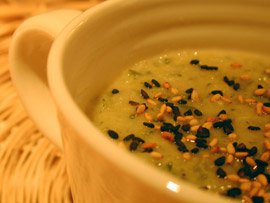 [Sesame Zucchini Soup]
When the idea of lacing zucchini soup with tahini (the sesame paste used in hummus) came to me out of the blue a few days ago, I thought it very appealing and stashed it in the "to try" file of my mind – which I'd need a personal assistant to sort through, it's such a mess.
Then Tuesday night, I came home ever-so-slightly tipsy from the excellent bottle of white wine my coworkers and I shared to celebrate a birthday (yup, tough working environment), and Maxence was out playing poker with his friends (and I am not making this up). I had everything on hand for my sesame zucchini soup, so I went right ahead and made it, humming along to Air's last album.
I served myself a few ladles of soup in the fresh and beautiful mug I bought in London, and sipped on it, sitting on one of our bar stools, leafing through my cool British cooking magazine, Delicious. I enjoyed this softly green and nicely fragrant soup very much : the hint of sesame gives it the kick that vegetable soups sometimes lack. I can't wait to have the leftovers.
Soupe de Courgette au Sésame
– 1 kg zucchini (about 5 medium)
– one medium potato
– an onion
– a shallot
– a garlic clove (the best being Ludo's pink garlic from Lautrec)
– two cups of chicken stock (or two cups of water and half a bouillon cube)
– two heaping tablespoons of tahini (sesame paste – other nut butters would work beautifully too)
– a tbsp of sesame seeds (mix black and blond for a pretty effect)
– olive oil
– salt, pepper, ground chili
(Serves 4.)
Peel and chop the onion, shallot and garlic. Use your food processor for zippy and impeccable results. In a large saucepan, heat a few splashes of olive oil, then cook the onion, shallot and garlic for five to ten minutes, over medium heat, until they get a little translucent. I am told they shouldn't be allowed to color, and have no idea why, but better safe than sorry.
In the meantime, toast the sesame seeds in a dry skillet until golden and fragrant. Reserve in a small ramequin.
Wash the zucchini and trim their ends, wash the potato and peel it. Slice them by hand or in the food processor. Add them to the saucepan, along with two cups of stock (or water and half a bouillon cube) and a bit of salt. Cover, bring to a simmer and let cook for twenty minutes or until the veggies are cooked, stirring now and then, just because you can't help but peek. Remove from heat.
Remove a cup of the cooking liquid from the saucepan and reserve in a bowl. Transfer the solids into the food processor (or only part if you enjoy chunky soup like I do), and whizz into a puree. Return the puree into the saucepan and stir. Depending on the zucchini you used, the soup may be liquid enough at this point, or you may want to add some of the liquid you set aside.
Put the saucepan back over low heat, add tahini, pepper and chili, and stir to combine. Taste, and adjust the seasoning. Pour the soup in bowls, sprinkle the surface with toasted sesame seeds, and serve with sesame crackers.
This soup could also be served chilled, but I'll wait until the summer, because right now, just the word "chill" gives me goosebumps.