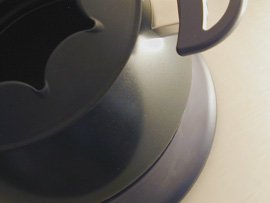 This is the fabulous gift that Maxence's mother got us for Christmas: an electrical, nonstick, multiuse fondue pot!
We've already broken it in with a fondue bourguignonne shared with Maxence's aunt and uncle: fondue bourguignonne (literally "fondue from Burgundy") has you cook little cubes of beef in oil, to be enjoyed with a variety of dipping sauces (whipped up with talent by Maxence). This was my first fondue bourguignonne ever and I loved it: undoubtedly rich, but delicious and highly convivial.
Fondue is a great dish to serve for a casual dinner: most people find it fun to cook their own food (and if they don't, do they really deserve to be your friends?), and everything can be prepared beforehand so you can fully enjoy the company of your guests. One word of advice: close the door to your bedroom before you start, unless you enjoy sleeping in the lovely fragrance of supersized fries.
As suggested by the multitude of recipes in the little accompanying booklet, our beautiful fondue pot can also be used for fondue savoyarde, fondue chinoise (slices of beef cooked in broth), fondue armoricaine (fish cooked in broth), or better yet, fondue au chocolat!