Herbed butter is my secret weapon for apéritif nibbles.
It's just about as chic as it is easy to make: you get the best artisan butter you can find and afford, allow it to soften slightly, and add flaky salt along with finely chopped fresh herbs. Chives, flat-leaf parsley, cilantro, chervil, basil, dill… If you can mix and match, so much the butter, uh, better.
Once ready, this green-flecked butter is the ideal binder to bring together the base and topping for ultra simple but very attractive canapés. This is assembly cooking at its best: slices from a fresh, slim baguette and halved pink radishes; crunchy cucumber rounds topped with a small roll of cooked ham; or squares of pumpernickel bread and sliced scallops.
The lightly nubby pumpernickel bread, the creamy herbed butter, and the slippery, silky scallops come together for a fresh and delicate two-bite savory treat.
Coquilles Saint-Jacques are no doubt my favorite kind of shellfish, and I particularly enjoy their sweet and subtly briny flavor when they're raw — perhaps you've encountered them as hotate sushi before. In France, fishmongers sell live scallops that they'll shuck to order, so you're assured of their freshness; if that's not an option, make sure you get sushi-grade scallops*.
And since scallops don't come cheap, I save them for special occasions — holiday meals in particular — and I make sure the recipe I feature them in will allow their looks and taste to shine brightly.
Here, I've chosen to pair them with clean flavors and complementary textures: the lightly nubby pumpernickel bread, the creamy herbed butter, and the slippery, silky scallops come together for a fresh and delicate two-bite savory treat that I like to serve with a chilled Muskadig.
Tell me everything !
What are some of your favorite pairings for simple crostini that you can serve with a pre-dinner drink or as part of a chic buffet? And have you started thinking about your holiday menus, or is it way too soon for you, in which case please don't let me freak you out?
* And if still you're not comfortable eating your scallops raw, just sear them for a minute on one side in a lightly oiled skillet.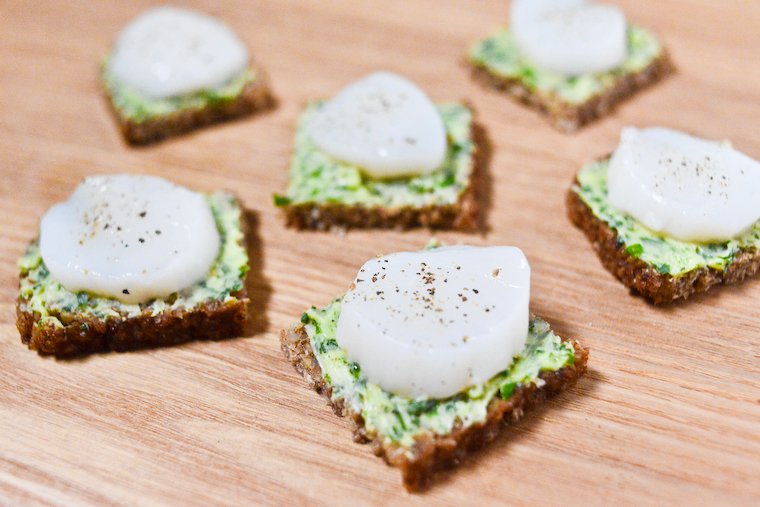 Have you tried this? Share your pics on Instagram!
Please tag your pictures with #cnzrecipes. I'll share my favorites!
Raw Scallop Crostini, Pumpernickel and Herbed Butter
Ingredients
For the herbed butter:

100 grams (3 1/2 ounces) unsalted butter (if cooking in France, use a demi-sel butter with salt crystals and skip the flaky salt below)
15 grams (1/4 cup) finely chopped fresh herbs (chives, chervil, parsley, cilantro, basil, dill...)
3 grams (1 teaspoon) flaky salt, such as fleur de sel or Maldon salt

For the crostini:

8 sushi-grade king scallops (Pecten maximus)
3 thin slices of pumpernickel bread
Fine sea salt
Freshly ground black pepper
Instructions
Cut the butter into slices and leave it at room temperature for 30 minutes to soften.
Place the butter in a bowl. Add the herbs.

Using a fork, mash the herbs into the butter until thoroughly combined. The herb butter can be prepared several days in advance, or even frozen. Bring it back to just below room temperature before using.

(You'll have more herbed butter than you need for this recipe. Keep in the fridge for up to a week, or freeze. Toss with macaroni, plop a sliver on steamed vegetables and fish, or melt onto baked potatoes or a grilled steak.)
Using a sharp knife, cut the scallops into 3 slices each.

Toast the slices of bread, cut into 8 square pieces, and allow to cool completely.
Spread herbed butter onto the bread and top with a scallop slice.
Add a touch of salt and pepper, adjust the seasoning, and serve.
https://cnz.to/recipes/appetizers/raw-scallop-crostini-pumpernickel-and-herbed-butter-recipe/
Unless otherwise noted, all recipes are copyright Clotilde Dusoulier.