Dispatches from my favorite Paris restaurants for April.
BONES
My top pick this month! Bones is a bare-bones (ha!) bistro that operates half as a wine bar, with many natural wine choices by the glass and lots of sharable nibbles, and half as a gastronomic restaurant, showcasing Aussie chef James Henry's inspired cuisine.
The single tasting menu is composed of four courses for 40€ (add 8€ for the cheese course) with a bonus four amuse-bouche, making this an incredibly good deal.
I especially like that the butter, bread, and charcuterie are all homemade (and very good), which shows a rare commitment, and I fell in love with the Dutch ceramics that they use.
The service is bearded, sweet and attentive, the atmosphere vibrates with voices and music in an exhilarating way, and we had an excellent, excellent time.
Bones, 43 rue Godefroy Cavaignac, 75011 Paris, M° Voltaire, 09 80 75 32 08.
WALAKU
Japanese pastry chef Takanori Murata officiates at this minuscule tea salon, which Eri Ikezi tipped me off on almost two years ago — I have no idea what took me so long to try it, but I'm glad I did.
It is a lovely place a short walk from Le Bon Marché, bright and serene, with slatted panels of pale wood and blossoming branches in tall vases. The dining room is about as big as my kitchen, and it seats exactly eight (four at the bar and four at two small tables) for tea and wagashi (traditional Japanese pastries) in the afternoon, or a fixed bento meal at lunchtime (32€ with a first course, dessert, and a cup of hojicha; reserve the day before at the latest).
The bento box is simple, but each of the ingredients featured (including lobster from Brittany) is well prepared and flavorsome. Dessert was a fluffy dora-yaki (a sort of pancake sandwich filled with red bean paste and, here, fresh strawberries) with ground soybean powder sprinkled on an orange segment on the side of the plate.
I left with a couple of wagashi (5.50-7€) to take home and share with Maxence; one of them was an exquisite sakura mochi with a slightly savory marinated sakura leaf on top, which I failed to photograph, so eager was I to dig in. I will note that they sell warabi mochi made with real warabiko, so this is your chance to try it!
You can also read my friend Caroline's report of our lunch (in French).
Walaku, 33 rue Rousselet, 75007 Paris, M° Vaneau, o1 56 24 11 02.
JEANNE B.
A couple of years ago, the good people who run Astier in the 11th created a sort of deli next door to the restaurant called Jeanne A.. It was so successful that they decided to open a second, similar operation called Jeanne B. (get it?) in my neck of the woods, on rue Lepic.
They specialize in rôtisserie meats and well-prepared seasonal vegetables, and have a deli counter full of terrines and vegetable tourtes that you can also take away. On one of my visits I started my meal with a whole globe artichoke, which they whisk away when you're done with the leaves so they can bring you the artichoke heart, all trimmed and seasoned with a tiny side salad. I am also smitten with their vegetable carpaccio (pictured below), which features raw cauliflower and walnuts, and which I plan to try and reproduce at home. (Two-course lunch: 19€!)
It's a beautifully designed space, and we like it so much we've eaten there on three successive weekends, including one brightly sunny lunch on the sidewalk terrace.
Jeanne B., 61 rue Lepic, 75018 Paris, M° Abbesses, 01 42 51 17 53.
SEPTIME @ WANDERLUST
Disclosure: I was invited to taste Bertrand Grébaut's cuisine at Wanderlust by the restaurant's PR agency.
Wanderlust is a hip cultural center slash restaurant slash club that opened last year right by the Seine, inside the Cité de la Mode et du Design (you know, that big modern building near Gare d'Austerlitz with a green caterpillar-like structure on it?). On the night we were there it was quite chilly, so the outdoor terrace was mostly deserted, but that didn't stop us from playing a bit of ping-pong.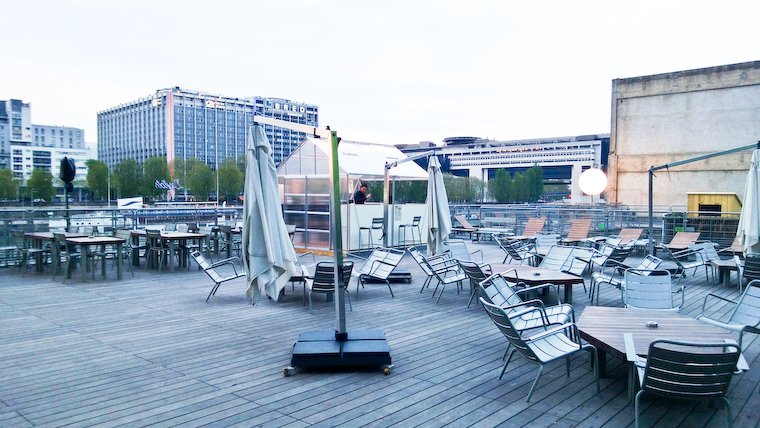 Bertrand Grébaut, of Septime fame (who has just entered the 50 best list!), is the guest chef of the restaurant for the spring season. He has created a short menu (4 appetizers, 4 main courses, 3 desserts) that closely resembles what is served at Septime, though the portions are more generous than what I experienced at Septime, since the dishes there were part of a five-course tasting menu.
At 40€ for three courses, the price is in line with current Paris standards for food of that quality, and I was quite taken with my asparagus starter — grilled white asparagus sheathed in a thin slice of lardo di Colonnata and served with ramsons (wild garlic, ail des ours in French) in raw and purée form.
On balmy evenings, the Wanderlust gets very busy and it can be hard to get in, so if you chose to have dinner there, you can simply stick around and enjoy the rest of the night stress-free.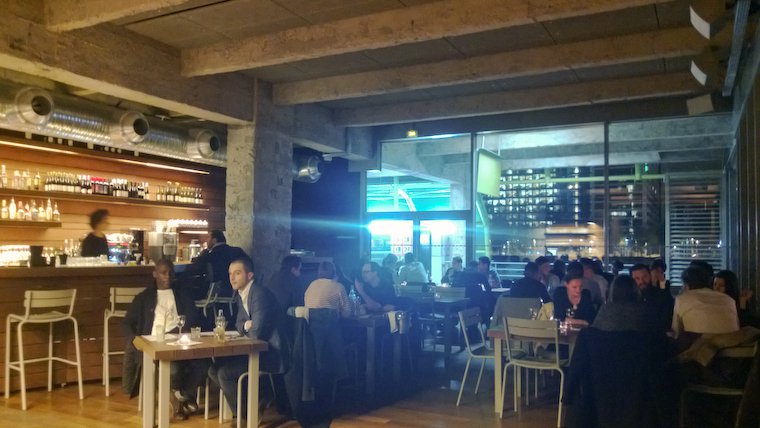 Wanderlust, 32 quai d'Austerlitz, 75013 Paris, M° Quai de la Gare, 01 70 74 41 74.