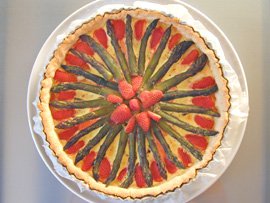 [Asparagus and Strawberry Tart]
About a year ago, a little group of us Parisian (by birth or by heart) food enthusiasts started a tradition of organizing potluck dinners at one another's place. On Saturday night, my dear friend Alisa hosted her second such event, setting Aphrodisiac Foods as the theme for the night. The event had been scheduled for a while and I had done some basic research about those ingredients that were notable aphrodisiacs, but somehow I could not get the culinary half of my brain to think further than "ginger". Thankfully, a couple of days before the event, inspiration struck.
I was reading the handy list at GourmetSleuth and two ingredients jumped at me, begging to be finally paired off after years of secret yearning — Mr. Asparagus and Ms. Strawberry. One green one red, one slender one squat, both bringing into the relationship their own subtly sweet taste and personable texture. I decided to lay them on a bed of almond pâte brisée (almonds symbolize fertility) and call it an Asparagus and Strawberry Tart.
For the crust I started with the perfect pâte brisée recipe I got from Pascale, substituting almond powder for a quarter of the flour. This and the butter formed a nicely supple — if a little soft — ball of dough, to which the addition of an egg (as the original recipe calls for) was unnecessary. The asparagus were steamed, the strawberries cleaned and quartered, and a simple batter of crème fraîche and eggs formed the sheeting on which I arranged the couple, in as aesthetic a pattern as I could, before I gave them a little oven privacy.
To my glee, the tart was very well received: its crust was light and flaky, the asparagus/strawberry pairing worked superbly and the whole thing vanished in no time. There were about twenty of us, and the contributions were as varied and delicious as oysters with ginger sauce, grilled asparagus, sesame tuna tartare, lapin à la moutarde (rabbit in mustard and white wine), frogs' legs in parsley butter, pistachio tabouli or arugula salad.
The dessert spread did not disappoint either, boasting a chocolate fondue and a mountain of strawberries, brownies topped with candied almonds, a cream cake flavored with tonka beans and artfully decorated with homemade and cute breast-shaped mini-meringues, figs served with a crystallized ginger cream, and chocolate mini-financiers flavored with long pepper and ginger.
And before you ask, my story does not (and will not) discuss the relative merit and efficiency of the aforementioned aphrodisiac dishes — some things are just better left unsaid.
Tarte Asperge et Fraise
– 150 g (1 C + 1/4 C) all-purpose flour
– 50 g (1/3 C) almond powder (a.k.a. ground almonds or almond meal)
– 125 g (1/2 C + 1 Tbsp) salted butter, chilled and diced
– 2 bunches of asparagus (about 25)
– 1 basket of strawberries (about 12)
– 125 ml (1/2 C) crème fraîche (substitute heavy cream or sour cream)
– 2 small eggs
– salt, pepper
– freshly ground pink peppercorns
(Serves 16 as a buffet item, 6 as a first course, 4 as a main dish.)
In the food processor, mix together the flour, almond powder and butter until it forms a ball. (Alternatively, rub the butter into the dry ingredients in a large mixing-bowl until combined.) Knead the dough, incorporating a little more flour if it feels too soft. Let rest for five minutes, then roll out between two sheets of parchment paper. Remove one of the sheets, and line a 25-cm (10-inch) tart shell with the dough (I went the easy way and left it on the parchment paper). Put the pan in the fridge to rest for at least two hours or overnight.
Preheat the oven to 180°C (350°F).
Steam or boil the asparagus, as al dente or soft as you like them. Rinse and drain the strawberries. Put the empty tart shell into the oven to parbake for about ten minutes, until it colors very slightly.
In a medium mixing-bowl, whisk together the cream and eggs, and season with salt and pepper. Pour the egg batter into the pie shell. Trim the asparagus so two of them will fit end-to-end in the shell and arrange them in a sunray pattern. Quarter enough strawberries to insert them in between the asparagus, and use the remaining ones to decorate the center of the tart. Grind pink peppercorns all over the top.
Bake for about 30 minutes, until the egg mixture is set. Serve warm or at room temperature, with a side salad of arugula leaves for instance.