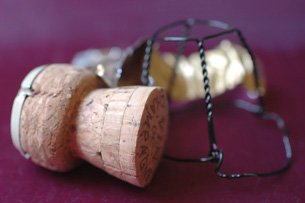 I am very pleased to announce that as of yesterday, 9:07 pm, the manuscript of my book has officially left my hands, landing just a few seconds later on my editor's desk, 3,635 miles away. The moment I hit "send", my heart thumping audibly, I drew a deep breath, climbed down from the bar stool on which I was sitting, and walked to the fridge to retrieve the bottle of pink champagne that had been chilled for the occasion. A pop, a toast, a sip, a kiss — I believe there may have been a few giggles on my part, too, and perhaps a little happy dance.
Once enough champagne had been consumed to duly mark the event and the hunger pangs became more and more difficult to ignore, we walked out into the pouring rain to have dinner at Casa Olympe, which, in passing, I warmly recommend. What better way to celebrate than with a scampi broth followed by crispy veal sweetbreads, especially when Jean-Paul Gaultier happens to be sitting across the tiny room from you?
Of course, I am now anxiously awaiting the comments and edits on the manuscript, but today is a beautiful day, I feel like I'm on vacation, and I intend to spend the afternoon — the next week even — basking in the sunlight of the terrace across the street.
And for those of you who may be wondering, the book is scheduled for US publication on May 1, 2007.
(Casa Olympe – 48 rue Saint-Georges – 75009 Paris – 01 42 85 26 01)