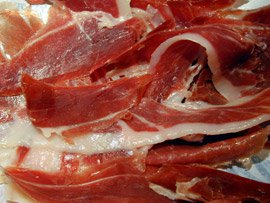 On Saturday, after walking around Madrid and engaging in a little healthy food shopping, we went home for a much-deserved nap, and didn't go out again until 9 pm, for a pre-dinner drink.
In Spain, people eat late. And I do mean late : we Parisians have a tendency to be late diners as well, but they take the concept to a whole new level. As we drove into the city it was 9:30 pm, going on 10, and the restaurants were all empty, with a waiter or two waiting idly at the door, smoking a cig and enjoying the evening breeze.
Our friends first took us to a bar called Ducados Café, where we enjoyed the bestest frozen mojito in the galaxy, and possibly beyond. I'd never had anything quite like it : think frozen margarita, only green, mint and rum. So sweet and yummy it's almost a dessert, and I gulped it down in five minutes flat. Which of course may explain the instantaneous heightening of my already excellent mood.
We walked through the narrow streets, which were finally starting to fill up – it was 11:30 pm after all – to the restaurant where we wanted to have dinner, a traditional taberna called Toscana. The restaurant room was large, with white roughcast walls and wooden panels, exposed beams and dark wood furniture. On the right was a long bar at which people were standing, drinking and nibbling on tapas, using (or not) the little disposal cans built into the bar at foot level.
The restaurant walls and ceiling were crowded with miscellaneous items of decoration : framed photos of corridas, people or landscapes, decorated plates, iron cauldrons… Legs of ham were hanging from above the bar (with the requisite safety mini-umbrellas), brushing shoulders with an army of yellow crookneck squash of varying sizes, and earthenware sangria pitchers, with their characteristic pinched mouth that prevents the fruit from spilling out when you serve.
The restaurant was almost full but we got a table quickly, and sat down on the low leather-lattice stools. We were brought a plate with forks and knives for the four of us, as well as two large bagel-shaped loaves of white bread. We ordered a selection of tapas from the menu, or more accurately raciones, which are tapas served in larger quantities to feed more people. We ordered a nice bottle of Campillo Rioja 1998, of a surprising eggplant shade.
The different dishes were then brought to our table, one by one, at the perfect leisurely pace, allowing us to take each of them in, and enjoy them while still warm. By order of appearance, we had :
– Ensalada de la Casa, a salad of tomatoes, raw onions and tuna, in a delicious white wine vinegar vinaigrette,
– Boquerones en vinagre, tender fillets of anchovies marinated in vinegar,
– Morcilla de Burgos, a blood sausage stuffed with rice, a specialty from the city of Burgos. This turned out to be my favorite dish : the thick slices of sausage were grilled, slightly crunchy on the outside, tender and soft inside. They were flavorful and perfectly seasoned, and the rice inside made them less rich than a simple blood sausage.
– Croquetas de Jamón, the famous little ham fritters I had been instructed to eat until sick, served with sautéed potatoes : crispy and golden, shaped like little logs, they were filled with a béchamel-like mixture of ham and cheese. While I did find them very good, I wasn't transported with bliss, possibly because I'm not a huge fan of béchamel.
– Morcillo Asado, sliced roasted veal served on a bed of fries in a white wine sauce. The meat was incredibly tender and tasty, and I particularly loved the fries : when most people would expect them to be cripsy, they were lavishly bathing in the sauce, completely limp and without shame.
– Riñones al Jeres, a dish of kidneys, cut in small pieces and served in a sherry sauce. I was unfortunately pretty full by that time and only had a few bites, but it was very good in its special kidney way. I can't seem to decide whether I like or dislike the earthy taste and paste-like texture of kidneys, so I will just keep eating them until I do!
We were all happily stuffed after that tapas bonanza, but Maxence spotted Arroz con Leche (creamed rice) on a neighboring table. Since it is one of his favorite desserts, he bravely volunteered to have a cup of that, and liked it very much. I had a taste (well otherwise, what's the point of being the girlfriend?) and especially liked the top, which had a slight caramely crust in the middle, a bit like crème brûlée.
We left the restaurant around 1:30 am, to find that the nightlife had only just begun, with crowds of people hanging out in the streets, musicians playing in improvized outdoor concerts, and groups of youngsters sitting in circles on the ground, hugging huge plastic tumblers of mixed alcoholic beverages. As for us, I'll easily admit that we just took a nice little walk, before we headed back to the car and home. We were still on Paris time after all.
Taberna Toscana
Manuel Fernandez Gonzalez, 10-17
28014 Madrid
91 429 60 31