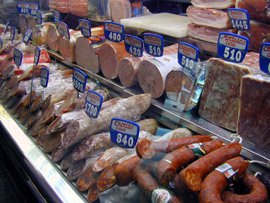 Maxence and I spent just spent a lovely week-end in Madrid, visiting friends of ours who live just outside of the city with their two little girls. We were lucky enough to arrive just as the weather was changing from drab to splendid, making it possible to enjoy the big garden, the pool (okay, the sight of the pool, the water was far too cold for me), and the barbecue.
On Saturday, after a long walk around the city center and a delicious turron ice-cream, we stopped at a little ham store called Paraíso del Jamón. This area of Madrid was full of these old-fashioned little stores (including a Palacio del Jamón and a Museo del Jamón), a little dark and mysterious, with row upon row of ham, hanging from the walls and ceiling to dry and age, each with its little upside down umbrella to catch the dripping juices — a thoughtful precaution to keep the customers' hair clean.
Most of them seemed to double up as tapas bar too, with an open kitchen area and high stools, and the one we went to had intriguing and very appetizing dishes on display. Next time, I'd love to try and have lunch in one of these places.
A long display case contained a large array of different sausages and hams. Some names were familiar, some weren't, and we bought a piece of Chorizo Iberico (17 €/kg), a dry and spicy sausage, orange in color, which I've sometimes seen included in paella. (Update : According to Su-Lin, chorizo in paella is heresy to true Valencians. But still, I've seen it done.)
In another smaller display case were several big rounds of cheese : there were a few foreign cheeses (brie, something that resembled gruyère but was called "sandwich cheese", blue cheese), but most of them were Manchego, the famous sheep's milk cheese produced in La Mancha. Some were very fresh, some more aged, and we got a hunk of the second to oldest, labelled Queso Puro Curado (literally "pure cured cheese", at 14.45 €/kg). The interesting thing was that none of these cheeses explicitly called themselves manchego, just "cheese", as if it there was no other kind.
There were three different kinds of ham hanging above the counter, one of which was the world famous Bellota, a jamón produced according to strict rules and with immense care in the South-West of Spain, from pigs fed exclusively with acorns (bellota in Spanish). I had to have some of this of course, but at 72 €/kg we asked for a reasonable 100g, tapas-style, which means cut in slivers. The guy behind the counter solemnly unhooked the leg of ham, lay it cautiously on the cutting board, removed the plastic wrap that protected the cut side of the ham, moved the plastic to the other side of the ham so it wouldn't rub on the board while he cut it, took out a very long knife with a narrow blade, sliced off a little fat from the sides to expose the meat, and started to cut thin slices expertly, moving the knife towards him with a look of concentration. He wrapped the slices, like the rest of our purchases, in a thick sheet of wax paper which he rolled up in a cylinder and adroitly folded at the ends, so it would remain closed without the use of sticky tape.
A pile of soft orange blocks wrapped in plastic caught my attention, sitting at the end of the counter : a sign read Crema de Membrillo, and after a brief exchange with the counter guy who had each of us taste a little piece, we understood that this was a quince paste, which they serve with extra fresh cheese. Always a big fan of condiments, especially if they promise to be good with cheese, I got a block of that too, for 1.4 €.
And then on Sunday night, as we hopped out of the plane and home, starving from the non-dinner we were served on board (better than nothing but definitely not the gastronomic highlight of our trip), we had ourselves a little Spanish picnic and tasted all of our goodies. The chorizo was excellent, not as spicy as some I've had before, but very tasty nonetheless. I liked the manchego very much, and it reminded me a little of the French cantal : same off-white color, a little peppery and piquant, with a soft texture that has a tendency to flake.
But the grand prize, as Maxence said, goes to the Bellota ham. Each bite-size slice, deeply red and shiny with a ribbon of fat (which you should eat to get the full taste experience), is a unique combination of softness and character : it practically melts in your mouth, but at the same time you can feel the pleasant texture of the meat fibers as you chew. The taste is strong and powerful, almost smoky, but very well rounded, with just the right amount of salt. Needless to say, we polished it off right then and there. It is well worth the price, but you should resist the urge to get more than you can quickly consume, because the slices are said to lose their intense flavor and moisture after 24 hours.
Stay tuned for the second installment of The Travelling Gourmande in Madrid!