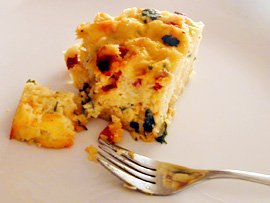 [Parsnip and Chorizo Cake]
Yes, another gâteau! But it's a savory one this time, that combines grated parsnips, little chunks of chorizo and chopped parsley, baked into a warm golden cake, frittata-like and satifying. The parsnips meld into the egg batter to produce a smooth, almost moussy texture, and the chorizo adds a really nice kick to their earthy sweetness. Chorizo is one of my favorite things at the moment, and I'm still looking for something that does not benefit from its addition.
I particularly like the taste of parsnips, but you could substitute other root vegetables (carrots, turnips, celery-root) or better yet, use a mix of several. The recipe as written below serves two to three guests, but you can easily double the recipe — just use a larger dish accordingly and leave it in the oven a tad longer. The gâteau also works well cold or at room-temperature and would make a delightful winter picnic item.
What do you mean, you don't do picnics in the winter? How sad! Why do you think the phrase eaten with mittens sounds so good?
Gâteau de Panais au Chorizo
– one large parsnip, about 1.3 lbls (600 g)
– 4 eggs
– 1/4 C milk
– 2 oz (60 g) chorizo (the Spanish kind, already cooked)
– a small bunch of flat-leaf parsley
– olive oil
– salt, pepper
(Serves 2 to 3.)
Scrub, peel, core and grate the parsnip. Heat some olive in a large skillet, then add in the grated parsnip and 1/4 C water. Cover and cook over medium heat for 15 to 20 minutes or until completely softened, stirring from time to time. Transfer into a colander to drain.
Preheat the oven to 350°F (180°C). Bring about 4 cups (1 liter) of water to a boil in your kettle or in a saucepan. Dice the chorizo. Rinse and dry the parsley, pluck the leaves and chop them. In a medium mixing-bowl, beat together the eggs and milk, fold in the cooked parsnip, chorizo and parsley, and season with salt (optional, as the chorizo is salted already) and pepper.
Pour into a greased 8-inch (20-cm) ovenproof dish (I use a charlotte mold, a souffle dish would work equally well) and even out the surface with a spatula. Place the dish in a larger one (a gratin dish for instance) and pour boiling water in the larger dish so the small one is in about an inch (2.5 cm) of water. This is called a "bain-marie" (literally bath-mary, don't ask), and it regulates the temperature so the egg mixture will cook without boiling. Put both dishes into the oven and bake for 50 minutes to an hour, until set and golden on the surface.
Unmold and serve immediately, with a side of lightly-dressed greens.