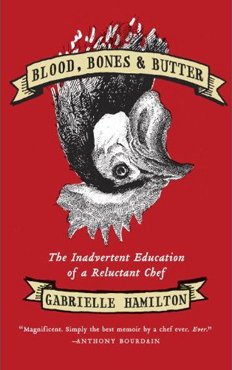 I have an ambivalent relationship to food memoirs.
On the one hand, a book that's entirely devoted to food and food experiences should have my name all over it. On the other hand, I deal with food so exclusively and so intensely all day and all week long that when I sit down to read at night or on weekends, I sort of want to read about other lives entirely.
And this is one of the reasons why I so enjoyed Gabrielle Hamilton's memoir.
Blood, Bones & Butter is a food memoir in as much as the author is a food professional — she's the chef and owner of Prune, a small and highly popular restaurant in NYC's East Village* — but it is, in truth, a lot wider in scope than "the inadvertent education of a reluctant chef," as the (somewhat clunky) subtitle reads.
I won't reveal anything about the arc of her life story: I like to know as little as possible about books before I read them so I'm not about to spoil this one for you, but let's just say (and I've provided links below if you want to know more) that it hasn't been the smoothest of rides.
And the book she has drawn from it is the rawest, most plainspoken, no-holds-barred memoir I have ever read. It is marvelously engrossing, and it pulls you in with the author's naked honesty and the way she looks back at her life, dark passages included, with no glossing over, retracing her steps without making excuses or trying to shed a flattering light on herself.
Blood, Bones & Butter is also full of incredibly fresh, delectable images, the kind that makes you run to the nearest comma so you can re-read it and savor its pitch-perfectness.
I did think there was something lopsided about the book's perspective, which can be a model of lucidity at times, but seems at others to be written from a place of undigested anger or grief. This can make it hard for the reader to fully grasp the context of her most important relationships — to her parents, her siblings, her girlfriend, her husband — but in a way, it is consistent with what we perceive of Hamilton's conflicted personality.
I also feel that the manuscript would have benefited from another round of editing, as some passages seem a bit more rambling than others (especially in the third and last section of the book), and it pushed my Frenchwoman-reading-in-English button** a few times, but the overall pace and vividness of the prose more than makes up for these aspects.
What about you, did you read Hamilton's book, and if so, what did you think?
~~~
Read, listen, watch more about Blood, Bones & Butter:
~ Jennifer Reese's review on NPR.org,
~ Frank Bruni's review and a profile of the author in the New York Times,
~ Gabrielle Hamilton was interviewed on All Things Considered this weekend,
~ She also had a segment on the Today Show.
~~~
* I had dinner there once, a little over four years ago, and I'm happy to say it lived up to the hype.
** When French phrases or dialogues are included in English books, it seems nine times out of ten they are misspelled or grammatically incorrect, and always I wonder: was there no French person available to double-check these? (To be fair, I have an exactly symmetric pet peeve when English phrases are used in French texts.) (And yes, I realize that this sort of comment makes me even more vulnerable to people rushing to point out my own mistakes and typos.)