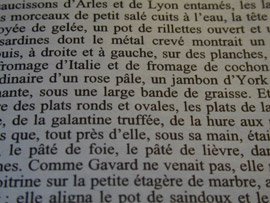 Le Ventre de Paris, translated into The Belly of Paris, is a novel written by Emile Zola in 1873. It is the third of the twenty novels of his naturalist cycle of books, Les Rougon Macquart. The series is about two branches of a large family and their members — the rich and powerful Rougon, and the poor and miserable Macquart — whose lives intertwine from the middle of the 18th to the late 19th century.
Each novel focuses on certain nodes of the family tree, and is the occasion to cast a sharp and crude light on the different social layers, situations and worlds of that time : miners, farmers, department stores employees, priests, financial magnates, small-town inhabitants, workers, prostitutes, artists, doctors, soldiers…
In this one, Zola takes a dive into the fascinating universe of the Paris food market, Les Halles. Since the 12th century, this area in the center of Paris has been devoted to food vendors of all kinds, selling a vast profusion of goods, coming in fresh every morning. Huge halls of iron and glass, Les Pavillons Baltard, were constructed in the 1850's to organize the different markets, and each street around the pavilions was specialized in a type of product. In 1969 however, the area had become too small to accommodate all the activity, and the traffic was terrible : Les Halles were moved to Rungis, in the South of Paris, and the beautiful Pavillons Baltard were torn down, to the scandalized clamor of the Parisians. The only remnants of that era are some buildings and restaurants, and the presence of many cooking apparel stores, E. Dehillerin in particular.
Le Ventre de Paris is the story of a little group of people who live in and around Les Halles in the late 1850's : Florent, an accidental convict, escapes from his penal colony, comes back to Paris, and takes refuge in his younger brother's home, a charcuterie he owns with his wife Lisa. Florent lands a job at the Pavillon de la Mer, the seafood hall, and tries to find his place, not so smoothly I might add, among a host of other characters — fish mongers, produce sellers, cheese makers, poulterers, snarly old maids, café managers, little kids, political activists and starving artists.
Through the depiction of these people and how they live, work, love and fight, one gets the most vivid image of what life must have been like in that place and time. The book is beautifully written, in Zola's style of intricate and lavish descriptions, and the relationships and conflicts are very eloquently brought to life, with cleverly observed traits and a few laugh-out-loud dialogues.
Some of my favorite passages : a wonderfully evocative description of the charcuterie and its display. The colorful arguments between lady fishmongers. A smell-o-rama visit of the storerooms below the cheese market. The preparation of blood sausage in the charcuterie's kitchen. Brazen little kids secretly feasting at night on the goods they have pilfered during the day.
I also really enjoyed reading about the streets and buildings that still exist now, Montorgueil and St-Eustache and Coquillère and St-Denis, trying to imagine myself food shopping back then, armed with a wicker basket, a little white apron over my long skirt, muddy ankle boots and a head scarf.
—
Le Ventre de Paris is easy to find in paperback in French bookstores. In English, it has been published in paperback by Green Integer Books (ISBN: 1-892295-99-7), and by Sun & Moon Press (ISBN: 1-557130-66-3). It may not be very easy to find in mainstream bookstores, but Cody's Books in Berkeley, CA (where Melissa, of Derrick & Melissa, works one night a week) has it on special order availability.