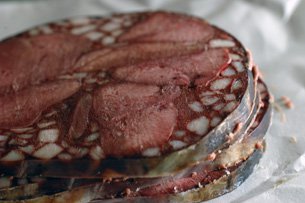 [Tongue Blood Sausage]
Paris is filled to the brim with little stores that sell produits du terroir, artisanal products from different regions of France: condiments and spices, jam and honey, cookies and candy, traditional canned dishes such as cassoulet or duck confit… You push the door and feel like you've stepped right into Hansel and Gretel's bread house, complete with cake roof and sugar windows.
Having read that fairy tale and learned my lesson, I am usually a little suspicious of such stores: it has been my experience that they often sell products that look really nifty with their handwritten labels and grandma-made-it-just-for-you packaging, but turn out to be nothing worth rolling on the floor with the spoon in your mouth (which is dangerous, I might add) when you get home and try them.
Besides, they usually charge an arm and a leg for them, or at least much more than you would pay if you were to buy them from the source. They rely heavily on the impulse purchase factor, and the fact that the goods are so out of context in the cute boutique, that it might not strike you as unreasonable to pay 10 euros for a box of crackers you might not even like that much.
When I noticed earlier this year that a new store called Les Papilles Gourmandes (papilles meaning tastebuds) had opened on the lower end of the rue des Martyrs, I peeked inside briefly, and dismissed it as belonging to the category described above. The name also sounded very uninspired (there is another shop called "Les Pipalottes Gourmandes" a few blocks away, how happy they must be) and, what can I say, names are important to me.
However, someone tipped me off recently on the fact that said shop sold Jean-Yves Bordier's excellent hand-made butter from St-Malo, and although I've been able to find it at several other places in Paris before (at the restaurant Chez Michel in particular), this is a much more convenient location for me.
So I paid them a visit last week-end, and this made me revise my first judgement completely: instead of the usual canned and jarred suspects, Les Papilles Gourmandes displays a mouthwatering range of fresh regional products — including charcuterie from Les Aldudes — that seems to have been selected with care and very good taste. I got myself a little package of salted Bordier butter (it's best to buy it in smaller quantities more frequently), plus a couple of other things that were quite distinctly calling my name.
And among them was this boudin de langue, a tongue and blood sausage (whoever said "eww" in the back, don't think I didn't hear you). Freckled like a saucisson but chocolate-colored like boudin noir, it had meaty pieces of pork tongue in the center, and looked like nothing I had ever laid my eyes on — a precious addition to the gallery where I keep quirky works of charcuterie art.
As I soon learned from the shopkeeper, boudin de langue (alternatively called boudin à la langue) is a specialty from Alsace, and this particular one comes from the Maison Kirn, a renowned charcuterie that was first established in Strasbourg in 1904. So great is their success that they now operate a brasserie and a few more shops, and even sell their products in Japan through the Seibu chain of department stores.
Four slices of boudin de langue were thus purchased, thickly cut as per the shopkeeper's advice, who explained that this was the best way to enjoy their texture. We were invited for dinner at our neighbors' appartment that night for what would probably be the last cheese fondue of the season, and this would be an ideal appetizer to nibble on while we waited for the cheese to melt.
I took a late afternoon nap, and just as I was emerging, still in that hazy state between dreams and conscious thoughts, I had a vision. Now, when people have visions, some see characters from holy scriptures, summoning them to do this or that, others might find the solution to world issues such as poverty or global warming — I usually see food. And in this case, I saw what I would do with the tongue and blood sausage: one could of course serve it on its own like slices of saucisson, but I opted to cut it into little bites, each of them on a thin slice of rye bread, and topped with a sliver of caramelized apple.
This was very well received, and I so enjoyed the moment when I proudly announced what it was (boudin de langue is so much fun to say), prompting cries of hungry curiosity. The sausage had a very pleasant earthy and peppery flavor, its mild sweetness well brought out by the apple, and its supple texture did great with the toasted bread. I'll definitely go back to the store for more, and will make it my personal duty to taste my way through their selection.
Les Papilles Gourmandes
26 rue des Martyrs in the 9th
01 45 26 42 89
(You can also sample their products at the tasting counter, from noon till 2pm, Tuesday to Friday.)