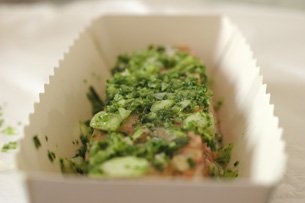 I was at the charcuterie yesterday to buy a few slices of jambon de Bayonne, an air-dried cured ham from the French Basque country.
Une charcuterie, for those who have yet to be introduced to this delightful concept, is a store that makes and sells all manner of goods derived from our friend the pork (ham, sausages, pâtés, rillettes…) and a wide variety of other prepared dishes (from salads and quiches to choucroute garnie and boeuf bourguignon, from salmon terrine and rabbit in mustard sauce to stuffed tomatoes and leeks vinaigrette), in addition to a smaller selection of cheese and desserts. Sort of a delicatessen if you will. These stores usually feel like Gargantua's lair, filled with rich and creamy wonders and quirky aspic specialties, and they are a good representation of classic French cuisine — much like the one Julia Child
depicted — with a unique blend of old-fashioned charm.
I drop by the charcuterie every week or so for ham (sliced to order of course: I ask for them to be assez fines — rather thin — so the lady will slice one and show it to me for approval before she slices the others), the occasional saucisson, a slice of game terrine, or the eggs in aspic for which Maxence and I have an insatiable fondness. I am not their best customer for the rest of what they have to offer as I find most of the prepared dishes too rich, but half the time the customer in front of me will be a tiny old lady or a middle-aged man who buys a single serving of pot-au-feu or blanquette de veau with a few steamed potatoes or fresh noodles and oh, why don't you throw in a portion of céleri rémoulade, too.
When I was in the shop yesterday, I overheard the guy who was being served before me, asking whether they still had pied de porc vinaigrette (pork feet in vinaigrette). They did. Apparently he had come a few times before and they were all out, and the lady explained that very few charcuteries make them anymore, so people know to come here for their pied de porc vinaigrette fix, and so they sell really well.
Hm. Endangered charcuterie species? I had to get one of these! So I ordered my four slices of cured ham, assez fines, and a pied de porc vinaigrette (2.27€) in a rectangular cardboard tray with cute little cutout waves.
What you get is in fact half of the foot, split lengthwise, skin-off but bone-in, and what you're left with is pretty much just bones, cartilage and a yummy gelatinous substance, all covered in parsley and chopped onion vinaigrette. I'm not sure if there is a proper eating etiquette for this, or if you should just save it for when you're dining alone or with someone who really really loves you, because there is no way you can get to said yummy gelatinous substance without cracking and sucking and gnawing at the bones, spitting out the occasional stray bit of cartilage, fingers greasy, parsley in your teeth and vinaigrette running down your wrists.
I'm pretty sure the Cro-Magnon-style table manners are at least half of the pleasure.
Charcuterie J. Thillerot
31 rue Lepic – 75018 Paris
01 46 06 05 16
[2006 Update: this charcuterie is now closed and replaced by a chain flower store. Sigh.]