It's only recently that I've realized that the crumble topping of a fruit crumble doesn't have to be made with butter to be crisp and delicious.
Did you know? Am I the last person to find out about vegan apple crumble?
The epiphany came from my intensive granola-making activities: after all, isn't granola a second cousin to the crumble topping? And if I make granola with oil, not butter, why not try that in a crumble?
And so, for the past few months — since the beginning of this year's apple season, really — I have gone butterless with all of my apple crumbles. (And I've made quite a few.)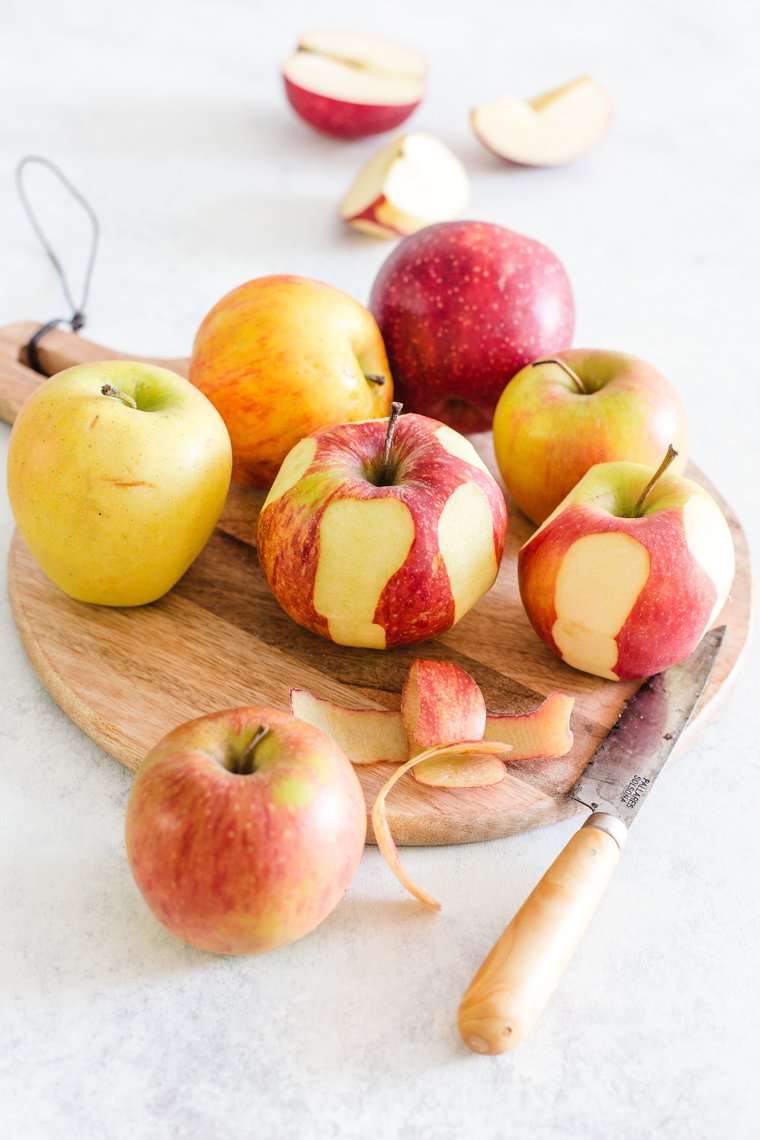 Three Benefits of a Vegan Apple Crumble
There are several benefits. First, the crumble topping is considerably faster to mix: measure the ingredients, combine in a bowl, stir with a fork, and that's it, you're done. No dicing of butter, and no rubbing either. It takes five minutes tops, including the time to put all the ingredients and utensils back where they belong and wipe down the counter if you've spilled a little flour, which no recipe prep time in the world accounts for.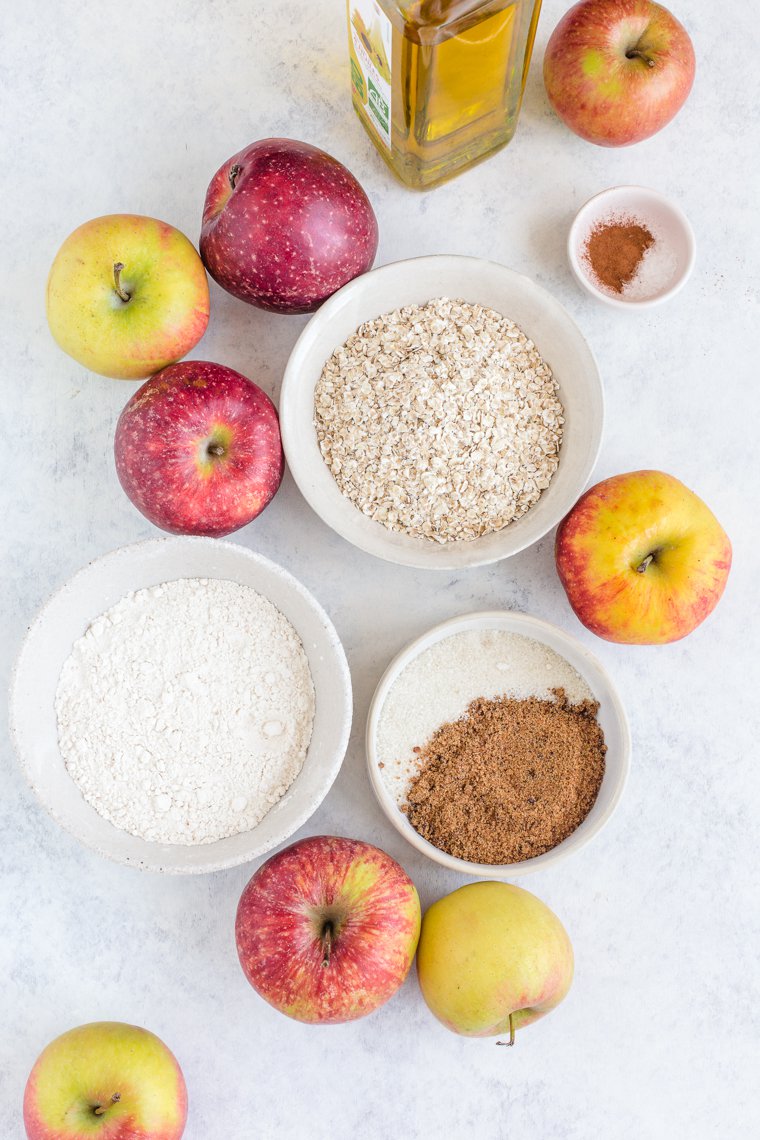 I like to half-peel the apples in alternating strips. Not because I'm half-lazy, though maybe I am, but because I like the rustic touch a bit of apple skin provides.
Second, I find that the absence of butter shifts the balance of flavor so that the (good unrefined) sugars that you use, the spices, and of course the apples themselves, sing through with a more subtle complexity.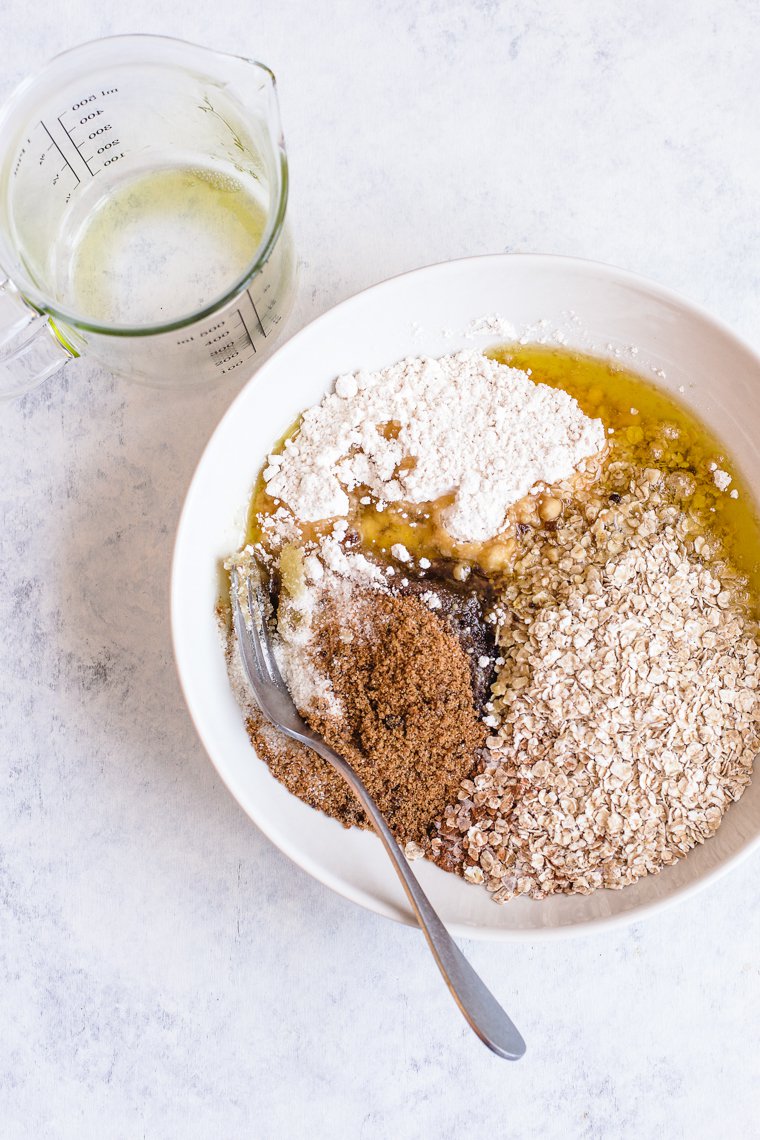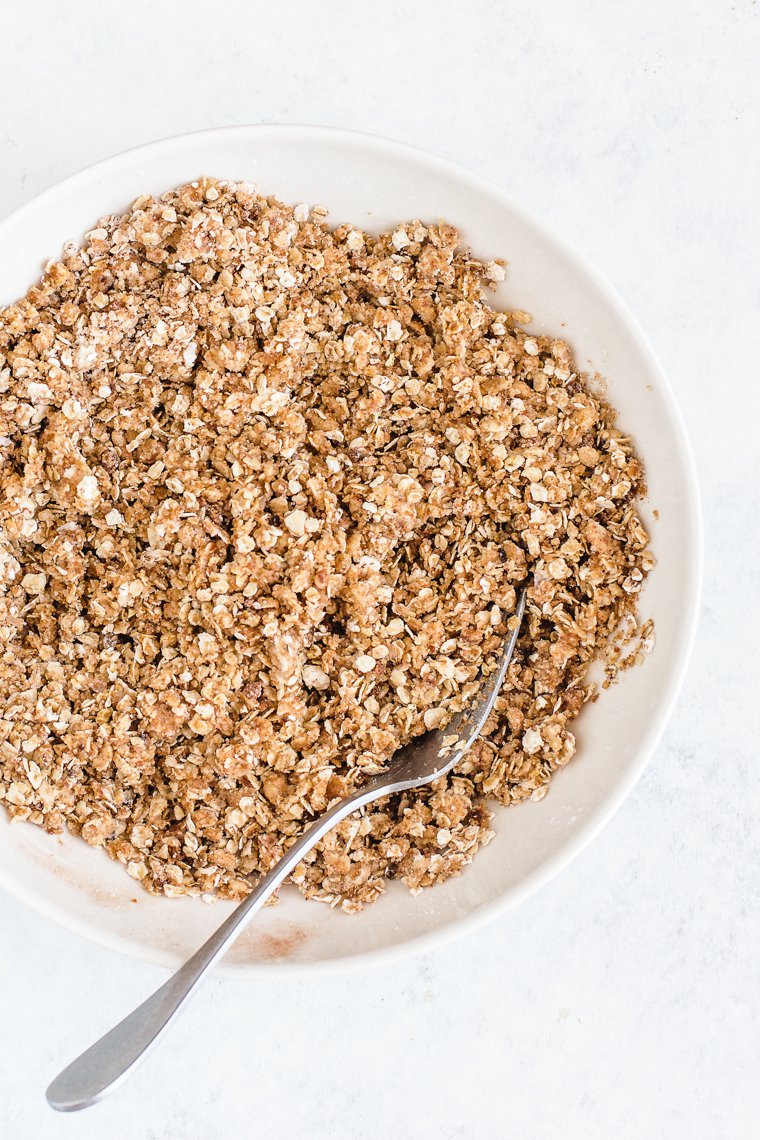 And third, those who avoid dairy for whatever reason will be grateful for a vegan apple crumble they can eat, especially one that can stand proudly on its own, without the crutch of crème fraîche or ice cream that seems to be automatically tacked on.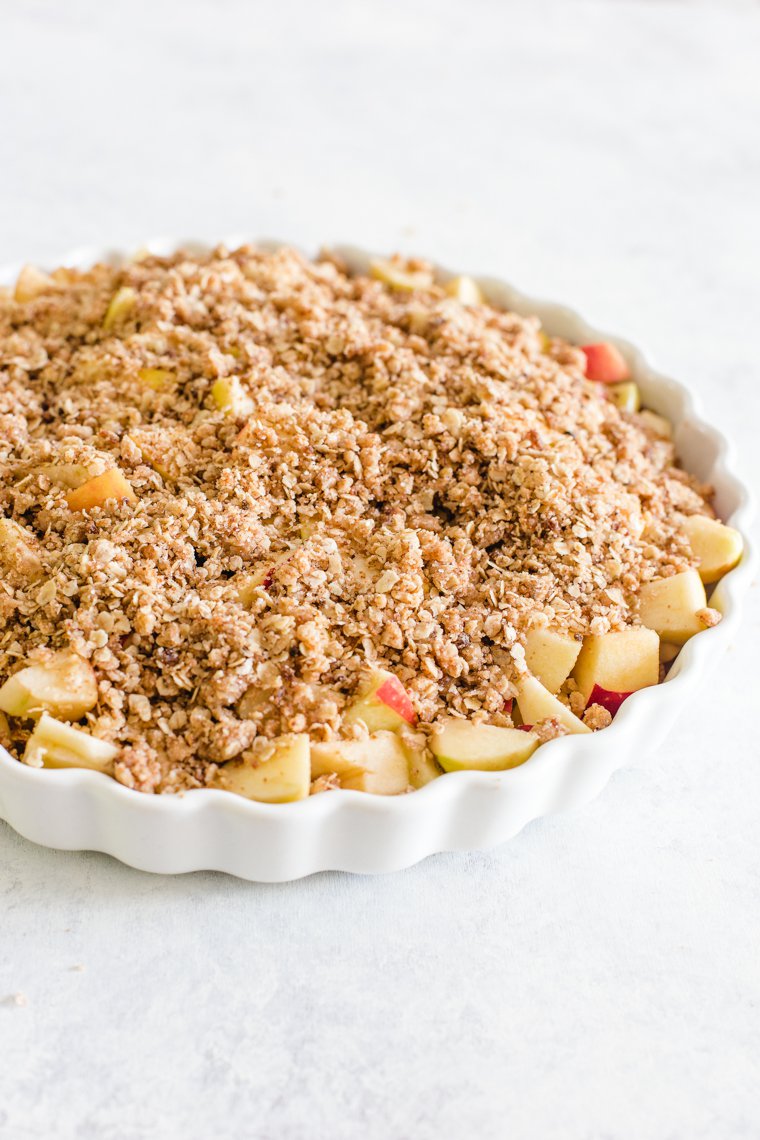 One more note about my apple crumbles of late: I like to half-peel the apples in alternating strips. Not because I'm half-lazy, though maybe I am, but because I like the rustic touch of finding a few pieces of apple skin in my crumble, and half-peeled apples deliver just the right amount. I also pick a mix of apple varieties — like I do for my apple tarts — to get as vivacious an apple taste as possible.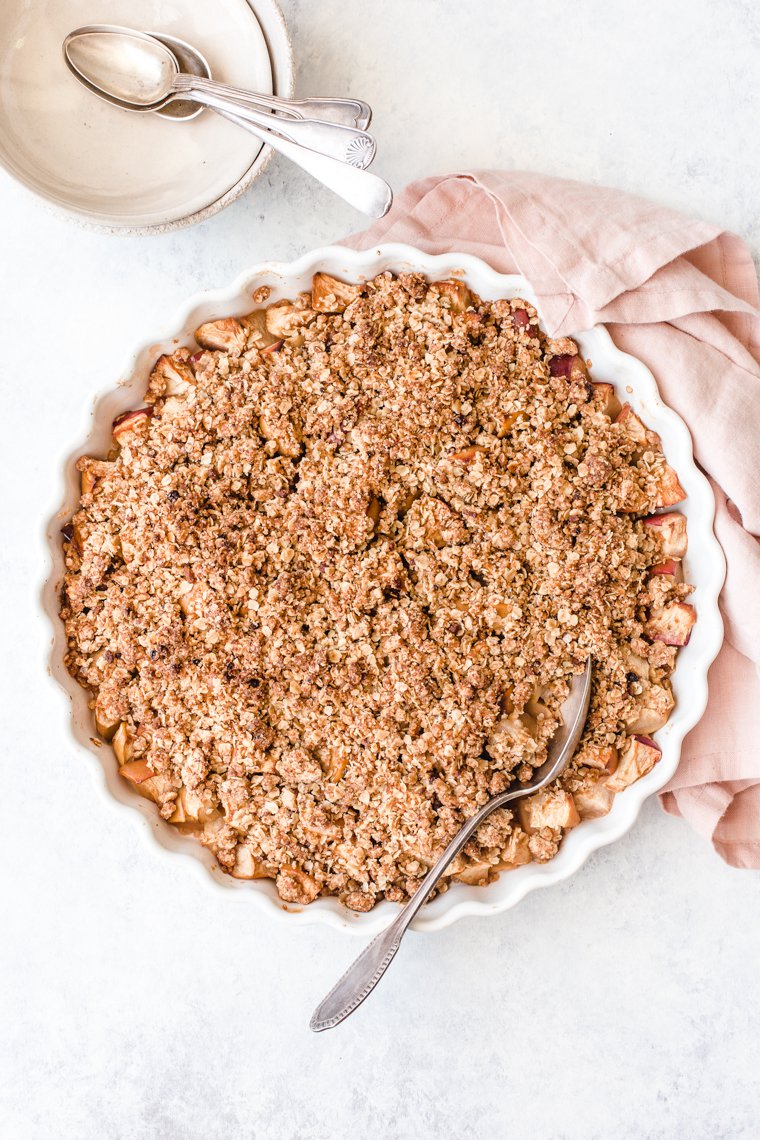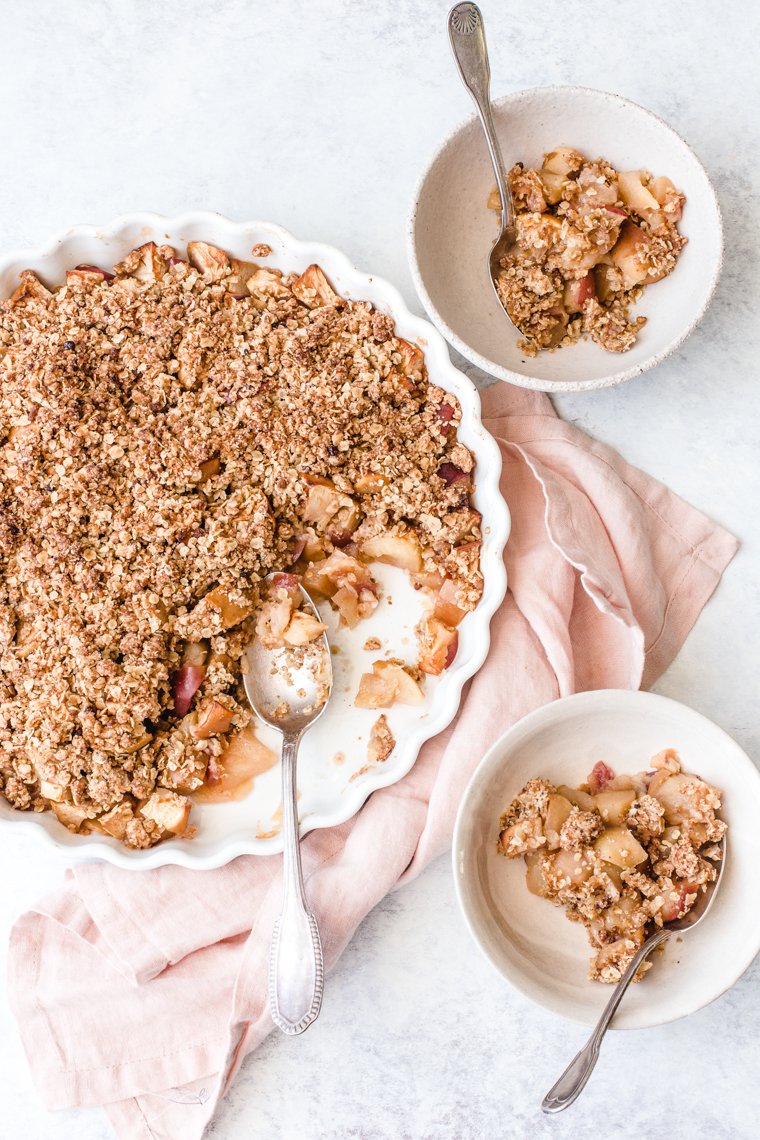 I hope you'll give it a try. But for the die-hard butter lovers out there who simply must have it in their apple desserts, I recommend this rather outstanding brown butter spiced crisp.

Have you tried this? Share your pics on Instagram!
Please tag your pictures with #cnzrecipes. I'll share my favorites!
Butterless Apple Crumble Recipe
Ingredients
100 grams (3.5 ounces, about 3/4 cup) flour (I use spelt flour)
100 grams (1 cup) rolled grains of your choice (oat, spelt, wheat, rye, quinoa, rice, barley... or a mix thereof)
50 grams (1/4 cup) rapadura sugar
50 grams (1/4 cup) unrefined blond cane sugar (you can use the combination of unrefined sugars that you prefer, or just one)
1/2 teaspoon salt
1/2 teaspoon ground cinnamon (I use fresh cinnamon from Cinnamon Hill)
1/2 teaspoon mango powder (at Indian markets ; substitute the spice of your choice)
80 ml (1/3 cup) oil (I use a bottled blend of four organic oils)
1.5 kilos organic apples (3 1/3 pounds, about 8 medium), preferably a mix of varieties, some that keep their shape when cooked, some that don't
Instructions
Make the crumble topping up to a day in advance: in a medium mixing bowl, combine all the ingredients from flour to oil, and stir well with a fork to combine, making sure all of the dry ingredients are moistened by the oil. If making in advance, transfer to an airtight container and keep in the fridge.
On the day of serving, preheat the oven to 180°C (360°F). Peel the apples in alternating vertical stripes so that you retain some, but not all of the peel. Quarter and core the apples, then cut into smallish chunks.
Arrange the apple chunks over the bottom of a baking dish (the one I generally use is a 25-cm or 10" square) and sprinkle evenly with the topping.
Insert in the oven and bake for about 40 minutes, until the apples are tender and the topping golden brown, checking regularly to make sure it doesn't darken too much (if it does, cover loosely with a piece of parchment paper).
Serve slightly warm or at room temperature. You can bake the crumble a few hours in advance, and reheat slightly before serving: if the oven was in use for the main course, I'll just put the crumble in the cooling oven while we eat. The leftovers are fantastic straight out of the fridge the next day.
https://cnz.to/recipes/desserts/butterless-apple-crumble-recipe/
Unless otherwise noted, all recipes are copyright Clotilde Dusoulier.
This post was originally published on March 29, 2011.