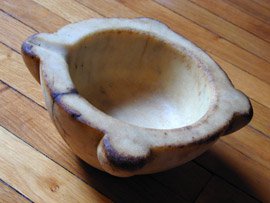 I love it when unexpected things — be they gifts, ideas or opportunities — fall onto my lap. Luckily, in this instance, the thing didn't literally fall onto my lap or I'd be limping as we speak, but you get my drift.
Last Saturday, my sister Céline and I went to visit our dear grandmother, whom we call Mamy (although my sister insists on spelling it Mamie), who lives not far from us, in the 17th arrondissement. My grandmother would hate for me to tell her age, but let's just say that she was a little girl during World War I, so you know, she's seen a thing or two. She loves to talk and tell stories, fascinating memories of times past — some of my favorites being the ones about the sweet and clever boy my father was, and how talented he was at scarfing down camemberts and apple cakes.
She loves to cook too, although now her health doesn't allow much of that anymore, and I know that she is particularly glad to see me so passionate about it. We talk about things we like to make, and I've often asked her for recipes. They are endearingly fuzzy, and it takes a little while to get her to tell me exactly what she means, but that's all part of the pleasure of course.
Just the other day, she was telling us about her Soupe au Pistou, the typical soup from Provence made with vegetables and pistou, the French equivalent of pesto. And then she mentioned her marble mortar, the prerequisite tool to make pistou. Surely, I had seen it before? she asked. My eyes lit up — a marble mortar was high up on my famous List Of Things — and I shook my head : no, I had never seen it. But I would certainly love to!
As per her instructions, I went to dig it out from where it was hiding, all the way to the back of the bottom shelf in her huge kitchen cabinet, almost dislocating a shoulder in the process. I brought it triumphantly back into the living-room and took it out of its protective wrapping, uncovering this beauty : about ten inches across and 8 pounds, made of polished, off-white marble with purplish veins, it has a good, stable base, and four ears to hold it, one of which is carved down with a little pouring channel.
Obviously pleased that it had found a new home (Céline kindly said : "you have it!"), my grandmother went on to explain that it was very very old, well over a century, and that she herself had dug it out from the bottom of the garden in a house they rented in Marseille in 1937.
So, now that I am happily equipped with what is undoubtedly my cooking tool with the most history (not to mention the heaviest, try riding the metro on a Saturday afternoon dragging 8 pounds of marble, it's fun), I must go on a mission to find the perfect wooden pestle to complement it!