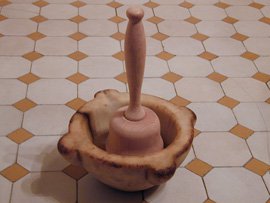 Finally!
Finally, I have acquired a pestle to go with the marble mortar my dear grandmother gave me as a birthday gift last summer.
Okay, I make it sound like I've been searching high and low for one but it's not quite true. It's been on my mind all that time, I was thinking well, isn't it a shame to have such a marble beauty and just use it as a vide-poche, a catchall for keys and loose change — but for some reason a part of me could not believe anyone would ever sell me a pestle without a mortar : who in the world would they then sell the pestle-less mortar to? (Well, whoever holds hostage the pestle that should go with my mortar, that's who!)
So in fact I never gave the quest a real chance, until just recently when I found myself (an utter fortuity, I swear) at Dehillerin. I enquired about mortar-less pestles, preferably wooden, and the salesguy shook his head no. But his colleague, overhearing the conversation (they're always eavesdropping on each other's sales pitches, contradicting whatever is said or adding their two centimes, it's fun to watch) said they did in fact have one left. He even went so far as to fetch it and hand it to me — probably they don't see too many 25 year-old female customers.
Holding it in my hand, feeling its nice, balanced weight and waving it around a bit (causing the salesguys to look at me with alarm and take a half-step back), I had the sudden, almost magical certainty that this was a perfect fit for my lonely marble friend. This was confirmed when I got home and placed the pestle in its hollow, where it nested itself with an audible sigh.
They go everywhere together now, and look so happy it's a joy to everyone who sees them. Ah, matchmaker to the cooking utensils, there's a new career to consider!