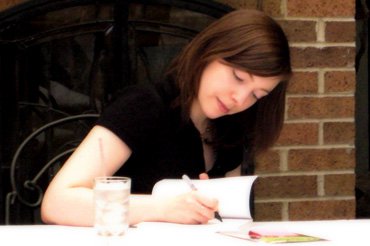 Where were we? Ah, yes: last time we spoke, I had just arrived in Seattle. I am now home, tired but happy, and I thought I would share a few more thoughts and highlights from the final week of my US book tour, between Seattle and San Francisco.
Sharpie. In under two weeks, I managed to go from not knowing what a Sharpie was — this brand of marker doesn't exist in France — to being very particular about the Sharpie that I used: if it's a fine point, I need it to be brand new, otherwise the line is too thick; if it's an extra fine point, I need it to have a bit of mileage, otherwise the line is too thin.
Bookplates. Before I left New York, my publicist gave me a bundle of bookplates, a.k.a. ex libris — in my case, just blank stickers with a small Broadway Books logo at the bottom. This turned out to be a smart move (unsurprisingly so, for my publicist is a smart person) because we usually ran out of books to sell at the different events. The last people to arrive would look disappointed that they couldn't get a copy, until I whipped out my stack of stickers and said, in my consolation prize voice, "Would you like me to sign a bookplate for you?" To which most people responded with a vigorous nod, and asked if I could sign one for their sister-in-law and their best friend, too.
A chef's take on my recipes. About half of the events of the tour were booksigning dinners or lunches, i.e. meet-the-author events hosted at restaurants, during which our guests could eat, drink, and mingle. The chef could — but didn't have to — plan the meal around recipes from the book, and a large part of the fun for me was to see what they'd done with them. They all did a great job, obviously, and after my initial feeling of relief (1- the guys in the kitchen do not smirk at me; 2- the food tastes great), I relished it when they took creative license with the dishes and made them their own.
Seattle. I wish I'd had more than just two days in Seattle, but I did manage to squeeze in a visit to the Pike Place Market (like every tourist and his neighbor) and, more notably, to the World Spice Merchants store, where, against my better judgement, I indulged in a miniature spice-shopping spree. The wasabi powder, smoked alderwood sea salt, Utah basin salt, Seattle salmon rub, aleppo pepper, and shiitake tofu scrambler then conspired to lend a guttural, smokey smell to the contents of my suitcase, so if you met me after that and thought something smelled a bit like sopressata, that would have been me; sorry.
San Francisco. It was a glorious feeling to be back and have a few days to enjoy the city — the Ferry Building farmers market in the fog of dawn (well, 8:30 is early to me), dinner at Nopa with a great view onto the kitchen, dinner at Derrick's and brunch at Brett's (don't you love it when life presents you with effortless alliterations), a quick visit in Sam's company to the Capsule design festival, where my friend Lucy had a booth… As always, I lamented the fact that SF and Paris aren't closer to one another (who designed this planet, anyway?) and vowed to come back as soon as possible.
Google. While there were too many highlights to count to my stay in the Bay Area, my inner dot-comer got a serious kick out of my visit of the Google campus: having read so much about it, I was pleased to observe that it was every bit as surreal and fun as I'd imagined, an amusement park of a workplace where colorful gizmos abound, and where the food is free and exceptionally tasty. I gave a talk there, and the video is available here for your enjoyment — it's a 15-minute talk, followed by a 20-minute Q&A session.
The things I carried. When I took the plane back to Paris, I thanked my lucky stars that the security guys didn't decide to search my suitcase, thus exposing to the world the ridiculous amount of edibles I was bringing home — the afore-mentioned spices, one salami, two boxes of cereals (these were not for me), two jars of chunky peanut butter (I plead guilty), dried mango slices, homemade vinegar, homemade apple butter, homemade rhubarb and strawberry jam, homemade cinnamon salt, two pounds of meyer lemons, macadamia blossom honey, apricot syrup, meyer lemon and lime marmalade, and enough chocolates and caramels to open my own confection shop, except I'd rather eat them myself.
Moblog slide show. Lest you worried about me not being well fed on the tour (now, where in the world would you have gotten that idea?), this slideshow of moblog pictures should reassure you plenty:
Thank you. My most sincere thanks to those of you who attended these US events: thank you for showing your support, for listening when I talked, for sharing your own stories, and for showering me with kind words, compliments, and the occasional delicious gift. Thank you for making this trip exhilarating, gratifying, and fun. I look forward to meeting your European counterparts in Paris and London later this June.
[Photo credit: The picture that illustrates this post was taken by Debra, a reader from Chicago.]