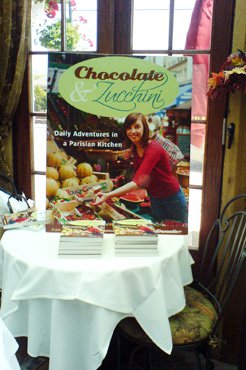 I am writing this post from above the clouds, somewhere between Chicago and Seattle*. I am about halfway through my book tour, and because I'm all for sharing the behind-the-scenes details, I thought I would tell you a bit about the life of a touring author.
Media escorts. In each city that I visit, a media escort has been hired to accompany me: this is someone who knows the area well, who has my schedule, and who drives me from one engagement to the next so I don't have to worry about taxis or driving directions.
This person (man or woman — it's not that kind of escort) can sometimes act as a food stylist, too, if there is a TV appearance scheduled, and usually makes a point of showing me the sights and sharing little bits of trivia as we drive around, which I really appreciate. I had no idea such a job existed and I don't know how well it pays, but it strikes me as a rewarding occupation, which allows you to meet engaging authors (present company not included) and attend a variety of events — in any case, the ones I've met seemed quite happy.
Schedule. The events listing is really just the tip of the book tour iceberg: in addition to these engagements, the goal of a book tour is also to reach out to the local media — television, radio, or print — and get a chance to spread the word about the book.
You've read about my segment on the Today Show, and I am scheduled to appear on KNTV's Bay Area Today sometime between 10 and 11am this Thursday Friday, but I've also had a chance to visit a few radio studios, which I've always found mysterious and cool and fascinating, for some reason, but had never realized were that chilly (note to self: don't forget the sweater). As for the print media, journalists either choose to attend a booksigning event, or we have a one-on-one conversation that usually takes place in the bar area of my hotel, which makes my life easier.
Blow-ups. In preparation for each booksigning event, my publicist has sent the organizers a blow-up of the book, which is a light cardboard poster of the book cover (pictured above). It was a bit of a shock the first time I found myself face to face with this odd, 2-D, almost life-size version of me, but I've more or less gotten used to her presence by my side. I do draw the line, however, at having one shipped to me in Paris, as I've been offered — what could I possibly do with it? (And no, I am not asking for your creative suggestions, but thanks anyway.)
Signing the stock. As time allows, another one of the author's missions is to hit the local bookstores and sign the books they have in stock. Stores can then apply a sticker on the cover to indicate that they are autographed copies, which sell better, of course. Media escorts can help by calling ahead so the store manager will have the copies handy, but I've also paid a surprise visit to a large bookstore by my hotel in Chicago, where the sales attendant was apparently as intimidated as I was.
Downtime. And in the midst of all that running around, when I have a bit of time to myself, it is spent exploring the cities, buying fruit and yogurt for the next morning's breakfast (I find hotel breakfasts to be consistently disappointing and prefer to take matters into my own hands), and catching up with friends over a few good meals. Oh, and cat-napping, too — I've gotten remarkably good at that.
Boston decided to give me the cold, rainy shoulder, but I didn't let that cloud my judgement (ha ha): Paul O'Connell, chef at Chez Henri, was kind enough to take me out to lunch to eat the lobster roll I was craving, and he drove me around afterwards, introducing me to this elegant city in record time. I also loved my visit to the French Library, set in a gorgeous Back Bay mansion; Julia Child used to do cooking demonstrations there, in the very room where I gave my little talk.
Chicago. I had a little more time and a lot more sunshine in Chicago, and this made it easier to appreciate the atmosphere, the architecture (if you're a fan of Schuiten and Peeters' graphic novels, this is your dream city), and the lingering smell of hot cocoa in the air (which comes from a nearby chocolate factory but, I was told, not Willy Wonka's). I was happy for the chance to drop by the Museum of Contemporary Art (the current photography exhibition made my day), to sit around in the café at Fox & Obel, and to blink in amazement at the genuine moon rock displayed in a glass window at the foot of the Tribune tower.
Finally. I would like to thank those of you who have made it to the various booksigning events so far: it was a pleasure to meet you and I hope you had a good time! Many thanks, also, for the messages of congratulations and support you have posted or emailed me over the past few days. They are much appreciated, and I am thrilled that you are enjoying the book.
(If you have a moment, I hope you will consider posting your own review on the Amazon page, to help other would-be readers decide if this is the book for them. Thank you!)
* The actual posting happened a bit later, of course, once I was settled in my hotel room.