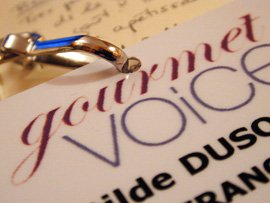 Well, here I am, back from Cannes! The Gourmet Voice festival was a fabulous three days of food- and media-oriented conferences, conversations and debates. I feel tremendously privileged to have had the opportunity to attend, it was really heartwarming and exciting to meet so many people from all over the world, all sharing that same passion of communicating on, with and around food.
The festival started out in the most auspicious way for me : as I hopped into the car that was to drive me in from the airport, I suddenly realized with a miniature stomach lurch that the person sitting to my right was none other than Ken Hom. This was just the first in a string of private little joys which I mostly kept to myself of course, pretending it was just the most natural thing to be sitting in a car, sharing a bathroom sink or striking up a conversation with celebrity chefs and journalists.
The talks covered a variety of subjects, from the history of cookbooks to guidebook politics, from cookbook best-sellers to the responsibility of food critics, from the making of a wine guide to the relationship between food TV and pornography. My own talk went very well, and I hope I did you all justice — fellow bloggers and readers alike — in speaking about the wonderful world of food blogs.
Here are a few of my personal highlights :
– During a talk on the evolution of graphical representations in cookbooks, I learned a new word : attelet (conveniently identical in French and in English). Attelets are those little food-skewer ornaments that were planted oh-so-decoratively onto dishes by the likes of Antonin Carême. I think we should do something to put them back in fashion, don't you think?
– Pierre Hermé spoke about his work with a designer on the cake "La Cerise sur le Gâteau", and I really liked what he stated about his creations in general : everything that's in or on his cakes is there because it contributes to the taste. Never purely for decoration. His goal is to make the cake as appetizing as possible, without resorting to artifice of any kind.
– Listening to Jean-Louis Bloch-Lainé, a renowned French food photographer, speak about his work in the most humble, humbling way.
– Meeting Darra Goldstein, founder and editor of the magazine Gastronomica, who received the gold award in the press category. Finding out that she has come across the C&Z food glossary in the past, found it very useful and printed it out.
– Alice Waters of Chez Panisse was one of the special guests of the festival, and I loved to hear her talk about her project with the Berkeley school district : I was very impressed by the unique way in which she speaks, with such poise and powerful passion at the same time. She has incredible class.
– Ferran Adrià of El Bulli was another special guest, and listening to him speak (in a charming combination of French and Spanish) was the most refreshing thing. The French media tend to make him out to be this sort of inaccessible and dead-serious alchemist, so it was a wonderful surprise to discover that he is in fact an easy-going and talkative guy, who doesn't take himself seriously in the least and is also extremely funny — I smiled and laughed throughout his whole talk. Oh, and in passing, I discovered that it's not [el-boo'-lee], but rather [el-boo'-yee]… I won't be caught making that mistake again — except it's going to make me sound impossibly snobbish and people will have no idea what I'm talking about so I may just have to keep saying it wrong.
– Finally, I cannot stress enough how happy I was to spend those three days in the company of so many friendly and interesting people from all kinds of backgrounds, doing all kinds of things, with all kinds of approaches. I'm coming home with handfuls of business cards and promises of follow-ups, tremendous inspiration and a confirmation of how much I adore this field.