This is one of those recipes I'm super excited to have added to my repertoire: it's very (very) easy, it can be whipped up from 100% pantry ingredients, and once it's on the table it tastes and feels like a much more sophisticated dish, the kind that makes you sigh with pride and content and say, "We eat pretty well around here, don't we?"
It started out as the 20-minute fish curry in Meera Sodha's excellent book, Made in India, Cooked in Britain, which I own in its British edition and have used multiple times with great success. Her original recipe is for an Indian-style curry without the coconut milk, but after several iterations in my kitchen it has taken on Southeast Asian flavors (lemongrass, basil or cilantro, lime juice) that make it a little bit Thai as well.
An amazingly easy fish curry
I apologize to purists of either cuisine in advance, but the result is a fine curry, richly favorful and clean-tasting, that does really well on its own or served over rice. My current preference goes to this sticky rice, which I throw into the rice cooker Maxence talked me into buying despite my reluctance (rice cooks just fine in a regular pan on the stove! we don't need a specialized appliance!), and I now love and cherish (perfect rice! every time! no need to watch or time or anything!).
Since settling on this wonderful fish curry formula, I now make sure I keep on hand a can of coconut milk, a jar of whole peeled tomatoes, and fish fillets in the freezer at all times (the spices, onions, and fresh ginger I always have around), and I throw the curry together almost on a weekly basis. Although I've only made it for our family meals so far, it is without a doubt a company-worthy dish, one you could even pull off for a weeknight dinner party, possibly followed by this vanilla-roasted pineapple.
Join the conversation!
What's the most recent addition to your roster of easy, weeknight-friendly recipes? We all need more of those so please share!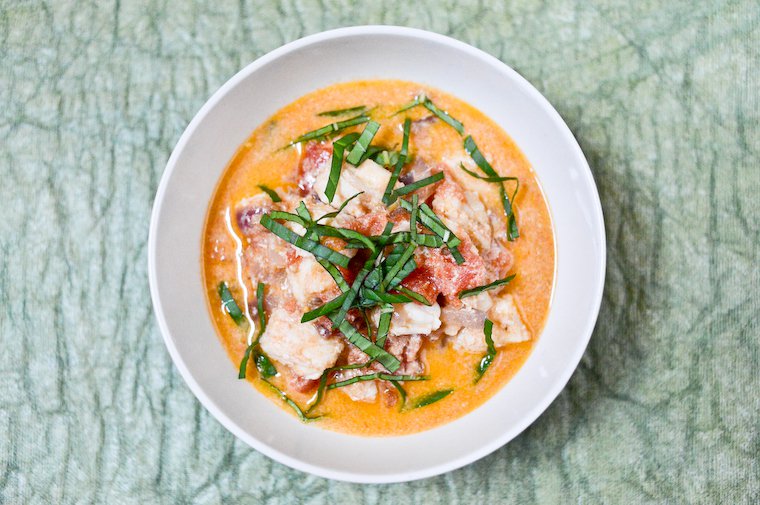 Have you tried this? Share your pics on Instagram!
Please tag your pictures with #cnzrecipes. I'll share my favorites!
Easy Tomato and Coconut Fish Curry Recipe
Ingredients
1 tablespoon coconut oil
1 medium onion, finely diced
2 cloves garlic, minced
1 stalk lemongrass, peeled and finely sliced
1 thumb-sized piece fresh ginger, peeled and finely grated
1 teaspoon coriander seeds, freshly ground
1 teaspoon mustard seeds, freshly ground
1 teaspoon cumin seeds, freshly ground
1 teaspoon fine sea salt
400 grams (14 ounces) tomatoes, either fresh and coarsely chopped, or drained from a jar of whole peeled tomatoes
200 ml (6 3/4 ounces) full-fat coconut milk (= half of a standard can)
1 small fresh chili pepper, thinly sliced (optional)
Optional vegetables: green peas, sugar peas, sliced chard greens or spinach leaves
600 grams (1 1/3 pounds) fillets of mild-flavored, sustainable white fish of your choice
Fresh Thai basil, thinly sliced, or cilantro leaves
Lime juice, for serving
Thai or basmati rice, cooked, for serving
Instructions
In a large skillet, melt the coconut oil over medium heat. Add the onion, garlic, lemongrass, ginger, coriander, mustard, cumin, and salt, and stir to combine. Cook for 4 to 5 minutes, stirring frequently, until softened and fragrant.
Add the tomatoes and, if they are from a jar, crush them into chunks with your spoon or spatula. (I use these Earlywood flat spatulas in most of my cooking, and they are especially handy here.)
Add the coconut milk and chili pepper, if using, stir, and bring to a simmer. If you wish to include some of the optional vegetables listed, add them now. Cook for 5 to 10 minutes, until the sauce is slightly reduced and the optional vegetables are al dente.
Dice the fish into 2- to 4-cm (3/4- to 1 1/2-inch) pieces, depending on how firm the flesh of that fish is: if it's a fish that tends to flake easily when cooked, it's best to keep it in larger pieces so it won't fall apart in the sauce too much.
Add the fish to the sauce and simmer for 5 minutes, until the fish is cooked through.
Top with herbs and a squeeze of lime juice, and serve immediately, over rice if desired.
https://cnz.to/recipes/fish-shellfish/easy-tomato-and-coconut-fish-curry-recipe/
Unless otherwise noted, all recipes are copyright Clotilde Dusoulier.