Do you want to hear one of the least publicized benefits of working from home? You get sick less often.
Not only can you choose to stay in when it's cold and drizzly and icky outside (pyjamas optional), but you also spend less time in crowded public transportation, shake fewer hands and kiss fewer cheeks (in French office environments, it is common to kiss your close colleagues hello when you come in in the morning), and touch fewer shared coffee pots and bathroom door handles.
Or at least that has been my experience for the past thirteen winters, ever since I quit my office job and started working for myself.
Except this one winter a few years ago, when my son Milan went to daycare for the first time. There he was naturally in contact with other adorable little people — including twins he's still friends with five years later — and the bazillion germs and viruses they all brought to share with one another, and took home at night.
It's all part of the process, and I was copiously warned about it, but we went through a rough patch that first winter, when Milan was sick for the first time of his life, I had the nastiest cold I'd ever, ever had, and neither of us seemed to be getting better. At all. For weeks. It looked like it was going to be a long winter.
And then one night my dear friend Florence, who was kindly checking in on us, suggested a vegetable curry might be just the thing.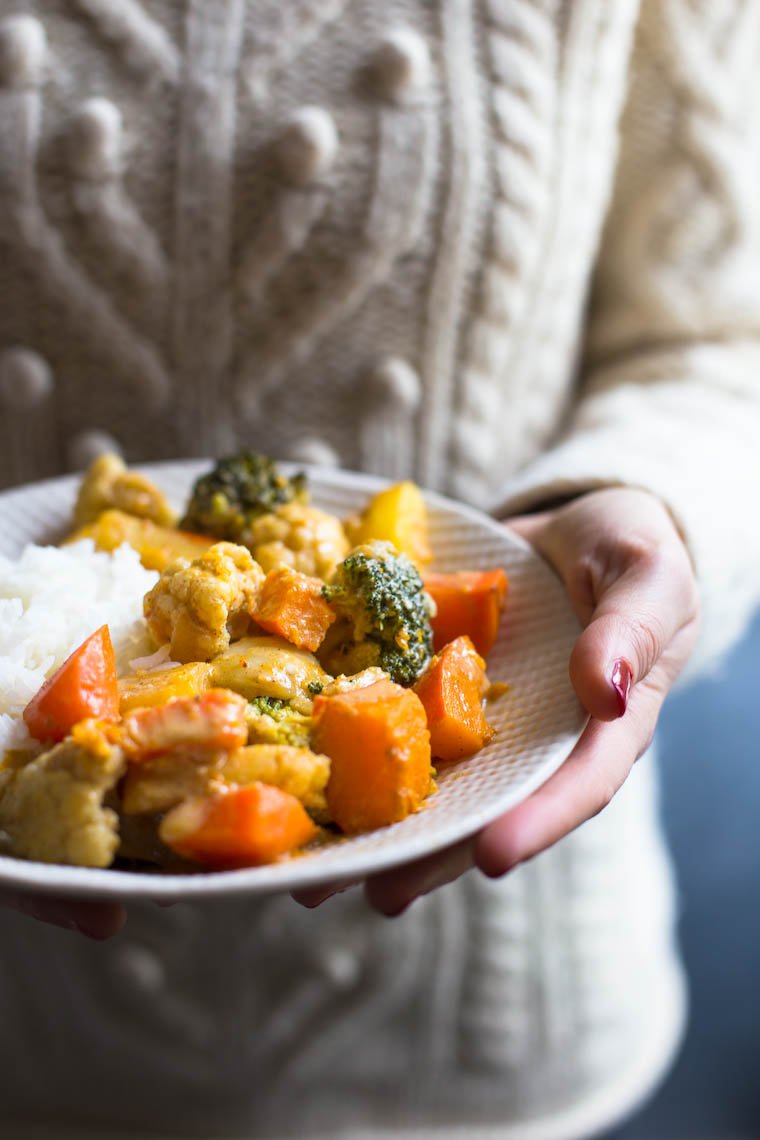 Just the thought of it cheered me up. I dragged myself up from the couch, looked up a recipe that would require neither grocery shopping nor lengthy preparation, and got to work.
The recipe I used that night was this one by Beena Paradin, a French-Indian cook, food writer*, and co-founder of the online shop Beendhi. She presents the recipe as a riff on a traditional stew from Kerala, the region in the Southwest of India where she was born, and explains she's adapted it to speed up the process, and accommodate the kind of ingredients one finds in the Western world.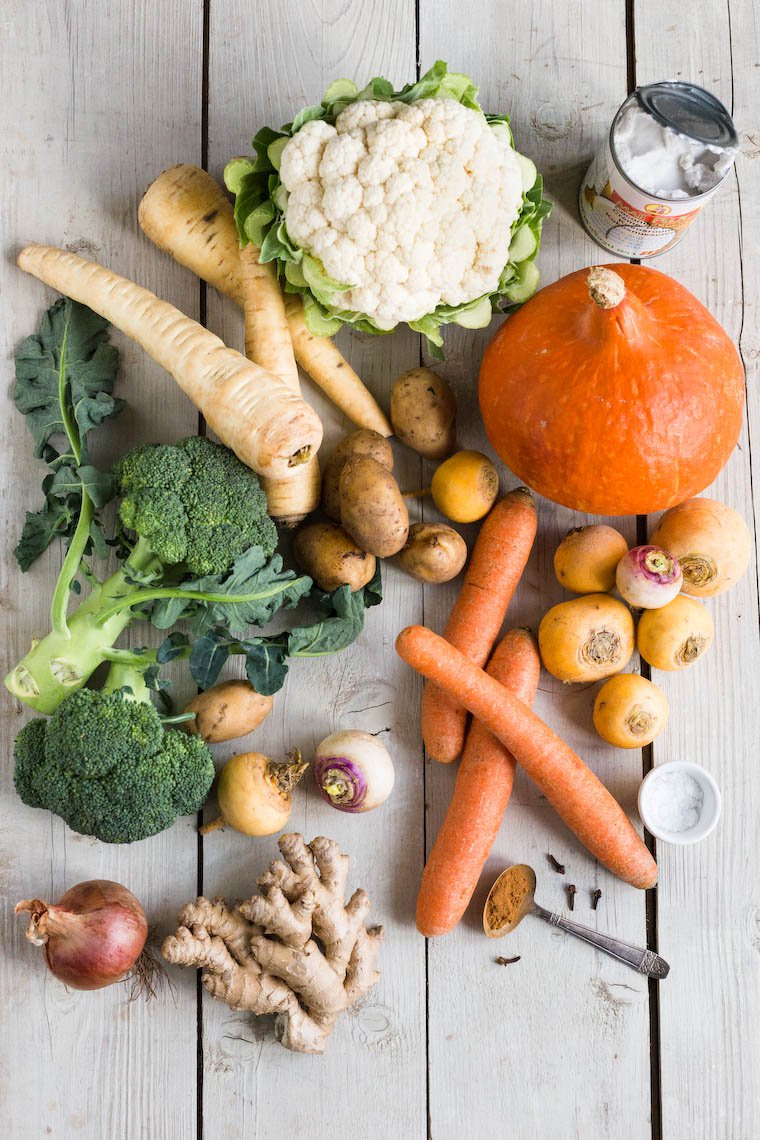 It was profoundly comforting, full of warm flavors, the vegetables soft and fuzzy in their spiced coconut milk sauce. It made me feel considerably better.
The stew has become a fixture of our weeknight dinner rotation since then, and it has turned out to be a most rewarding method of using up mismatched vegetables that may be losing patience in the fridge drawer.
And whether it's the winter vegetable curry, our stronger immunity, or just our lucky star, I'm happy to report we've all been doing fine since that dreadful first winter.
See also : Vegetarian Batch-Cooking for Winter
Join de conversation!
What's your edible remedy for bad colds and other grisly viruses?
* In particular, she has written the superb cookbook Inde intime et gourmande with her mother, Padmavathi Paradin.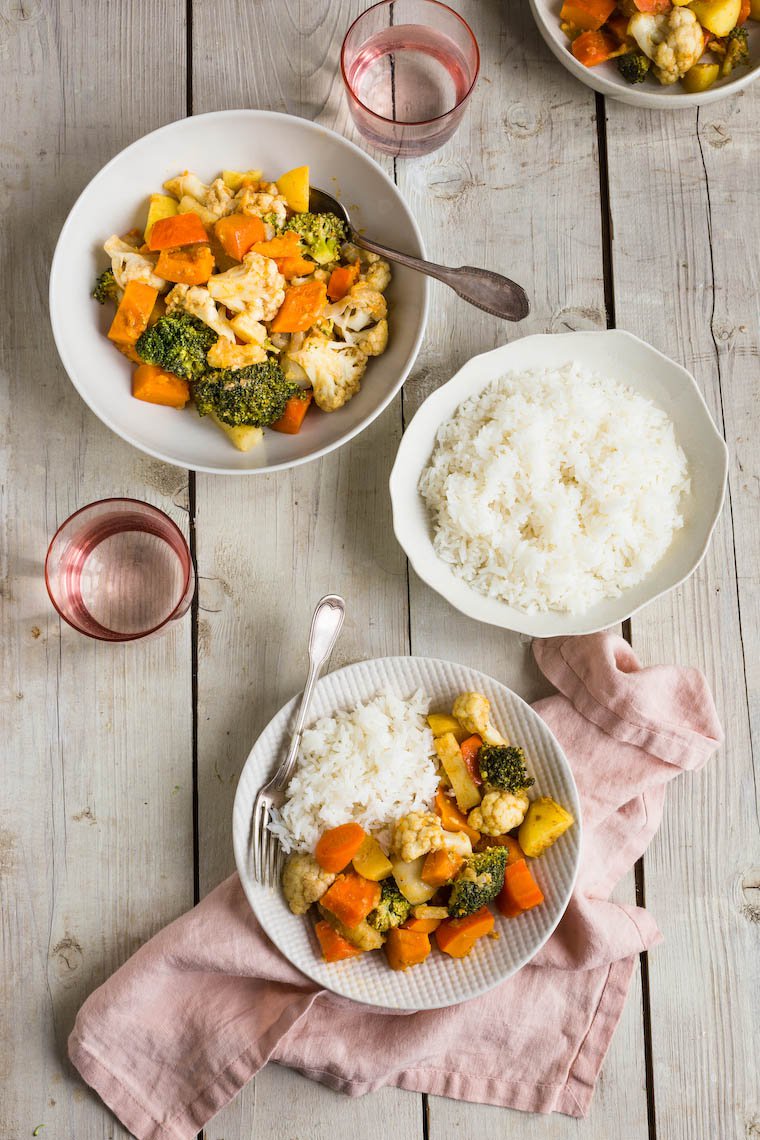 Have you tried this? Share your pics on Instagram!
Please tag your pictures with #cnzrecipes. I'll share my favorites!
Winter Vegetable Curry Recipe
Ingredients
1.2 kilos (2 1/2 pounds) mixed cold weather vegetables, such as carrots, parsnips, potatoes, kabocha, broccoli, cauliflower, etc.
2 tablespoons cooking oil or ghee
1 medium onion, finely sliced
1 teaspoon fine sea salt
a "thumb" of fresh ginger, about 2.5 cm (1 ") in length, peeled and cut into thin matchsticks
4 cloves
1/4 teaspoon ground cinnamon (I use fresh cinnamon from Cinnamon Hill)
400 ml (13 1/2 ounces) coconut milk
freshly ground black pepper
basmati rice, for serving (optional)
chutney, for serving (optional)
Instructions
Cut the vegetables into bite-size cubes, or sticks, or florets.

Heat the oil in a thick-bottomed pot with a lid, such as a Dutch oven. Add the onions and salt, and cook for 3 minutes, stirring frequently, until softened. Add the ginger, cloves, and cinnamon, and cook for 1 minute.
Add the vegetables, and pour in two thirds of the coconut milk and 120 ml (1/2 cup) water.

Stir, cover, bring to a low simmer, and cook for 30 minutes, stirring every now and then, until the vegetables are soft.
Stir in the remaining coconut milk, cook for another minute or two, sprinkle with black pepper, and serve, with freshly steamed basmati rice and chutney.
https://cnz.to/recipes/vegetables-grains/winter-vegetable-curry-recipe/
Unless otherwise noted, all recipes are copyright Clotilde Dusoulier.