This coconut spiced rice has been on heavy rotation in my kitchen lately, and it's all thanks to Maxence.
A little while ago, he expressed the desire for us to acquire a rice cooker. I admit it: I scoffed. I argued that we could cook rice on the stovetop just fine, that we didn't need a specialized appliance for that, and where in the world would we put it anyway?
But I could see he really wanted one, and considering that 90% of the stuff taking up room in our kitchen cabinets is, ahem, by all intents and purposes, well, my stuff, the least I could do was green-light the rice cooker. (And that's the secret to relationship longevity right there. You're welcome.)
So Maxence went off and researched the heck out of the rice cooker equation, because that's what he does (I don't have nearly as much patience for it) and he decided on this model from Cuisinart, which happens to be pretty good-lookin', too.
Fast-forward a couple of years and I'm eating my words.
I am a hopeless fan of the rice cooker now. It is my friend and my ally, it is a joy to use, and I have carved out an extra special place for it so I can easily pull it out every time I need it, at least once a week.
I mostly just cook rice in it — perfect rice! effortlessly! every time! — but I also like to use it to cook other grains, pseudo-grains, and legumes (provided they don't contain too much starch, otherwise it boils over, and boy, is that annoying), to make porridge, or to braise this amazing ramen-style pork.
Also: this coconut spiced rice, a super easy twist on Indian-style rice.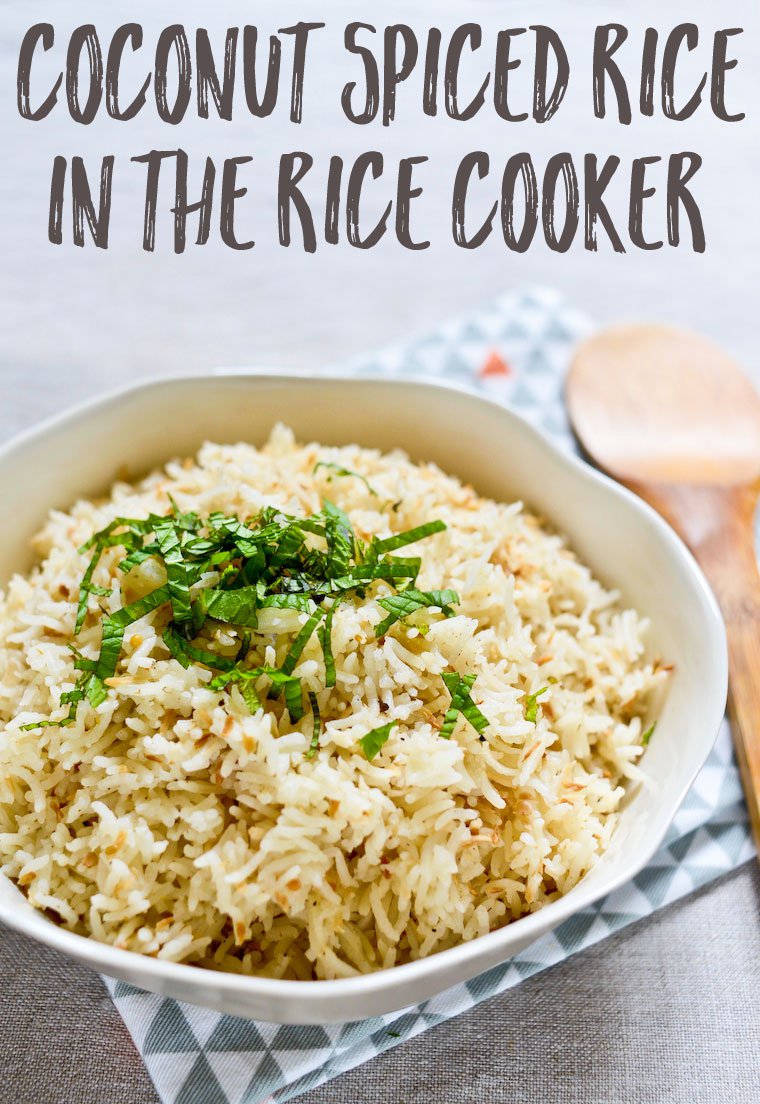 It is inspired by a pre-seasoned boxed rice that had called my name at the organic store. But when I looked at the ingredients list, I realized I had everything at home to make it, and felt pretty sure it could be made from scratch for a fraction of the price.
And indeed, it can: just combine some basmati or jasmine rice with grated coconut and a few spices (feel free to play around with the mix I'm suggesting), add water, and switch on the rice cooker.
Minutes later, when you hear the happy click of the rice cooker and lift up the lid, you are greeted by this deeply fragrant rice that's a significant step up from plain, yet has taken you nearly zero effort to prepare.
This coconut spiced rice can be served with any type of curry (especially this vegetable curry and this easy fish curry), or topped with your favorite stir-fried vegetables and perhaps a dollop of yogurt sauce for a quick and satisfying meal.
Join the conversation!
Do you have a rice cooker of your own? What's your favorite way to use it? Any clever recipe you've devised for it?

Have you tried this? Share your pics on Instagram!
Please tag your pictures with #cnzrecipes. I'll share my favorites!
Coconut Spiced Rice in the Rice Cooker Recipe
Ingredients
190 grams (1 cup) long-grain rice, such as basmati or jasmine, white or brown
25 grams (1/4 cup) unsweetened grated coconut, toasted if possible (see note)
The seeds from 1 pod cardamom
1/4 teaspoon cumin seeds
1/4 teaspoon mustard seeds
1/2 teaspoon salt (optional, see note)
Fresh mint or cilantro, finely snipped, for serving
Instructions
Rince the rice in several baths of fresh water until the water runs more or less clear. Drain thoroughly.
Place the rice in the bowl of the rice cooker, and add the coconut, cardamom, cumin, mustard, and salt, if using.

Add 240 ml (1 cup) fresh water if using white rice; 360 ml (1 1/2 cups) if using brown rice. Stir.

You can prepare the recipe in advance up to this point (say, in the morning before you leave for work, or just an hour before dinner). The rice will simply absorb water as it soaks and cook faster. This is especially desirable if you use brown rice.
Place the lid on, and switch the rice cooker on to "cooking" mode. Don't open the lid while the rice cooks.
When the rice cooker switches to "keep warm", allow the rice to sit for 5 to 10 minutes.

Stir to fluff up. Taste, adjust the seasoning, and serve warm with a scatter of mint or cilantro.
Notes
I like to toast a large batch of grated coconut in the oven, and keep it on hand in a jar for use in my baking, in my bowl of granola, and in this recipe.
I find this recipe has enough flavor that it doesn't actually need salt, but some people prefer a little bit of salt to give it more depth.
Please note that different rice cookers operate in slightly different ways. Make sure you're familiar with the user manual for your own rice cooker and adjust my instructions accordingly.
https://cnz.to/recipes/vegetables-grains/coconut-spiced-rice-cooker-recipe/
Unless otherwise noted, all recipes are copyright Clotilde Dusoulier.