Given my love of good-for-you nut butters and my passion for the unabashedly trashy peanut butter cup, it was only a matter of time before I attempted to merge the two and make a peanut butter cup spread of some sort.
I thought I would simply use unsweetened cocoa powder to flavor an otherwise classic homemade peanut butter, but when I opened the tin, a hollow clonk greeted me.
"Who used up the last of the cocoa powder without replenishing the supply?" I asked, punctuating my question with a colorful expletive. "I did and I'm sorry," I replied, alone in the kitchen. "But the Salon du Chocolat is coming up soon, and if you make it there, won't you be pleased to have an excuse to do some shopping?" That shut me up for a while.
I decided to just use bittersweet chocolate instead, and had the idea to add spices to emulate the flavor profile of Mexican chocolate: cinnamon, chili pepper, and vanilla, with the not-so-traditional addition of cardamom, which works beautifully here.
And my Mexican chocolate peanut butter turned out amazingly well. I was blown away by the complexity of its flavor and the richness of its mouthfeel, as showcased on my morning tartine.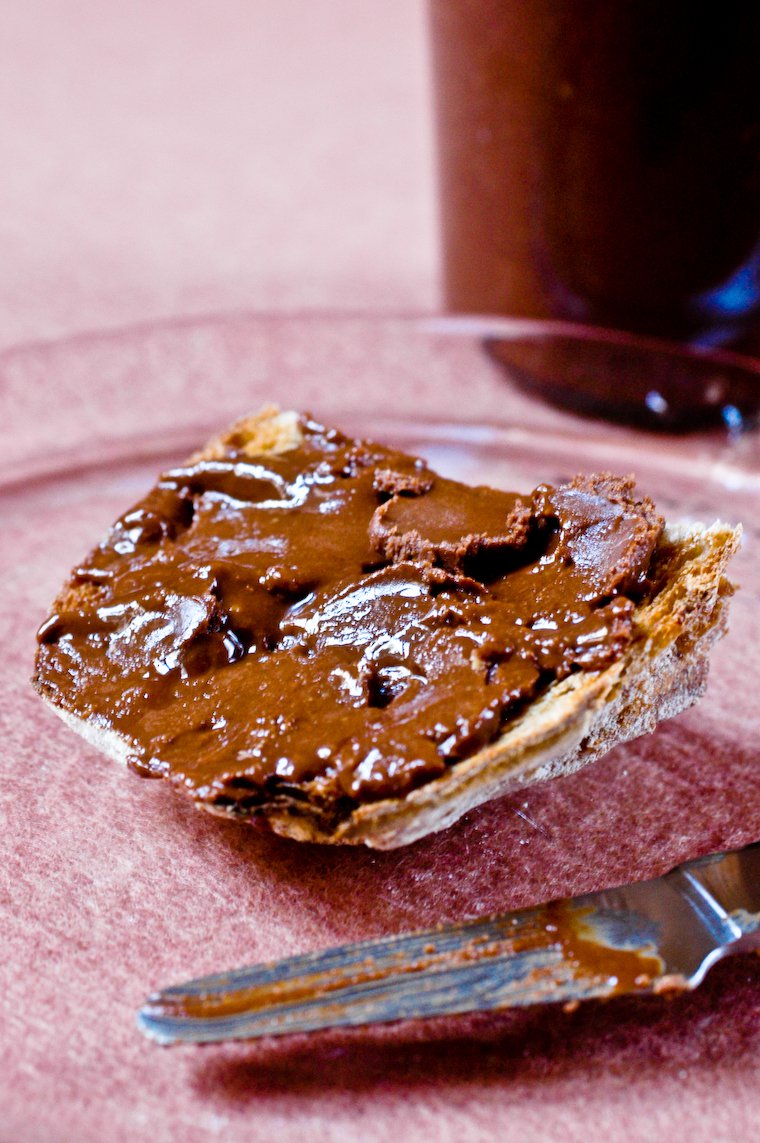 About the cinnamon I use
I am in love with the fresh cinnamon I order from Cinnamon Hill, a small company that specializes in sourcing and selling the highest-quality, freshest cinnamon from Sri Lanka and Vietnam (ordinary cinnamon usually comes from China or Indonesia). I get whole sticks, and grate them with the beautifully crafted (and highly giftable!) cinnamon grater that Cinnamon Hill has designed. Truly, you don't know what cinnamon tastes like until you've tried freshly harvested, freshly grated, top-grade cinnamon, and it makes an amazing difference in this recipe.

Have you tried this? Share your pics on Instagram!
Please tag your pictures with #cnzrecipes. I'll share my favorites!
Spiced Chocolate Peanut Butter Recipe
Ingredients
125 grams (1 cup) raw shelled peanuts (untoasted, unsalted)
40 grams (1 1/2 ounces) bittersweet chocolate, chopped
1/4 teaspoon ground cinnamon (I use fresh cinnamon from Cinnamon Hill)
1/4 teaspoon pure vanilla extract
1/8 teaspoon ground chili pepper or Cayenne
1/8 teaspoon ground aniseed
1/8 teaspoon ground cardamom (untraditional, but it works really well)
1/4 teaspoon fine sea salt
Instructions
Preheat the oven to 180°C (350°F). Spread the peanuts on a rimmed baking sheet and roast for 5 to 7 minutes, keeping an eye on them and stirring halfway through, until golden and fragrant. Let cool slightly.
Combine the nuts, chocolate, spices, and salt in a food processor or blender, and process until the mixture turns creamy, scraping the sides of the bowl every once in a while. This will take a couple of minutes.
Transfer to a jar with a tight-fitting lid. The texture is best for spreading at room temperature, but keep in the fridge if you're not going to consume it right away or if the weather is very warm.
https://cnz.to/recipes/jams-nut-butters/mexican-chocolate-peanut-butter-recipe/
Unless otherwise noted, all recipes are copyright Clotilde Dusoulier.