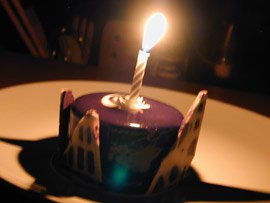 "- Bonjour madame la boulangère! I would like to buy a cake for my blog.
– What a lucky blog! Is this a special occasion?
– Why yes, it is my blog's first birthday!
– My my my, how time flies! I remember your blog from when it was just a wee little baby blog, with just a handful of posts — and now it's one year-old already?
– Yes, I am very proud, and I think it would very much like to celebrate with a cake. Something small something chocolate, something pretty something yummy! What can you suggest?
– Well, we have this chocolate and caramel cake, we have this chocolate and praline cake, we have this chocolate and green tea cake, and we have this chocolate and chocolate cake.
– Oh, they are all so very pretty and look so very yummy, it's hard to choose… what is your favorite?
– I think I like the chocolate and chocolate best.
– That sounds like a good choice by all standards, we'll have one of these!"
And so, we put the little cake on a plate. And lit a candle. And sang a birthday song. And blew the candle. And drank a little wine. And ate the little cake. Happy Birthday Chocolate & Zucchini!
And thank you all, dear readers, whether you're a long-time visitor, newly on board, or just passing by — thanks for reading what I have to say, thanks for your comments and support. Chocolate & Zucchini is a fabulous adventure for me, but it would, of course, be nothing without you.
And since no birthday is quite complete without a birthday gift, I have decided to open forums on Chocolate & Zucchini! I receive the visit of so many interesting people (yes, that would be you) with so many interests in common, I thought it would be a good idea to give you a place to meet, chat and share all the wonderful things you have to say! So go ahead, take a little tour, make yourself comfortable, ask questions, give advice, discuss recipes, cookbooks, restaurants, tips, techniques, ideas, inspirations!
But wait, there's more! No birthday is quite complete without a party either, so I am also throwing a Chocolate & Zucchini Birthday Party! Mark your calendars : the party will be on Monday, October the 18th, and it will be hosted by my chef-friend Nicolas Vagnon at his restaurant La Table de Lucullus. You are all warmly invited to come, and I will be positively delighted to meet you.
Here are the details : participation will be 30€ per guest (payable when you're there), and that will get you dinner and wine, selected and prepared by Nicolas and yours truly. If you would like to come, let me start by doing a little happy dance, and then ask you to please email me before the 8th of October with your name, phone number, and the number of people who will be coming with you!