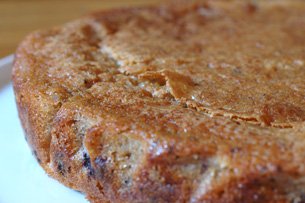 [Blueberry Yogurt Cake]
I seem to have become the official birthday cake baker on the 3rd floor of my apartment building — should this be added to my résumé you think? — a mission I am proud and happy to take on.
It was recently Peter's birthday — Peter who's half Italian half Scottish, and who lives with Ligiana, herself from Brazil, in the apartment to the left of ours. As a birthday gift, Ligiana had arranged for him to take a Brazilian cooking class, during which he would prepare some nibbles to share with his friends.
Luckily, that meant us, as well as our other neighbors Stéphan and Patricia, who live in the apartment to the right of ours (we're considering tearing down the walls to make one big communal apartment with hens and everything), a Brazilian couple who lives just two doors down, and a few other assorted friends.
And since I knew that the menu Peter was preparing was mainly savory, I decided to bake him a cake too. A simple cake, because simple is best, and a variation on the previously featured Gâteau au Yaourt. I made it with a blueberry twist this time, following the recipe as written and simply folding 250g (or 8oz) frozen blueberries into the batter when it was combined. I also sprinkled the top of the cake with a bit of raw cane sugar (which I used for the batter as well) to accentuate the thinly crispy crust that develops in the oven, and to soften the tartness brought on by the berries.
After joyously sampling — let me get my notes — empadinha de camarão (mini-pies with a shrimp filling), quibe (fried meatballs with bulgur and mint, a Brazilian specialty of Middle-Eastern origins) and pão de queijo (small balls of cheese bread, my personal favorite) washed down with Italian wine (Brazilian would have been great, but new world wines are scandalously overpriced around here), I disappeared for a second next door and returned with the candle-crowned cake.
The birthday song session that followed was quite the Tower of Babel, and the cake was very well received. This never fails to send me on Cloud 9 for at least a week, and I was particularly pleased this time to see that 11-months-old Olivia, the littlest gastronome to ever taste anything of mine, scooped it up approvingly.