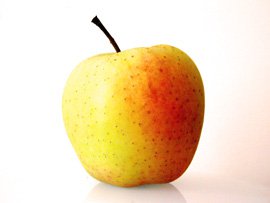 Well, this is it! All packed and excited and ready to go, with my print-out of the C&Z readers' guide to NYC, a tasty snack for the plane (Amanda Hesser
's good advice was not lost on this girl) and dreams of skylines and designer stores and art collections and brownstones and marquees (and bialys and cupcakes).
And if you are in NYC this Sunday (June 19), do join us in the bar area at Otto around 5pm — we will be there, drinking Italian wine and nibbling on antipasti!
Note: The Big Apple pictured above is the juicy, crunchy Golden du Limousin, a truly delicious apple and the very first one to be distinguished by an AOC (Appellation d'Origine Contrôlée, a certification of origin). They are grown on a low mountainside, they are hand-picked and some of them (very much sought after) have a rosy hue on one cheek, the one that is most exposed to the morning sunshine.