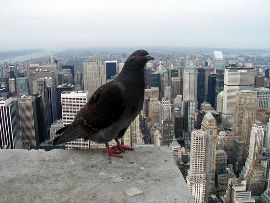 Photography by cmiper
Well, it looks like Maxence and I will be spending a few days in New York City this June — my excitement can barely be contained. I have long wanted to return to this city, which I visited just once when I was 15.
Ten years later, I have read a lot more books and articles and restaurant reviews and blogs, I have seen a lot more movies (not to mention episodes of Sex and the City), and I feel I have an infinity of things to discover, see, hear, experience — and more importantly, taste.
So. Plane tickets, check. Hotel room, check. Guidebook
, check. I have a few things in mind and a lot of reading up to do in the archives of NYC food bloggers, but I would also like to turn to you, readers of C&Z, for advice!
If you were me — more interested in exploring the streets than visiting museums, thirsty for the quirky and the authentic, and undeniably tastebud-driven — what would you do, where would you go, what would you eat, what would you absolutely not want to miss?
~~~
Update: Oh wow, what a response! I knew I could count on you, many thanks for the terrific suggestions. It will probably take me a dozen more trips to cover them all, but I will take your good advice with me and try to make the most of my stay. It certainly seems like I won't go hungry!