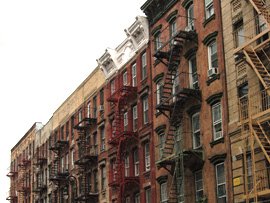 [Photography by Maxence]
What is it with a city that makes you fall head-over-heels for it? Is it the energy that it glows with, is it the sunshine, is it the fabulous food, the designer boutiques, the million little streets just a few blocks from the skyscrapers, the feeling of being in a movie, the meeting of like-minded friends, the walking, the walking, or maybe the walking?
Most certainly a combination of all those quality ingredients, magically enhanced by the company of the love of your life, who is just as enthused as you are — and ever so patient with your mile-long list of food recommendations that make you stop in your tracks at every other street corner, exclaiming with glee ("Oh look! There's such-and-such! Someone wrote to me about it!"), and will happily walk with you to take a closer look.
So many recommendations, so little time and stomach room! I have managed to vicariously enjoy a great many of them — studying menus, gazing through windows, walking around stores, eavesdropping on the merchants' advice, watching the other customers, and collecting little cards for keepsake. As for the actual, real eating (the "oh yummy-yum-yum" kind) I have tried to get as wide a range of tastes as I could, sticking to the things that are difficult-slash-impossible to find in Paris, whether for the ambiance or the food itself.
Is your appetite whetted yet? It's going to be a challenge for me to recapture in blog form the six hectic days I spent in NYC — which felt like so many weeks — and I have thought a bit about how best to organize my tale. Rather than make it chronological (as my scribbled journal notes are, of course), I will adopt a thematic approach instead, and you can expect the following posts to trickle in over the next few days:
– All things sweet,
– Midscale and Lunch restaurants,
– Upscale restaurants,
– Ethnic restaurants,
– Only in NY,
– Food shopping.
Before we part and I go write it all up, I will share with you one of the huge highlights of the trip: the get-together for drinks at Otto on Sunday night! It went fabulously well, the bar area was the perfect space for us, and I would like to warmly thank the participants (about 40 of you?) for their utterly delightful company and their smiling faces, not to mention their sweet 'n tasty gifts (I know! Who knew there would be gifts involved? Can we do it again soon?). I am truly grateful to have readers who really understand and appreciate what I do, with whom I feel an instant connection (and I don't mean wireless), and — huge cherry on the cake — who seem to enjoy each other's company, too!
For other guests' accounts and pics, you can visit David, Lulu, Samantha, Jessica and Kate. (If you have posted about it on your own blog and don't see it listed here, please let me know and I'll add a link!)
~~
Oh, and a nice surprise to go home to is that Chocolate & Zucchini is included in the 50 Coolest Websites 2005 list by Time.com. Read their review, and go congratulate Kate, too, for the honorable mention!