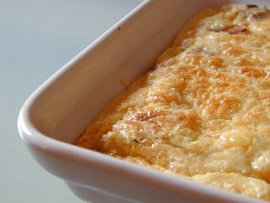 [Bacon and Cantal Cheese Clafoutis]
Clafoutis is originally a fruit dessert from the Limousin, a region roughly in the center of France (and yes, I checked, as I am direly geographically challenged).
Let me go ahead and open a parenthesis here. Limousin is renowned in part for its cattle breed, a milk-chocolate cow called la vache limousine, a rather unimaginative but quite sensible name. I'm sure you'll be as fascinated as I was to learn that this cow is fed, of all things, on topinambours — topinambour meaning Jerusalem artichoke, and being a French word I particularly favor, as should you. It is this diet, in addition to its favorable genetic characteristics, that explains the superior taste and quality of la vache limousine.
Back to the clafoutis (alternately spelled without the "s") : it is the epitome of the grandmotherly dessert, and involves baking fruit (most typically cherries, but also plums, apricots, and pretty much any fruit) in a batter made of eggs, milk, sugar and flour. Some recipes also include butter, cream or oil. As a side note, true Clafoutis aux Cerises fans claim that it is much, much tastier if you leave the cherry stones in : the cherry juice will not leak into the batter, and the cherries will have more flavor if they cook with their little heart. It just makes the eating slightly less convenient (be sure to warn your guests!), but the best dishes are often the ones you have to fight for.
Have you noticed this trend lately, which consists in composing a savory dish in the style of a dessert, and naming the dish after that dessert? Amazing how instantly appetizing and tempting it makes the dish : salmon crumble, tomato tarte tatin, mushroom muffin, herb financier, goat cheese charlotte, eggplant mille-feuille, my broccoli and cornmeal upside down cake… And here, this bacon and cantal clafoutis!
I had long wanted to reproduce a similar dish I had had at the restaurant "Le Réconfort", where I was dining one night with my friend Sophie. I decided to put it on my birthday party menu, and made up the recipe based on a couple other savory clafoutis recipes I had in my files. Next time I may double the recipe or at least 150% it, but below is what I used exactly.
The result looked very appetizing, slightly puffy with a thin golden crust on top. I served it at room temperature (it did deflate a bit upon cooling down), cut in one-inch squares. I liked it very much, with its rich texture and flavorful bite, all fluffy batter, cheese bits and crunchy pieces of bacon. Judging by the speed at which it disappeared, I probably wasn't the only one.
Of course, if you look at it with cold, objective eyes, you could say that this is really a crustless quiche, but I believe in the magic of words, and a clafoutis will always taste better than a simple quiche, no?
[Le Réconfort – 37 rue de Poitou – 75003 Paris – 01 49 96 09 60]
Clafoutis au Bacon et au Cantal
– 4 eggs
– 20 cl whipping cream
– 100 g ricotta
– 100 g bacon, sliced thinly (note to my French readers : in France, ask for "poitrine fumée", as asking for "bacon" will in fact get you what's called Canadian bacon in the US, round slices of smoked ham)
– 100 g cantal, or other crumbly, sharp-tasting cheese
– 50 g flour
– 1/2 C milk
– salt, pepper
Preheat the oven to 180°C (360°F), and grease a medium porcelain gratin dish.
In a small skillet, cook the bacon until crispy. Drain on paper towels, then cut in small squares. Crumble the cantal in small pieces.
In a medium mixing bowl, whisk together the eggs, whipping cream and ricotta. Add in the flour, whisking continuously as you pour it in. Pour in the milk, and whisk until thoroughly combined. Season with pepper and a little salt. Do not add too much salt as the bacon and cheese are already quite salty.
Arrange the bacon and cantal pieces evenly in the dish, and pour in the egg mixture slowly so as not to disturb them too much : you want them to stay evenly distributed.
Put the dish into the oven to bake for about 40 minutes, until the top is puffy and golden. Serve immediately or at room temperature — it would be nicely complemented by a salad dressed with walnut oil.