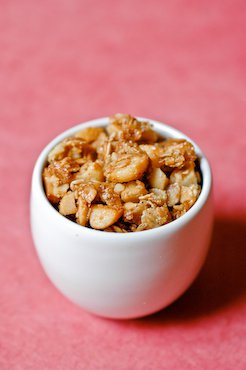 When I was little, I had long and exclusive relationships with my breakfast menus. For years on end a particular food item was all I would have in the morning, until suddenly and without warning, a new monomania came to replace it.
The earliest phase I remember involved pain de mie (white sandwich bread) and Nutella. Two slices of bread would be toasted until lightly golden (if it got too brown I had to find someone who would eat it, and start again), both slices were spread with hazelnut-chocolate-and-trans-fat paste, and assembled into a sandwich. The crusts would then be sliced off, and the sandwich cut into two neat rectangles. I often had trouble finishing the thing (I might stress here that both slices had been spread with Nutella) and I usually took the leftovers back to my room and put them somewhere safe — on the corner of a bookshelf or inside my little sloping top desk — in case I wanted a snack later. Usually, this just went stale until someone found it and tossed it, though I'm not sure who.
Then there was the pain d'épice phase, two slices of store-bought honey spice cake, from which I also removed the crust because it was a bit gummy and a bit bitter. Years later came the quatre-quart breton phase, for which countless loaves of pound cake from Brittany were purchased. I would precut the long loaves into slices beforehand and store them in a tin box for a few days, because I liked the cake better when it had had time to dry out just a bit.
But the phase that lasted the longest was the chocolate granola obsession. My granola of choice was called cruesli au chocolat, and I had it with the thin yogurts in glass tubs with bright red screw-top lids that my mother made in her yaourtière — or yaourtières I should say, since she had to buy a second one when the first one died of overexertion.
I would bring the box with me to the breakfast table, and carefully study the little Quaker characters pictured on it — I had no idea then what a Quaker was and the outfit was very intriguing — as I munched gleefully on the crunchy clusters and the chocolate spangles (new boxes had to have the inside bag flipped upside down, otherwise all the chocolate was at the bottom and that wasn't right). This particular type of granola still exists, but whether it is their recipe or my taste buds that have changed — probably both — it isn't nearly as blissful.
I am now a much more eclectic breakfaster (although I draw the line of eclecticism at cold leftovers from the night before) and will choose the menu according to my mood and my appetite, but I still have an intense fondness for granola. And since I am often sorely disappointed by boxed ones (bland, completely crushed inside, or over-processed), the day I discovered how easy it is to make your own came as quite an epiphany. I like to experiment with different ingredients — nuts, grains, sweeteners, and flavorings — depending on what I have on hand, but this one is a favorite, sprinkled on yogurt or fruit compote or both, as in the Creamy Mango Ricotta recipe featured in my Chocolate & Zucchini cookbook.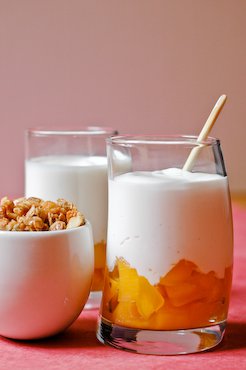 Macadamia Maple Granola
– 2 tablespoons unsalted butter
– 4 tablespoons maple syrup
– 200 grams (2 cups) old-fashioned rolled oats (or a mix of several rolled grains, such as oat, barley, wheat, and kamut)
– 1 teaspoon fine sea salt
– 125 grams (1 cup) macadamia nuts, roughly chopped
– 1 1/2 teaspoons freshly grated lime zest
Combine the butter and maple syrup in a small saucepan, and set over medium heat until the butter is just melted. Remove from heat.
Preheat the oven to 150°C (300°F) and line a rimmed cookie sheet with parchment paper.
Combine the oats, salt, nuts, and lime zest in a medium mixing-bowl. Pour in the butter mixture, and stir to combine. Spread onto the prepared cookie sheet, and slip into the oven for 25 minutes, or until golden, stirring the mixture every 10 minutes as it bakes.
Remove from the oven and let cool on the sheet; the granola will crisp up as it cools. Keep in an airtight container, at room temperature or in the fridge.
Cooking/baking time: 25 min