Blame it on my recent nuptials: I am in a romantic mood. And since V-Day is coming up fast (February 14, if you've just landed from another planet) I had fun creating this selection of fabulous Valentine's Day gifts for food lovers.
And of course, many of these will work if you're looking to celebrate Galentine's Day!
Valentine Cards for Food Lovers
Sometimes all you really need for Valentine's Day is a carefully chosen, cleverly worded card that says "I love you" but also "I have a great sense of humor." These are my faves: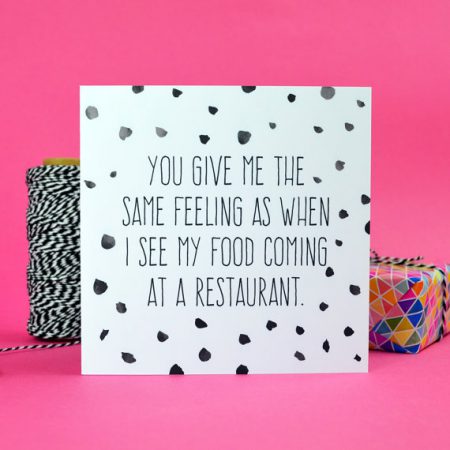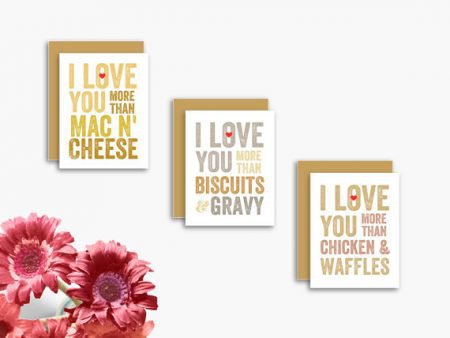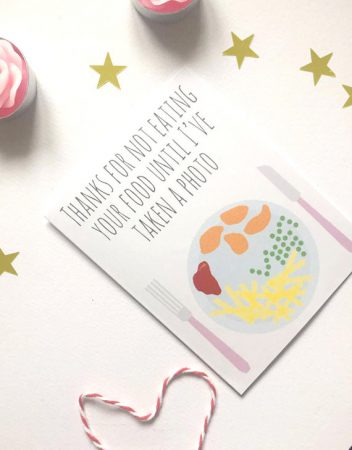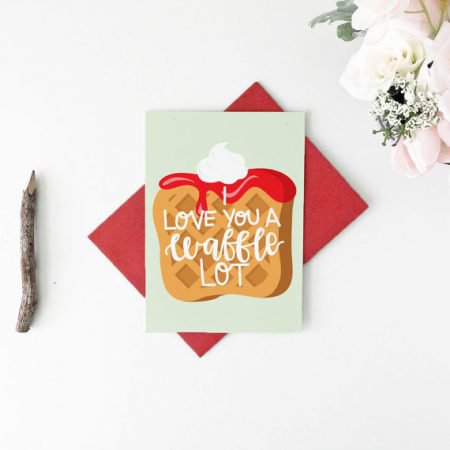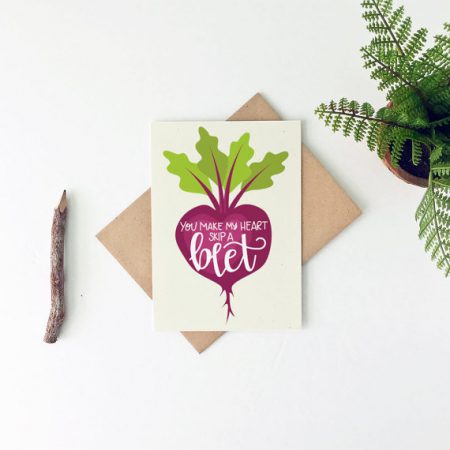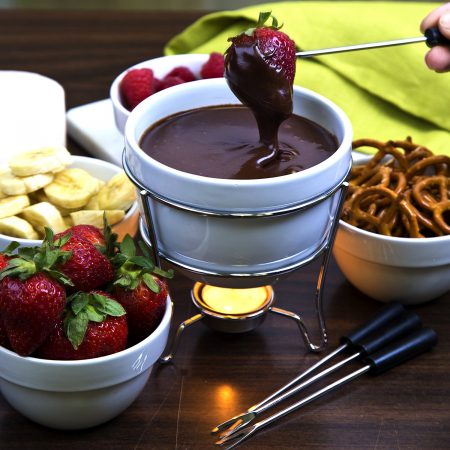 How are you going to make that special person melt without a proper fondue pot? Strawberries are not in season for Valentine's Day, but chocolate is! Try it with bananas, oranges, apple and pear slices, and of course, marshmallows and pound cake.

A message your favorite tea lover will totally get.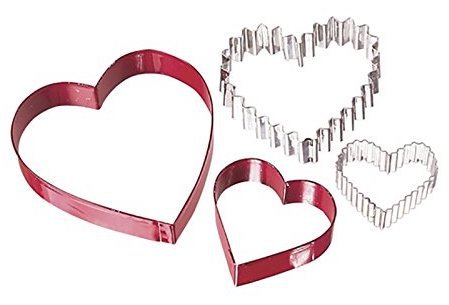 Make your Valentine a box of heart-shaped cookies using these cutters — mixing and matching sizes and edge styles is super attractive. You can use my recipe for buckwheat speculoos cookies to say "I think you're spicy!" or your favorite cut-out cookie recipe.

And if you want to up your cookie decorating game for life, take this amazing class.

Present your assorted cookies, or any small-size gift, in a handcrafted paper box for that amazingly thoughtful, this-is-how-much-I-love-you touch.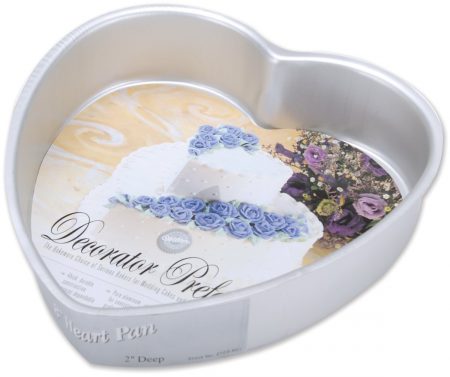 Go big or go home with an entire heart-shaped cake, perfect for my aptly-named, melt-in-your-mouth chocolate cake.
Waking up together on Valentine's Day morning? What better breakfast than heart-shaped pancakes? (I like oatmeal pancakes = 1 1/3 cup flour + 1/2 cup oats + 1/4 cup sugar + 1 teaspoon baking powder + a pinch of salt + 2 large eggs + 1 scant cup milk.)

And for your morning coffee, you're going to want these classy matte black Mr & Mrs mugs (you don't actually need to be married). Of course, same-sex couples will choose the appropriate set : Mr & Mr or Mrs & Mrs.

A personalized address stamp makes you seem *so* put-together and saves you tons of time. If you live together with your Valentine, consider surprising him/her with this couple's stamp that you can use when writing to friends and relatives together.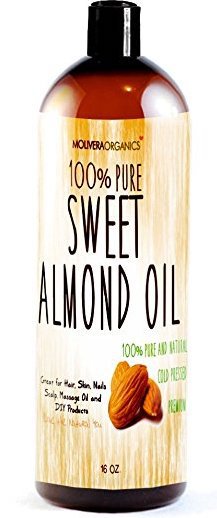 If your love language is physical touch, massages are a must. Get a massage oil to do it right; this organic sweet almond oil has multiple benefits and can be used in cooking as well!
Got a few friends you want to give small tokens of your affection to? How about you give them each a little jar of DIY all-natural lip scrub? You'll just need some jars, coconut sugar, coconut oil, and honey.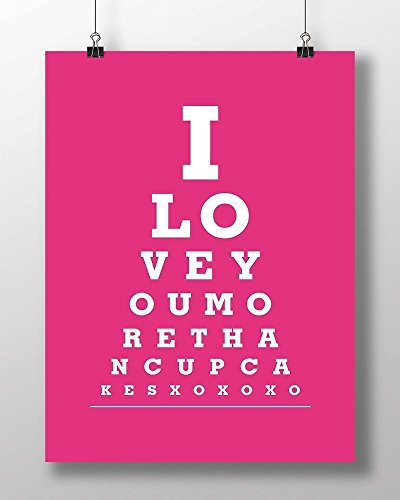 Get this one framed for your sweetheart's kitchen.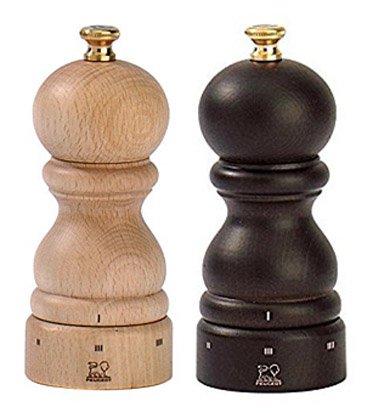 Nothing says "You are the sel to my poivre" like a set of high-quality, French-made salt and pepper mills.

Get your special someone a box of Himalayan Rose tea from Mariage Frères (hint, hint), or this organic summer rose oolong tea.

Who says you have to go out for those special meals for two? The Date Night Cookbook offers stylish ideas and romantic dishes you can cook and eat together. There's even a "Dining in Paris" chapter! (This is a new title that will be published on April 4; before then you can consider Date Night In as well.)

And since you guys love to be in the kitchen together, how about you throw in this cool retro USB key of your favorite songs to cook by?

There is going to be some heavy shaking and mixing with this cocktail set and this v. cool recipe book from the hippest cocktail bar in Paris.

With this highly shareable sampler of bean-to-bar, stone-ground chocolate — my favorite in the world — you give the promise of chocolate to snack on, but also chocolate to melt into a deliciously warming cup of deliciousness. (This would make an even cooler gift paired with the couple's mugs above!)

Wake up in a happy, playful mood with these matching bacon-and-egg pillow cases.

Not food-related but perfect for dreaming French dreams together: these "good night" pillow cases.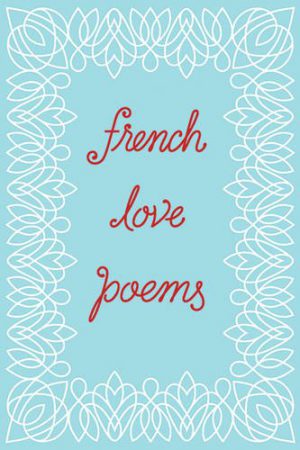 Speaking of French, what could be more romantic than this pretty little volume of the most beautiful French love poems, presented in original and translated versions? Can't think of a single thing.

What better way to celebrate your most beloved cook than by gifting them a custom recipe notebook to fill with old favorites and new creations? You can even get them started with a couple of hand-written recipes that say something about your relationship.

If your special someone loves avocados almost as much as they love you, make sure it stays that way by gifting them this pretty necklace or these fun cuff links.
This post contains some affiliate links. This means that if you choose to make a purchase through them, I will receive a small commission, at no extra cost to you. All opinions expressed are my own. Thank you for your support of my work.