Last weekend, while I was in the 1st arrondissement buying kitchenware, I remembered my grandmother telling me about a professional baking supplies store she used to go to when she still had four sons to feed at home.
The store is called G. Detou, which happens to be a pun: "G. Detou" is pronounced like "J'ai de tout", which means "I have a bit of everything".
I couldn't remember where the shop was so I looked up the address, and I was amazed when I finally located it, right in the middle of rue Tiquetonne, which I'd walked up and down countless times without ever noticing this jewel was there. I really don't have an explanation other than that there is magic at work here — you know, this little nook of a place that thou shalt see only if thy heart is pure and thy desire to buy baking supplies in bulk is earnest.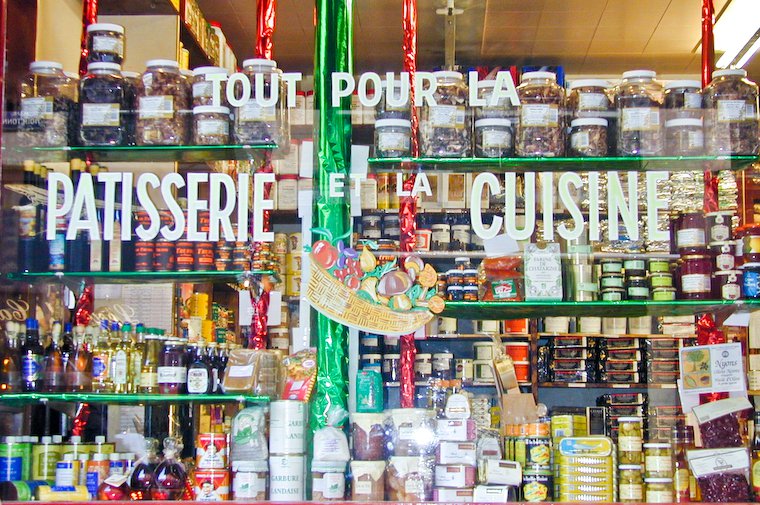 And mine were, I think, so I walked in to discover an old-fashioned store, presided upon by a moustachioed attendant in a blue coat, who was — and I'm not making this up — drinking champagne with two giggling salesladies. They were no doubt celebrating some kind of special bulk flour holiday (mark your calendars, apparently it takes place every year on September 20).
Or maybe that's just what magic shop attendants do, drink themselves giddy on bubbles while customers browse around. And there is indeed plenty to gape at: giant boxes of candied violets, brick-sized blocks of bittersweet chocolate, buckets of caramel syrup, humongous bags of slivered almonds… A baker's dream come true.
After debating with myself awhile, I decided I couldn't buy it all just yet (I had to ride the bus home, you see) and, marveling at my self-restraint, I set my heart on a jumbo box of couverture chocolate, a big pouch of ground almonds made from Spanish almonds (and much for flavorful than Californian, sorry I have to point this out), and a large bag of the pearl sugar I'd been looking for all over so I could bake me some chouquettes.
G. Detou
58 rue Tiquetonne, 75002 Paris (see map)
01 42 36 54 67