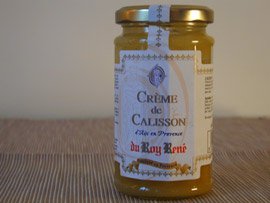 On a recent Saturday morning, Marie-Laure, Ludo and I embarked on a large-scale cooking-toy shopping expedition, ostensibly to get Laurence a birthday present. It was their first time experiencing the magic of E.Dehillerin, A.Simon and Mora, and we had a grand time, which culminated in a delicious lunch at Oliopanevino, a tiny Italian restaurant a stone's throw from Dehillerin.
Among the absolute must-sees of the area is, of course, G.Detou. In addition to being a splendid place to buy baking supplies in bulk, G.Detou also offers a selection of great products in regular sizes – chocolate, jams and condiments – for a much more reasonable price than anywhere else.
And there, amidst the candied violets and the chocolate-covered almonds, stood this jar of crème de calisson. Calisson! Creamy! In a jar! If that isn't the best idea in the history of mankind, I don't know what is.
As I've mentioned before, calissons are almond shaped specialties from Aix-en-Provence (in the South of France), made with pâte d'amande (almond paste), sugar and crystallized melons, with a layer of feuille d'hostie (the thin wafer the catholic host is made of) at the bottom, and a crispy sugar coating on top. It is also one of my very favorite confections.
This crème de calisson is made by the most famous producer of calissons in Aix, la Confiserie du Roy René (King René's candy store). About the company, it's nice to see how they are keeping with the tradition, but have evolved into a modern business nonetheless : very uncharacteristically for such a small French company, they have acquired the domain name calisson.com, and have gone on to create a website that looks neatly professional (no broken links, no lame graphics, no "under construction" sign) and has plenty of content (in French only though). I am all too regularly appalled by the lack of Internet-savvy in most small French businesses, so I applaud the effort here. And really, how can anyone resist a candy company in which the CEO's name is Maurice Farine*?
As for this crème de calisson, it is in fact nothing less than the luscious almond filling that's inside my dear calissons, only creamier. Same ingredients, same slightly grainy texture, same golden color, same sweet, subtle, delightful taste. The label suggests simply spreading it on bread – a method which I have tested for you and enthusiastically approved – or adding it to crêpes and cakes. The website even offers a few tempting recipes. Crème brûlée à la crème de calisson, anyone?
* "Farine" means flour in French.