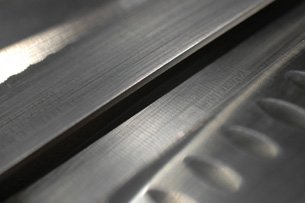 [Looking for Part I and Part II?]
Sharp things
I am not a knife geek, so you won't find any opinionated, my-knives-are-holier-than-thine talk here. The three simple pointers I can share are: 1- you should first and foremost choose knives that feel comfortable, hefty (but not heavy), and well-balanced in your hand, 2- a high price doesn't necessarily equate a high performance (see edifying rating here), and 3- less is more. Here's my basic kit:
– A 20-cm/8-inch chef's knife (couteau de chef), to cut, slice, mince, chop, and dice. My first was a stainless steel Dumas. Years later I won a Füri knife (with dimples on the blade) at a festival, and I've been quite happy with it ever since (although I wish the company hadn't felt the need to get a celebrity chef endorsement; I find it mildly embarrassing).
– A 12-cm/4.5-inch paring knife (couteau d'office), for when the item to work on is small or handheld and more control is needed. I started with a basic one from Dehillerin's own line, until Maxence came home one day with a Wüsthof; we like it.
– A knife sharpener to keep these two knives happy. I use a diamond-shaped stone that looks like this one, bought at Dehillerin and used according to the salesguy's instructions — I soak the stone in water first, set the knife at a 15° angle, and swish the blade away from me.
– A 25-cm/10-inch serrated bread knife to slice bread and cakes without making a horror movie scene out of them. Mine is, again, from Dehillerin's line.
– A swivel-bladed vegetable peeler. I use it to peel vegetables (how very creative of me), but also to cut shavings of hard cheese or chocolate (chill the chocolate first). It is worth investing in one that has a good, sharp blade; I am very happy with my OXO peeler
. It is in fact the second one I buy, since the first one disappeared one day: it either ran away with the lobster cracker or, more likely, I threw it in the trash along with the potato peels it had helped produce. Such is the saddening fate, I hear, of 90% of vegetable peelers throughout the world.
– A four-sided box grater, for cheese and vegetables; my favorite side (of course one has to have a favorite side) is the large hole one. Again, make sure it is sharp as a whip (I can recommend the Gefu brand), otherwise the merest carrot to grate will be such a hassle you will stop eating grated carrot salads and that would be a pity, wouldn't it, because grated carrot salads are rather nice, not to mention good for your complexion.
Not indispensable but nice to have:
– A mandoline, to slice vegetables and fruit quickly and in thin, regular slices. It can also be used to cut matchsticks or crinkled slices, which is pretty neat, and chunks of your fingers, which is pretty painful (be careful with that thing). Depending on your budget, you can go all out and get a professional model (mine is a Bron) or buy a cheaper plastic one outside any Parisian department store: the latter may not have as long a life, but it will work acceptably well.
– A microplane zester
to grate citrus zest, cheese, ginger, chocolate, etc. finely and effortlessly.
Appliances
– Mixers, food processors, etc. You have a minute? For years I used the most basic (1-liter/1-quart) model of food processors by Moulinex (today's equivalent costs about 50 euros) to mix batters and chop stuff. It also had grater and slicer attachments that came in quite handy when I had a large amount of onions to slice or cheese to grate. What it didn't do, however, was whip egg whites and cream (it said it could but it lied) or knead dough. This food processor has been relegated to the darkness of a hard-to-reach cabinet since I splurged on a stand mixer last spring: this one mixes batters, whips whatever you want it to (to a certain extent), and kneads dough without hop-hopping across the counter. What it doesn't do, however, is grate or slice (you need a special attachment, but so far I've made do with my mandoline and box grater), or chop. For my chopping needs I use my immersion blender, which I'd initially purchased to purée soups directly in the pot. It came with a set of larger blades and a chopper bowl that have proved immensely useful; I use this blender one way or another several times a week. (The model I have
seems to have been discontinued and replaced by this one
.)
– A digital timer, preferably magnetic, so it can live on the fridge door.
– A digital scale
, to measure your ingredients accurately. Look for one that works in ounce and gram modes so you can use recipes in both measurements; make sure it works in 1-gram/0.05-ounce increments and has a reset-to-zero button.
Not indispensable, but nice to have:
– A rice cooker for perfect rice you don't need to babysit. (The best deals on those can often be found at Asian supermarkets.)
– A yogurt maker. (The best deals on those can often be found at yard sales, or at your grandmother's apartment.)
– A fondue pot. We only use it a handful of times each winter, admittedly, but these occasions are always so convivial and fun that I find it worth allotting the pot a bit of storage space.
– An electric citrus juicer, because a tall glass of freshly squeezed orange juice is what winter mornings are all about.
~~~
On an unrelated note, let me wish my sister a very happy birthday: Joyeux Anniversaire Céline!