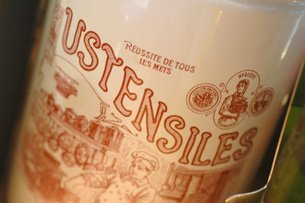 I have recently received several emails from readers who were asking if I could share my ideal set of kitchen equipment. I can't think of a more fitting time of year to do so, as some of these tools may make good items to add to your wish list if, like me, you are usually stumped when people ask what sort of gift you would like to receive.
The following list, which will be published in three installments, is a very personal one I've established based on 1/ the content of my own extraordinarily messy cabinets and drawers, and 2/ what I actually use — I'm sure some of you are aware of how different these two concepts can be.
These tools can be found in cookware stores (in Paris, you should visit E. Dehillerin, Mora, La Bovida, and A.Simon, as well as Eurotra), but also online, in thrift shops, or at yard sales. And if you have friends, neighbors, or coworkers who cook, ask if they'd be up for a swap or a loan: one person's neglected kitchen gadget is another's treasured acquisition.
Cooking
– Two round skillets or sauté pans, with lids: one small (20cm/8"), one large (25-30cm/10-12"). Choose heavy ones with a thick bottom, as they will conduct the heat better. (A sauté pan has straighter and higher sides than a skillet, so you can flip the contents with one adroit shake of the pan, but in most recipes they are interchangeable.)
– Two saucepans, with lids: one small (1 liter/quart), one large (3 liters/quarts).
– A heavy pot or Dutch oven, for soups, stews, and no-knead bread. Choose a large one, round or oval, 6 to 8 liters/quarts in capacity. I wholeheartedly recommend a cast-iron cocotte, enamel-coated or not: it's definitely an investment, but the heat conduction is perfect and it will last several lifetimes. I own one large Staub and one smaller Le Creuset. These two brands I recommend if you can buy yours in France, but they are pretty pricy abroad and I hear there are now good-quality, cheaper alternatives in other countries. Make sure the handle of the lid can take high temperatures without melting, so you can use your pot in the oven, too.
– A steamer insert, with lid, to steam vegetables and fish. I use a basic set of stackable bamboo baskets (dirt-cheap at any Asian store), which you simply set over a pan of simmering water.
Not indispensable, but nice to have:
– An oval skillet
, to cook whole fish.
– A grill pan
, to sear meat and give it those nice, appetizing grill marks.
– A ceramic terrine dish, with lid.
– A Römertopf
dish. This is on my wish list, to make Muriel's chicken just like she does.
Baking
– A fluted 25-cm/10-inch tart mold. This is a round and shallow metal pan that is used to bake dessert tarts. (I have a nonstick one with a removable bottom.)
– A 25-cm/10-inch round springform cake pan, for cakes that can't be turned out to be unmolded.
– A 22-cm/9-inch round cake pan to bake other cakes.
– A baking sheet. Some people are partial to silicone baking mats; I find them annoying to clean and dry, and I prefer to use a baking sheet lined with parchment paper.
– A 25-cm/10-inch quiche pan. This is a round pan made of glass or ceramic, deeper than a tart mold, in which to bake quiches and savory tarts.
– Two baking dishes, glass or ceramic: one medium (about 1.5 liters/6 cups in capacity), one large (about 3.5 liters/14 cups in capacity).
– A tray of muffin molds, to bake mini-cakes and mini-quiches. I have a preference for mini- or micro-muffin molds; they make for cuter and more reasonable servings.
– A loaf pan, about 2 liters/8 cups in capacity.
– Cookie cutters. If you have room and budget for just one set, get shapes that do not scream "holidays" too loudly, so you can use them during the rest of the year, too. The most versatile one I have is a 6-cm/2-1/3" round fluted cutter, which I also use for scones and miniature tartlet crusts.
Not indispensable, but nice to have:
– A set of ceramic ramekins, to bake eggs, soufflés, and custards. They are also very handy to set ingredients aside as you measure them.
– A set of 10-cm/4-inch tartlet molds, to make individual versions of savory or dessert tarts. (I have nonstick ones with removable bottoms.)
– A brioche or kouglof mold.
– An 18-cm/7-inch charlotte mold; it can be used to bake small cakes and panettones, too.
– As many different silicon molds as you can possibly justify: I personally own (and use) trays of miniature tartlet molds, madeleine molds, and financiers molds, as well as a jelly roll mold.
[To be continued.]