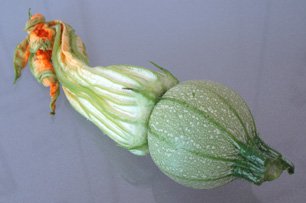 Oh gifts, gifts, gifts! Is there anything sweeter in life than having your friends go out and find something just for you, something that they think you will like and enjoy, something that will surprise and delight you? And when you do and it does, when the idea is fabulous and the gift exactly to your taste, when it is something that you really wanted or something you would have wanted had you known it existed, when it is custom-made for you and even better than what you would have chosen for yourself, you are entitled to feeling lucky and grateful and loved and happy — yes, simultaneously.
For my 26th birthday I was literally showered with joy-inducing perfect gifts, and I thought I would share with you the ones that are food and cooking related:
– My friend and cooking heroine Louisa went to Le Potager du Roi in Versailles, where Louis XIV's vegetable gardens are kept intact and operational. From the boutique she got me the picture-perfect zucchini flower that you see above, as well as eight little white peaches, delicious and juicy: in Chinese culture, as she explained to me, peaches symbolize a long life and the number eight good fortune…
– My parents bought me a superb enameled cast-iron cocotte by Staub. We picked it out together last week in Alsace, as we were driving by Turckheim where the Staub headquarters are, complete with a huge factory outlet in which my mother and I spent an unreasonable amount of time. I chose a beautiful grey oval 6-quart cocotte, which unfortunately still lives in my parents' house in the Vosges as we speak, for it was much too heavy to be lugged on the train home with me. Just a couple more weeks and they'll bring it back and we will never be apart again I promise.
– My friend and ex-coworker Sophie got me three kinds of Fleurs de sucre — lavender, rose and blueberry. Fleurs de sucre are crystallized flower petals or berries, beautifully packaged up in tall glass tubes. They can be used to bejewel a dessert, or you can sprinkle some to decorate a table, serve them with tea or coffee, or drop them in a glass of champagne. Can't wait to try them!
– My cousin Fleur gave me a box of super-fresh chocolate bites by Puyricard, a top-quality chocolate maker from Provence. One of the two Puyricard boutiques in Paris is close to where Fleur's parents live, and everytime we visit I have to be peeled away from the window display. My other cousin Garance once worked as an extra in that shop over the holidays, helping to put the chocolate confections in the boxes and, perk of all perks, bringing home the broken ones in the evening…
– Meg of Too Many Chefs fame bought me a cool stainless-steel one-hand pepper grinder that is operated with just a push of the thumb. This is a real breath of fresh air on our kitchen counter, since we've had to put up with a variety of frustratingly contrary pepper mills for quite a while. Meg's gift, which came with a special funnel for easy replenishing, was promptly filled with grains of paradise and this nifty little tool works beautifully.
– Stéphane and Caroline gave me a pretty cookie mix in a Mason jar, brought back from a recent trip to the US. Neat layers of white and brown sugar, flour and baking powder, corn flakes, coconut, chocolate chips and oatmeal, that you just blend together with one egg and (a large amount of) butter, to produce a triple batch of chewy cookies!
– My friend Alisa, who specializes in gracing me with life-altering kitchen gadgets — she was the one who got me the microplane zester
I so longed for — gave me a magic spatula
that makes the serving of lemon bars, the detaching of cookies from cookie sheets and the unmolding of rhubarb charlottes laughably easy.
– Christoph and Susanne, who have made cameos on this blog on a couple of occasions, outdid themselves yet again this year with the world's most wondrous basket of treats from the countryside, some brought back from a farm outside of Paris, some homemade with Christoph's usual talent, the whole thing packaged up with outstanding care and perfect taste by Susanne. In a beautiful flowered box titled Un Week-end à la Campagne, it featured — each of these items carefully wrapped and adorned with a little handmade felt label indicating what it was — a bottle of fresh raw milk, two little rounds of aged goat cheese, a slice of cumin gouda cheese, two yogurts, a bottle of homemade nocino (an Italian walnut liqueur), a loaf of Christoph's delicious pain intégral, and a cute little jar of blackberry jam made with the berries they picked in the Forêt de Carnelle.
What I could possibly have done to deserve all this I know not, and such a display of generosity and spot-on thoughtfulness would have left me quite speechless if I was the kind of girl who could actually remain speechless for more than seven seconds.
And here are the details if you want to spread the joy and get some of these items for yourself or your friends!
Le Potager du Roi
10 rue du Maréchal Joffre
78000 Versailles
Staub Factory Outlet
2, rue Saint Gilles
68230 Turckheim
Fleurs de Sucre are made by a company called Place des Lices (385, av. du Garlaban in Gémenos) and were bought from the boutique D'un Jardin à l'Autre (10 rue de la Paix, 75002 Paris).
Puyricard is based in the town of Puyricard in Provence, but has several stores in France and two in Paris (27 av. Rapp in the 7th — 106 rue du Cherche-Midi in the 6th).
Christoph and Susanne did their berry picking in the Forêt de Carnelle, and their countryside shopping at the Ferme de Coubertin (78470 St Rémy Les Chevreuse, 01 30 52 00 19).