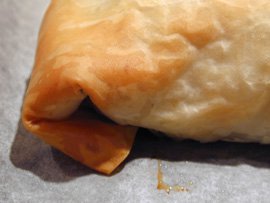 Amongst the many riches Chocolate & Zucchini has brought me, I think it is safe to say that new friends are the most precious. In particular, a small group of us here in Paris has started gathering around potluck dinners every month or so. Some of us are bloggers, some of us are readers, all of us are enthusiastic cooks and eaters. The potlucks are hosted in turn by one or the other, and they have gone thematic for the past two editions, which curiously makes them both easier and harder to prepare for.
Christoph and Susanne hosted the last one a week ago, and the theme was Gemütlichkeit — German comfort food. The temptation was strong to bake some of the fabulous Christmas cookies the Germans are so good at, especially since I have a beautiful and authentic cookie press which comes straight from Frankfurt — but Christoph had mentioned that the menu could use a few more savory items, so I chose to go that route.
I did a little research on German food specialties, but nothing really appealed to me in that wow-I-have-to-make-this kind of way without which there is little point in cooking. So I took matters into my own hands and decided to make a savory strudel. Probably not traditional, true, but the strudel concept is Germanic enough that I can label it German and get away with it, no?
I had made a nice swiss chard strudel last Spring, but repeating a recipe is no fun at all (besides, what would I post on C&Z then), so I branched off and made it with leeks this time: leeks lend themselves well to this with their soft texture, and more importantly I adore leeks. Instead of raisins I used diced dried apricots, for the sole reason that little specks of pale orange would match the soft green of the leeks perfectly, and I threw in toasted pinenuts because I have yet to find a dish that doesn't benefit from the addition.
Herr Strudel travelled the metro rather uncomfortably (I didn't have a large enough container and simply wrapped it in foil), and was reheated for a few minutes in Christoph's oven — which had to be run with the door ajar because the inner glass had split broken a few days before, slightly unwieldy but a rather efficient way to heat an apartment.
It swiftly found its place on the Gemütlichkeit buffet, soft and sweet inside with its crispy flaky outer skin, surrounded by its own new friends, the potato dumplings, the Pumpernickel Brot, the homemade pretzels, the German cheese specialties with assorted sauces and the Wienerschnitzels, washed down with tumblers of delicious mulled wine made with Pascale's recipe.
Leek and Apricot Strudel with Pinenuts
– 5 leeks, trimmed, rinsed clean and chopped thinly
– 16 dried apricots, diced
– 1/3 C pinenuts, toasted
– 100 g ricotta (or other fresh cheese)
– 8 sheets of filo dough
– 1/2 C breadcrumbs
– 1/4 C + 1 tsp olive oil
– salt, pepper
(Serves 6 to 8 as a starter or side.)
Heat a teaspoon of olive oil in a large pan, and add in the chopped leeks. Season with salt and pepper, cover and cook over medium heat for twenty to thirty minutes, until completely softened. Transfer into a colander to drain for at least 15 minutes.
In a medium mixing-bowl, combine the leeks, diced apricots, toasted pinenuts and ricotta, stirring gently with a wooden spoon.
Preheat the oven to 200°C (400°F), and line a cookie sheet with parchment paper.
Assemble the strudels. Prepare the bread crumbs and the olive oil in two small ramequins. Lay a first sheet of filo dough on a large cutting board or clean work surface, covering the stack of remaining sheets with a lightly dampened dish towel. Lightly brush the sheet of filo dough with olive oil, then sprinkle with roughly a tablespoon of breadcrumbs. Cover with another sheet of dough, brush and sprinkle. Repeat with two other sheets, but omit the bread crumbs on the last sheet. You'll end up with four stacked layers of filo dough, each brushed with oil on one side, with breadcrumbs between the layers.
Flip the stack so that the oiled side is beneath. Spread with half of the filling, leaving a margin on all sides, about 1 1/2 inch. Roll the strudel upon itself, like you would a jelly-roll, starting on a long side of the rectangle. Transfer the strudel with caution, seam side down, on the baking sheet, leaving room for the second one. Tuck the ends underneath, and brush the top with a little more oil if it looks a little dry, this will help it turn golden.
Repeat those steps with four other sheets of dough and the second half of the filling. Put the baking sheet into the oven for about twenty minutes, until the strudels are crispy and golden. Cut each strudel in slices and serve immediately.