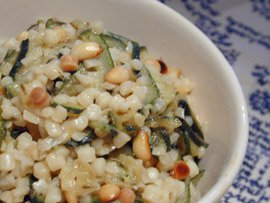 On a night of ravenous hunger, decide that what you want is something warm soft and tasty with a little crunch, to be eaten in a bowl with a spoon, curled up on the couch and reading a magazine.
No need to forage through your kitchen cabinets, you know precisely what will hit the spot.
Wash and slice three zucchini thinly with your magnificent mandoline. Sauté in a bit of olive oil, with lots of herbs and just enough salt to bring out the zucchini flavor.
Heat up a small skillet and dry-toast two handfuls of pinenuts which you purchased in bulk at G.Detou — thinking then "how am I ever going to use this up", thinking now "uh-oh, need to get some more". Send some warm thoughts in the general direction of your sister, whose eyes light up and sparkle at the mere mention of the words pignons de pin.
Bring water to a boil, and dump in some Fregola Sarda, those small dot-shaped pasta grains that your friends brought you back from Rome, and which turn out to be the tastiest little pillows of pasta goodness ever, plump and soft between your teeth. Cook them for a random amount of time since the package does not say; wait until the pasta gets just to the point of tenderness or until you decide that you simply must. eat. now.
Drain the pasta and toss with the zucchini slices and pinenuts. Grate liberal amounts of parmesan on top, making sure your eagerness doesn't cause you to scrape the tips of your fingers on your extra sharp cheese grater. Toss again, ladle a generous helping into a pretty bowl, do that curling-up-in-the-small-of-the-couch thing you do so well, balance your magazine on your knees, and dig in joyfully with little murmurs of delight.
And when you're done, smile a contented smile and cherish the thought that you have another serving for lunch the next day…
Ingredients :
– 3 small and slender zucchini
– 170 grams (6 ounces) fregola sarda (or another kind of very small pasta)
– 2 handfuls of pinenuts
– 60 grams (2 ounces) parmesan
– olive oil
– salt, herbes de provence
(Serves 2.)