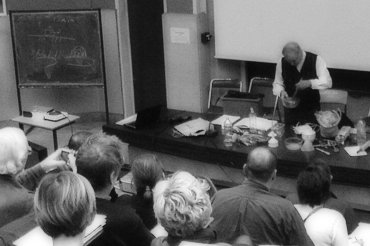 Earlier this week, I attended a two-day conference on molecular gastronomy — sometimes refered to as the "science of deliciousness" — and the relationship between technique, technology, and science.
It was a free and public session, organized by the INRA, the French institute for agricultural research, and the engineering school AgroParisTech. Our lecturer was none other than Hervé This*, co-creator of this scientific discipline that studies the physical and chemical phenomenons that take place in cooking. In passing, 2008 marks the 20th anniversary of molecular gastronomy, and I hear this will be suitably celebrated in Paris around March 20.
I am no longer used to sitting for hours in a cramped classroom, and my right knee made a point of telling me that, but someone like Hervé This makes you want to unearth that satchel and do it all over again: his passion, his enthusiasm, his talent for teaching, and his facetious ways make fourteen hours of lecture go by in a blink.
You should note that Hervé This hosts monthly seminars in Paris — also free and open to the public (by email registration). These are a fantastic opportunity to witness debates and experiments during which you'll finally get to the bottom of such vital questions as: does adding a potato to an oversalted soup have any sort of effect? Should one beat meat to tenderize it? Do hand-cut fries actually taste better than machine-cut fries? (The reports are then made available on the French society for chemistry's website.)
I've learned a lot during these two days, and the contents of the lecture will soon be published in book form by the INRA, but here are a few bullet points handpicked from my notes.
* The "h" is mute here, and This' last name is pronounced "tiss".