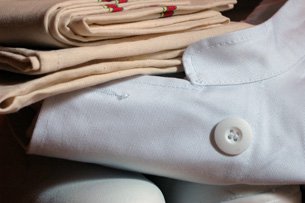 [Traditional French Cooking Class]
Show-and-tell: this is the gear I bought for the cooking class I am taking this year! It's part of the Cours Municipaux pour Adultes, a learning program sponsored by the Mairie de Paris (the mayor's office), and mine is a weekly three-hour class to learn about traditional French cuisine. All classes offered in this program (although the quality of teaching no doubt varies) are a real bargain, since they are financed in great part by local taxes — for once I am more than happy to pay them — but they are reserved exclusively to Parisians (who have paid the aforementioned taxes, it's only fair) and the odds of getting in are akin to winning the lottery. Word has gotten around, they get a lot of applications, but naturally there is a limited number of seats for each class, so it's first come first serve.
I first learned about this cooking class sometime over the summer, and in the morning of September 1, the day the enrollment began, I walked over to the Mairie, picked up an application (plus a few for my neighbors) and within the hour had sent it off, with a good luck kiss. The kiss thing seems to have worked, because I soon received a notice to come to the school at a certain date and time, and after a somewhat nerve-wracking test (multiple-choice questions? for a cooking class? what has the world come to?) only 18 or the 42 candidates (out of some 500 applications) were enrolled. Including — big sigh of relief — yours truly.
The classes started two weeks ago, and so far so good! What will we be learning? The basics of traditional French cuisine — Potage Conti, Pintade Grand-Mère, Steak au poivre, Carottes Vichy, Tarte aux Poires Bourdaloue, Paris-Brest (yay!) — you will no doubt hear about some of these as the class progresses. This is in perfect complementarity with my recent acquisition of L'Art Culinaire Moderne and I am delighted for the chance to learn more about this side of French cuisine I don't know so much about. Looking at the scheduled weekly menus, I got irrationally excited by the thought of making Oeufs Pochés Toupinelle — don't ask.
Although this class doesn't have professional ambitions per se, we have a professional chef teaching us, we are using professional equipment, and we are following recipes from a book called La Cuisine de Référence by Michel Maincent-Morel, which serves as a reference book for the students who prepare the BEP or CAP Cuisine, the official cook's diplomas. One thing I also like is the fact that this isn't your average bobo (French for bohemian bourgeois) cooking class: budget is limited, there is no staff to prep the ingredients or clean up after you, and so you do it all yourself, including wiping the floors and taking the garbage out, just like you would in a real kitchen. I like the spirit.
As for the gear, I am now the proud owner of a double-breasted chef jacket, a white apron, two kitchen towels, and a pair of white safety shoes so no one will stab my toes — accidently or not. And for those of you who may be looking to buy such an outfit, I can recommend the store I went to (address below) where all of this cost me a grand total of 50€.
Henri Bricourt
229 rue St-Martin 75004 Paris
01 42 72 73 93