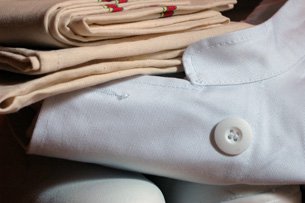 [Traditional French Cooking Class: Update]
It has been much much longer than I thought it would be since my first post about the traditional French cooking class I am taking this year (read more about it here). Let me tell you, if you think quitting your dayjob will give you more time, you are as mistaken as I was — time just seems to have hopped on a supersonic jet since I started working for myself.
Anyway. Since I am now about halfway through the program, I thought I would share a little update.
On the first day, the organizers explained that they admitted eighteen students as a rule, but that after a few weeks the attendance usually dwindled down to fourteen or so. I am quite pleased to report that our class has had zero drop-outs so far: considering the number of candidates who applied for that course — about 500 — I think it's only decent that those who do get in make the most of that opportunity. I am pleased, but not all that surprised, as it was quite obvious from the start that everyone in our class was serious about it.
And after so many weeks of cooking side by side and crying over the same onions, it's really nice to see friendships emerge. As can be expected from such a large group, not everyone gets on perfectly well with everyone else — then again nothing entertains me like a healthy dose of sarcasm — but overall we form a very good-natured team.
We all have different reasons for being there: just a few are complete beginners, most are enthusiast homecooks who wish to improve on their techniques, while others have professional ambitions — some of the latter have signed up to take the CAP exam in May, the basic French culinary diploma. I personally won't be taking it with them, as it requires a fair amount of homework and I have very little time to devote to it this year, but it is something I'm keeping on a back burner for the future.
Here is how the classes typically unfold. As everyone arrives at the high school that lends us their facilities, we all change into our whites (I'll admit mine are not so white anymore despite conscientious washing, so I think they're in for a bleach bath very soon) and stash away our civvies into lockers. We step inside the anteroom, where we sit down to listen to the chef as he walks us through the recipes for the day: one first course, one main course with two sides, and one or two desserts.
We split into groups of four or five to work on each dish, depending on our personal preferences and what we've been assigned to on previous sessions: if you've already made the quiche lorraine, you might let someone else take care of the quiche océane, which is basically the same thing with seafood instead of lardons — unless quiche really is your obsession, and then perhaps you want to talk about it with a professional?
We get to work, using our books and notes for guidance, shuffling about to get the ingredients and tools we need, negotiating breathing space, and trying desperately to get the chef's attention when we have existential questions. We have roughly two hours before it's time to set the table and eat what we've cooked, and as the class moves along we will take turns at the dishwashing station so as not to leave all the dirty work for the last minute. Surprisingly, what I find the most difficult to deal with is the fact that there's so many of us working on the same recipe: it takes a good sense of organization (and diplomacy) to get the work done with minimum confusion.
Once we have everything ready — sometimes a bit later than we should and the chef will scold us — we serve the different courses, and sit down to eat in the anteroom. We'll accessorize the meal with a bit of wine kindly contributed by one or the other, and possibly a loaf of bread that one student, who is also taking a boulangerie course, has made earlier in the day.
The menu might read for instance:
~ Oeufs pochés toupinelle (oh how I love that name), a dish of poached eggs nested in a carved out baked potato with sauteed spinach, topped with Mornay sauce (a béchamel sauce with cheese) and grated cheese, broiled in the oven — super kitsch, but quite tasty.
~ Pork chops glazed with honey and ginger, served with lentils and pommes duchesse (mashed potatoes laced with butter and egg yolks, shaped like wine corks, breaded and fried).
~ A lemon tart.
As you can see, it is all very light and diet-friendly, but such is the chubby face of traditional French cooking: whatever you want to make, start with a pound of butter and you will be just fine. As amusingly anachronistic as I think it is, this is still the official curriculum for French cooks-to-be, and it's actually a lot of fun to embrace this high-fat, over-the-top cooking approach once a week. I might note, too, that the recipes are scaled for sixteen when there's nineteen of us at the table (the chef eats with us of course): the servings are hence reasonably small, and no one forces you to finish what's on your plate anyway. (I soon came to realize that anything buttercream is too much for me, so I just carve out a bite's worth and donate the rest to the community.)
After dinner it is time for cleanup. We finish whatever dishwashing remains, wipe down all work surfaces, scrub the floors, and take out the trash — I usually volunteer to do that because the bins are parked in a cute little courtyard. We change back into our regular clothes, walk down the street towards the metro, and part our ways. Some will wisely take the time to reproduce the newly learned recipes at home over the next few days, while some will — ahem — wake up one morning and realize with a start that an entire week has gone by and it's time for the next class already.
See this post for more detail about the class.