As promised when we talked about potato gnocchi earlier this month, here is my recipe for French scalloped potatoes or gratin dauphinois, the king of potato side dishes, named after the former French province whence it originates.

Before we begin, it is my duty to draw your attention to the fact that a proper gratin dauphinois does not involve cheese. No. It is a gloriously simple dish of sliced potatoes baked in milk and/or cream — we'll get to that in a second — that develops a browned crusty top simply from its starch content, and without the crutch of cheese. If you decide to make it with cheese, no hobgoblin will come and get you, but thou shalt forfeit the right to call it a gratin dauphinois.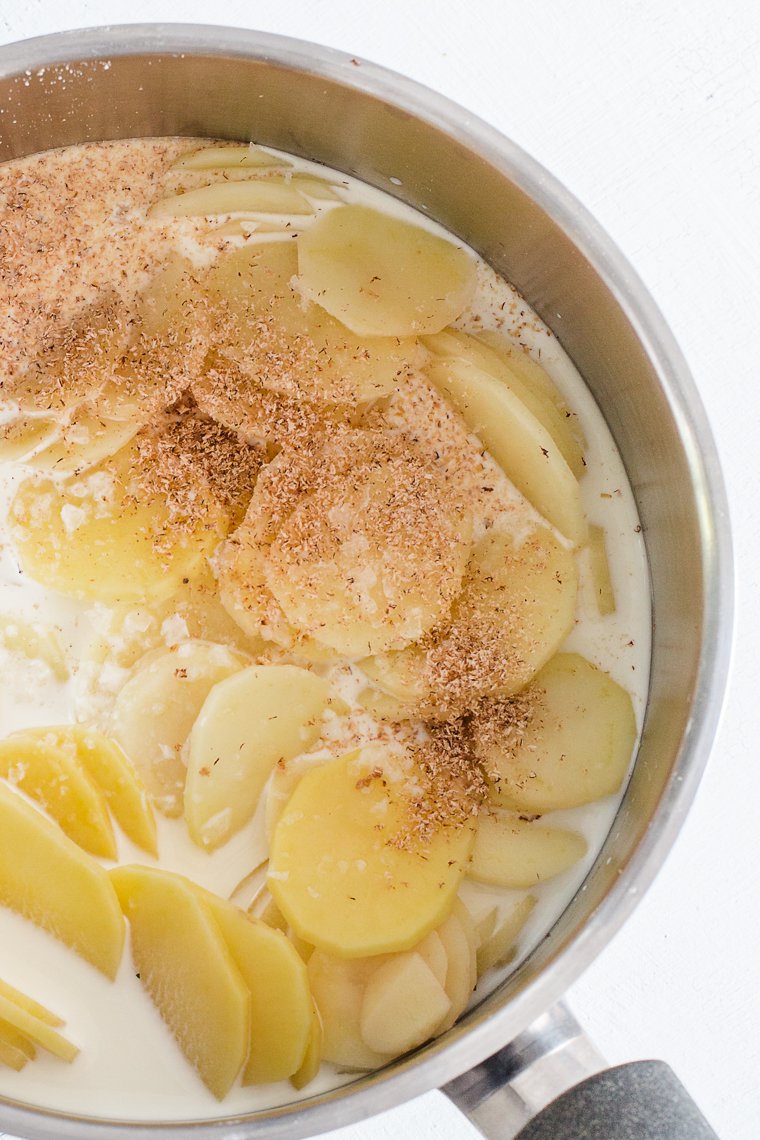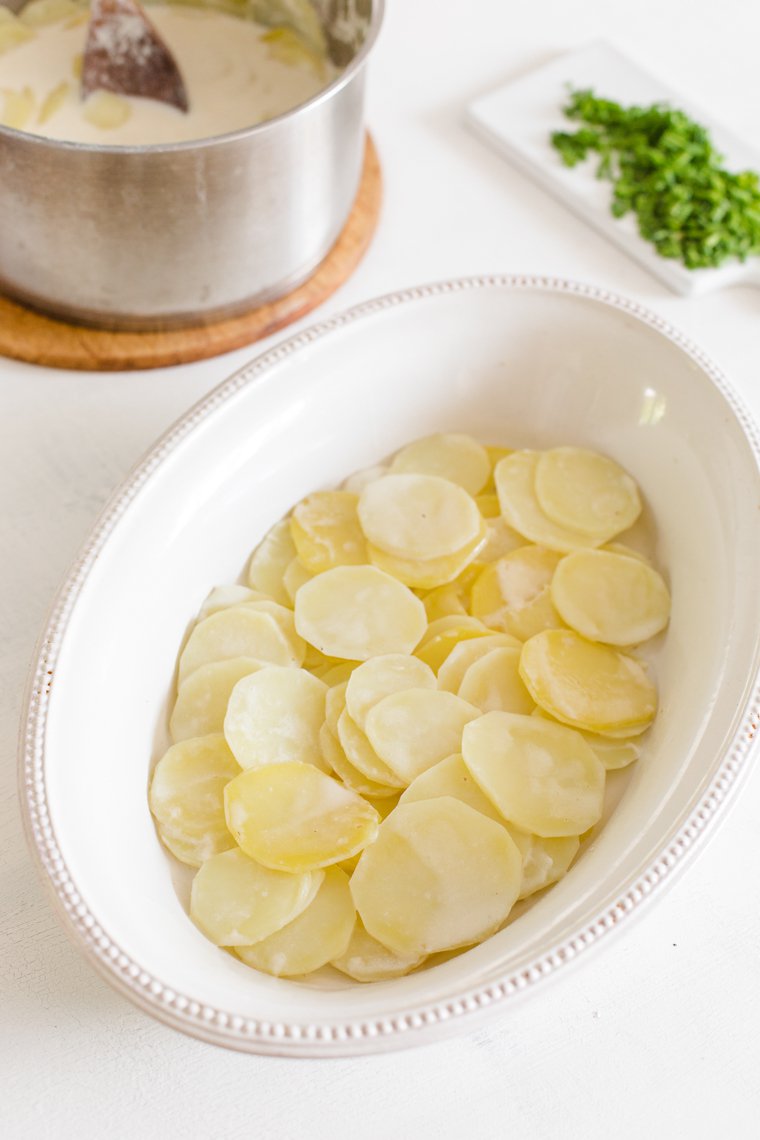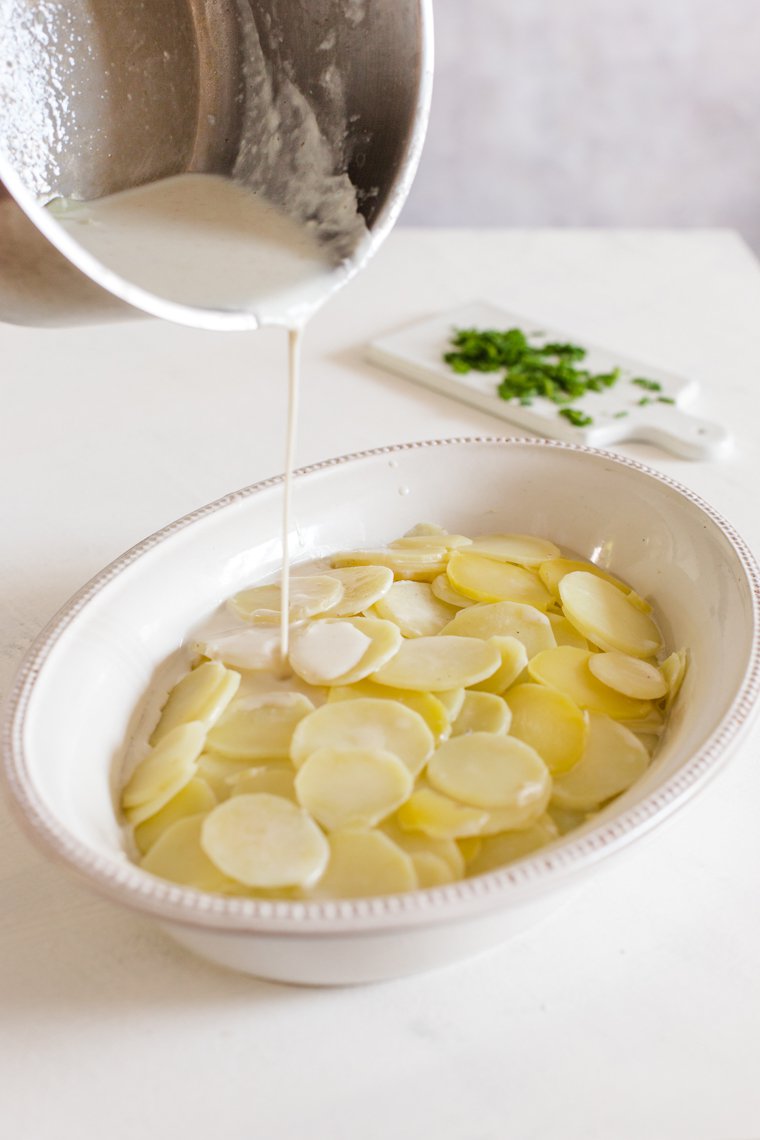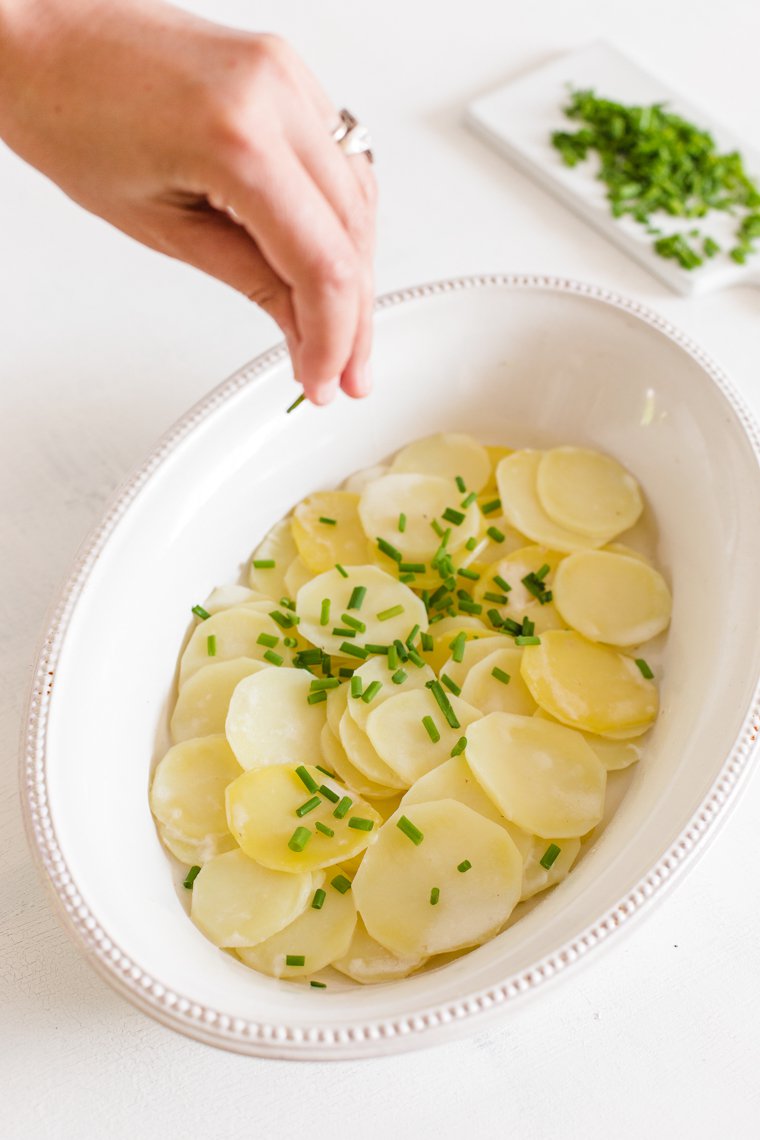 Before we begin, it is my duty to draw your attention to the fact that a proper gratin dauphinois does not involve cheese.
What's so special about French scalloped potatoes?
And really, French scalloped potatoes are all about the flavor of the potatoes, and the creaminess that binds the slices together. Some recipes call for cooking the potatoes in 100% cream, but the result is a bit over the top (oh, really?) and I find one gets excellent results using mostly milk, and just a little cream. The trick is to start by pre-cooking the potatoes on the stove, just until the milk thickens enough to coat them well, and then finish cooking and browning the gratin in the oven: this shortens the overall cooking time, and it ensures that the potatoes are cooked thoroughly, from top to bottom.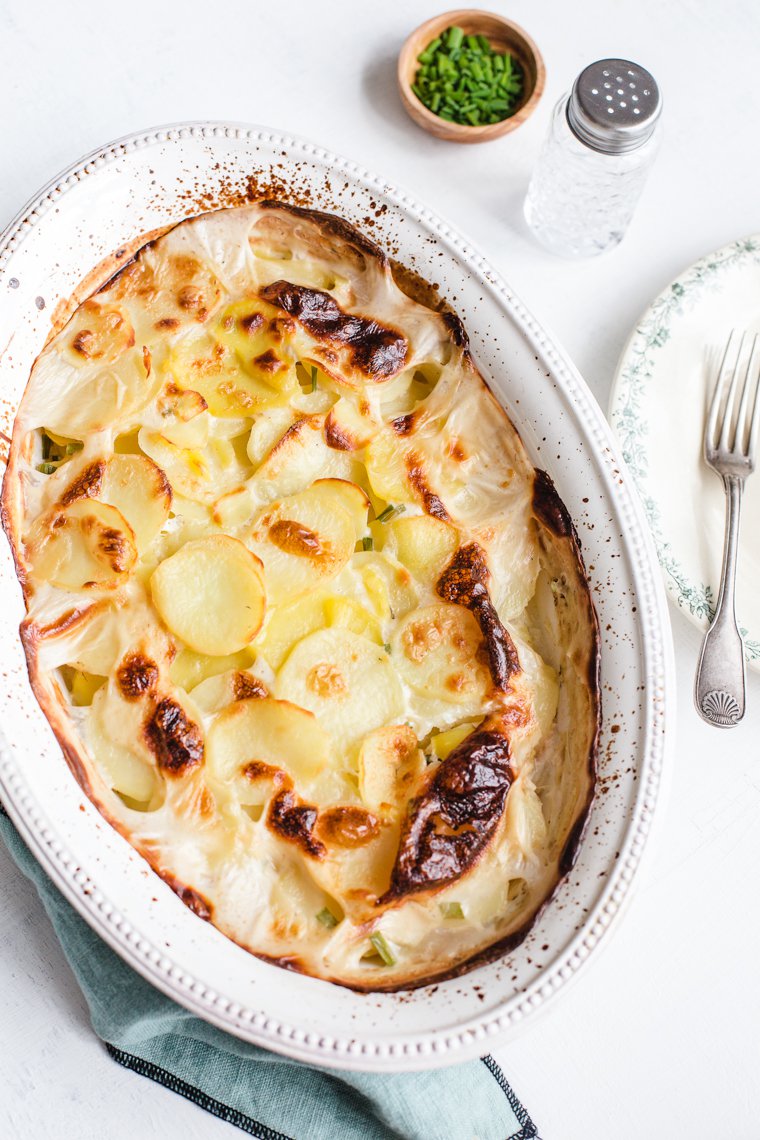 A murmur of nutmeg is traditional, and with good reason. I don't add black pepper to the dish, because I prefer to grind it fresh at the table, but if I have chives (ciboulette) on hand, I'll snip and sprinkle some amid the potatoes.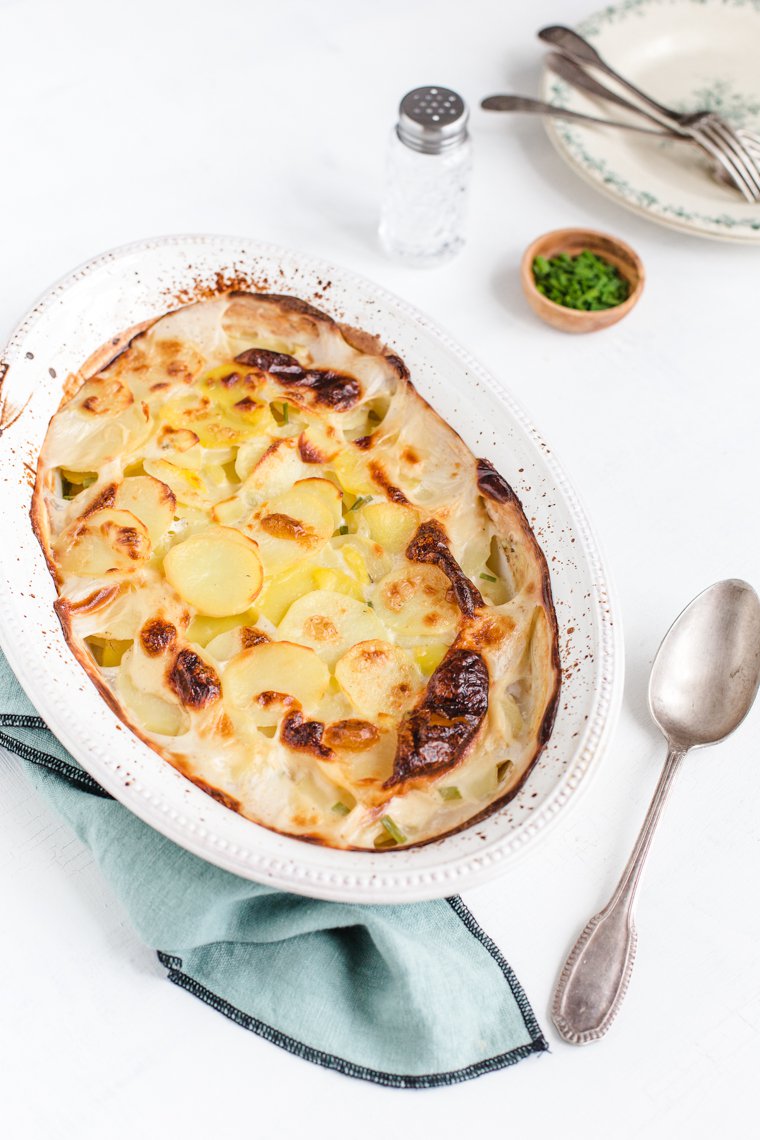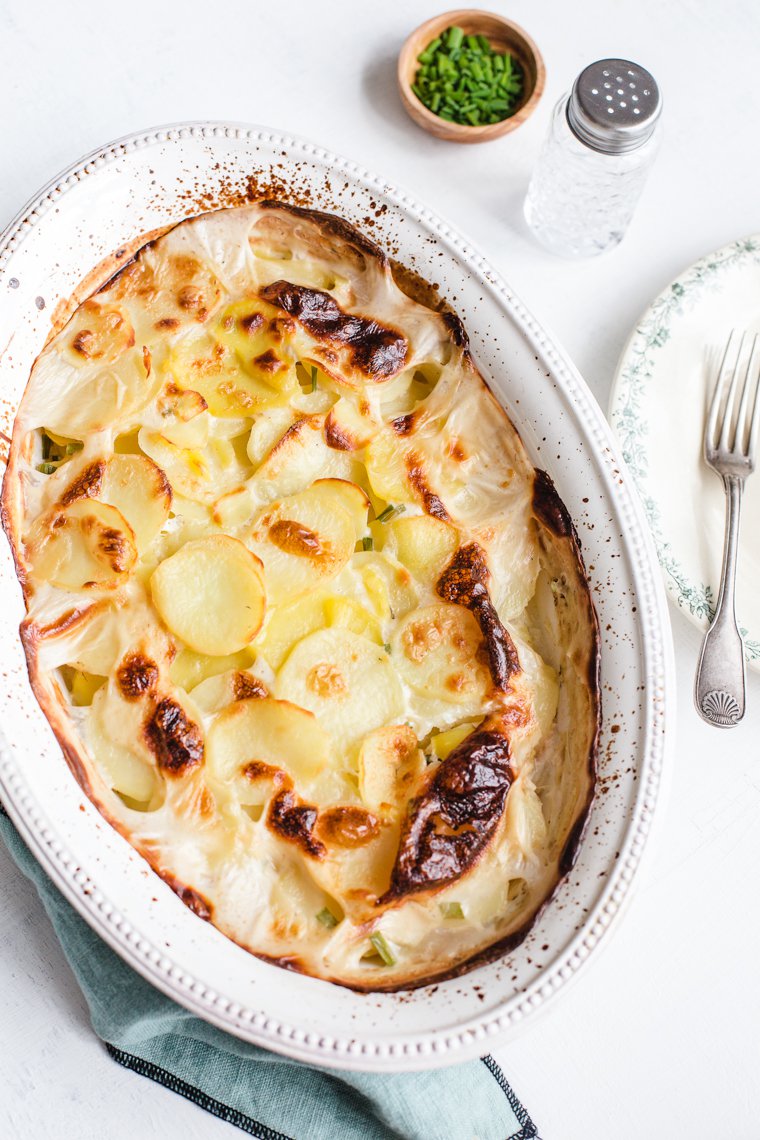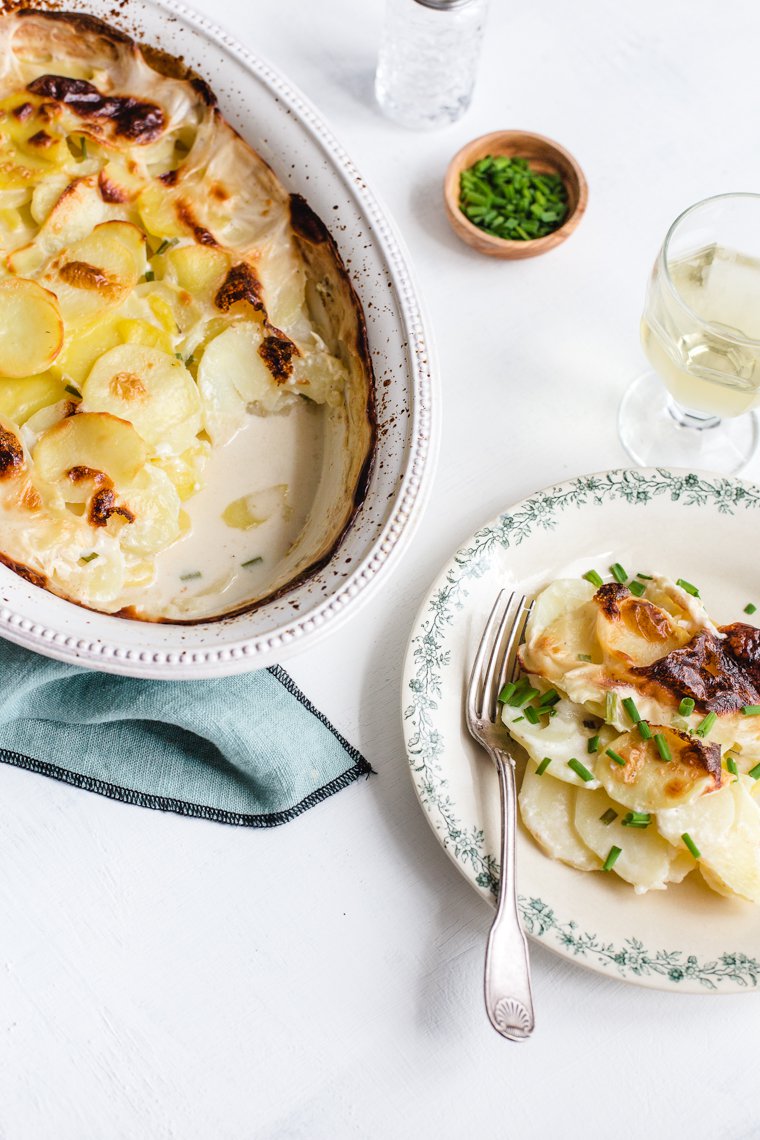 Depending on the weather situation where you live, this may or may not feel seasonal, but we've had sunny days followed by chilly nights in Paris lately, and we are absolutely in the mood for gratin dauphinois. The one that's pictured here was made for friends who came to dinner last week. I served it as a side dish to duck filets that I'd rubbed with spices and roasted, but it could also occupy the center of the stage, served with mixed salad greens and optional slices of ham.

Have you tried this? Share your pics on Instagram!
Please tag your pictures with #cnzrecipes. I'll share my favorites!
Gratin Dauphinois (Potato Gratin) Recipe
Ingredients
1 kg (2.2 pounds) potatoes, a mix of waxy and baking potatoes (if you prefer to use only one type, pick waxy potatoes, not too firm)
500 ml (2 cups) milk (whole or part-skim, not skim; I don't recommend using non-dairy milk as the dish turns out watery)
1 1/2 teaspoons salt
freshly grated nutmeg
1 clove garlic, sliced lengthwise
3 tablespoons finely chopped chives (optional)
60 ml (1/4 cup) heavy cream (use whipping cream in the UK and crème fraîche liquide in France)
Instructions
Peel the potatoes, rinse them briefly, and slice them thinly (about 3mm or 1/10th of an inch) and evenly. (A food processor or a mandoline come in handy at this point.) Do not rinse after slicing, or you will lose all that precious starch.
Combine the sliced potatoes, milk, salt and a good grating of nutmeg in a saucepan. Bring to a simmer over medium-low heat, and keep simmering for 8 minutes, stirring the potatoes and scraping the bottom of the pan regularly to prevent sticking/scorching. The milk will gradually thicken to a creamy consistency.
While the potatoes are simmering, preheat the oven to 220°C (430°F) and rub the bottom and sides of a medium earthenware or glass baking dish (I use an oval dish that's 26 cm/10 inches at its widest, and 2 liters/2 quarts in capacity) with the cut sides of the garlic clove.
Transfer half of the potatoes into the baking dish, sprinkle with the chives if using, and drizzle with half of the cream. Add the rest of the potatoes, pour the cooking milk over them, and drizzle with the remaining cream.
Bake for 35 to 40 minutes, until bubbly on the edges and nicely browned at the top. Let stand for about 10 minutes before serving.
Notes
You can also bake the gratin a few hours ahead, let cool, and reheat for 15 minutes in a 220°C (430°F) oven before serving.
The leftovers are fantastic the next day, cold or reheated.
https://cnz.to/recipes/vegetables-grains/gratin-dauphinois-potato-gratin-recipe/
Unless otherwise noted, all recipes are copyright Clotilde Dusoulier.