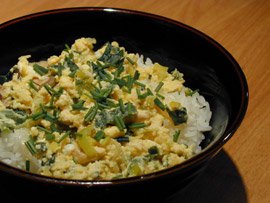 And this is the delicious main course that Maxence concocted for our dinner party this past Saturday! The recipe is from the same "Cooking Class Japanese" cookbook as his last cooking stint. I have taken the liberty to rename the dish though. Well, yeah, if I don't cook, I have to at least do something!
In the book, the recipe is called "Chicken and Egg on Rice", but the original witty Japanese name is "Oyakodon", meaning "Mother and Child Donburi". In case you're not familiar with the term, "Donburi" means "bowl", and in a typical case of metonymy, it is also the name of any dish served atop a bowl of cooked rice. This mother and child thing sounded somewhat morally disturbing, so I took matters into my own hands and decided, with no disrepect whatsoever for this traditional dish, to call it the Which Came First Donburi. Just because it amuses me. So there.
If anything (other than his talent of course), Maxence's take on cooking a main course for eight proved this : we have two very different approaches to menu planning. Where I spend a whole week consulting, researching, thinking, leafing, jotting, striking, imagining and just generally obsessing, here's what Maxence does : picks up the recipe book at 4pm on D-Day, two whole minutes before we are to go to the Japanese supermarket. Flicks through the recipes. Finds one that's appealing. And… stops right there. Writes down what he needs. Closes the book. Gets up. Says "ok, let's go!".
I am Jack's flabbergasted befuddlement.
And I must say, his style yields excellent results. We found everything we needed at the Japanese supermarket – a great store but pretty crowded on a Saturday afternoon – including a beautiful set of large shiny black bowls. Maxence prepared all of the ingredients ahead, and started the actual cooking after we were done with the first course.
We all enjoyed this very much : the eggs, still a little runny, have a creamy texture that complements the strips of chicken very well ; the shiitake pieces are their chewy and tasty selves ; the chives are very aromatic ; and all these elements, together with the excellent California rice, make for a very satisfying dish. With the added bonus automatically awarded to anything served in a bowl and eaten with chopsticks.
Which Came First Donburi
– 4 dried shiitake mushrooms
– 1/4 tsp instant dashi, diluted in 1/2 C cold water (dashi is a Japanese soup stock, that includes bonito flakes and kelp. It can be found powdered in Asian food stores. Substitute chicken stock if you can't find any.)
– 1/4 C soy sauce
– 2 Tbsp mirin (rice wine)
– 1 tsp sugar
– 150 g chicken breast
– 1 small leek
– 6 eggs
– 600 g California medium grain rice
– 2 Tbsp finely chopped fresh chives
(Serves 4.)
Place the mushrooms in a small heatproof bowl, and cover with boiling water. Find out that your bowl is indeed more or less heatproof, but that it isn't exactly waterproof, because of the large crack running all around it. Realize that boiling water is leaking on the kitchen counter, swear once or twice, replace the goddamn bowl and wipe the counter with a towel. Let stand about 20 minutes or until just tender, while you chop and prepare the rest of the ingredients. Drain, discard the stems and halve the caps.
Slice the leek finely, set aside. Slice the chicken finely, set aside. In a medium bowl, break the eggs and beat lightly with a fork. The recipe can be prepared ahead up to this point. Reserve all the ingredients, covered (the meat separated from the leek), in the refrigerator.
Cook the rice according to package instructions. Maxence rinsed it several times and cooked it in our rice cooker, and this gives the best results : moist and tender rice, kept warm until ready to serve.
In a large skillet or wok, bring the dashi, soy sauce, mirin and sugar to a boil. Add the chicken, leek and mushrooms. Cook, covered, for about 5 minutes, or until the chicken is tender. Pour the eggs over the chicken mixture, and cook, covered, over low heat, about 2 minutes or until the egg is just set.
Bring water to a boil in your kettle, and pour a little boiling water in each serving bowl to heat them up. Throw out the water, divide the rice among the bowls, top with the chicken mixture, and sprinkle with chives.