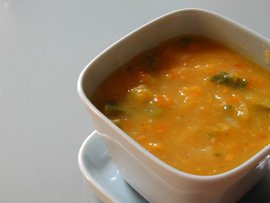 [A Simple Soup]
Is the weather cold and chilly and rainy and overcast (check all that apply)? Does it make you a little gloomy? Have you somewhat over-indulged during the holidays? Do you feel a little guilty? These are all perfectly benign symptoms, don't you worry. All you need is a nice, warm, chunky bowl of soup.
The recipe that follows is not set in stone by any means. I just made it with these vegetables because they were the ones I had on hand, leftover from other recipes. But somehow, this random little group of marooned veggies turned out to form the A-team for this lovely mid-winter soup, subtly sweet and fragrant — mashed to perfection by the newly acquired super duper presse-purée.
You will notice that I have flavored the soup with the Bed of Roses spice rub, brought to us by The Cape Herb and Spice Company, a South-African producer I've mentioned before. This fabulous spice mix was sent to me by Santa Claus in a bountiful package of foodie goodies. (Did you know that Santa Claus is actually a she and lives in NYC, that her name is Julie and that she reads C&Z? I didn't know either.) It comes in a pretty tin, and is a mix of no less than "ginger, roasted garlic, sea salt, caraway seeds, sugar, roasted sesame seeds, cumin, paprika, cassia, chillies, coriander, blackpepper, turmeric, mint, nutmeg, grains of paradise, rose petals and saffron"! (Um, yeah, why don't you try and recreate it at home?) Its aroma is very full-bodied and complex, and it went deliciously well in this soup. Thanks Julie!
Une Simple Soupe
– 4 medium sweet potatoes, peeled and cut in chunks
– 1 black radish, peeled and cut in chunks
– 1 carrot, peeled and cut in chunks
– 3 zucchini, sliced
– 1 onion, peeled and chopped
– 3 garlic cloves, chopped
– olive oil
– salt, pepper, bed of roses spice rub
(Serves 4.)
Heat a little olive oil in a large saucepan. When the oil is hot, add in the onion and garlic, and cook over medium heat until limp and translucent. Add in the other veggies, all except the zucchini. Season with salt, pepper and the spice rub. Pour in water (cold or room-temp is fine) to just cover the veggies.
Cover with a lid, bring to a boil, and simmer for fifteen minutes (start counting when the water boils). Add in the zucchini, and cook for another five to ten minutes. Test the tenderness of the vegetables with the tip of a knife, and keep simmering until they reach the desired consistency, whether you want them al dente or very tender.
Taste the soup (caution, it will be very hot — but you know that, right?) and adjust the seasoning. With a potato masher, a blender, a food processor, or at the very least a fork, mix the soup to your liking — chunky or smooth. Serve warm, with thick slices of toasted bread. Even better the next day.