In the very early days of this year, I was invited to lunch by a blogger-friend*. In preparation for the meal, she said two promising things: "I hope you like Chinese food" and "Come hungry."
In her pretty apartment filled with lovely things to look at — postcards and drawings and old vinyls and slim books with soft covers — she treated me to a cornucopian spread of Chinese dishes, all of them family recipes from her mother's kitchen.
Among these were her Cantonese-style marinated pork ribs (siu pai gwat), sticky and lightly sweet in their caramelized protein crust, and marvelously soft underneath, so soft you could pull the bones out of your mouth neatly, with nary a shred of meat left on them. Paired with a bowl of steamed white rice from her adorable rice cooker — a doll-sized version I have not been able to shoo out of my covetous mind — it was an absolute delight.
Sticky and lightly sweet in their caramelized protein crust, the ribs were marvelously soft underneath, so soft you could pull the bones out of your mouth neatly, with nary a shred of meat on them.
The wonderful thing about being a guest at a blogger's table is that there is a good chance that whatever you've eaten and loved has been featured on their site, or will soon be, so you don't even have to badger them for a recipe.
And indeed, this one had.
Although the recipe is very simple — it's just a matter of marinating and then roasting the meat in the oven — it took me a few weeks to muster the ingredients needed for the marinade. But when Maxence and I decided to trek over to the 13th arrondissement (where the largest Paris Chinatown is) for dim sum one Saturday, a quick dip inside Paris Store turned up the two missing ingredients.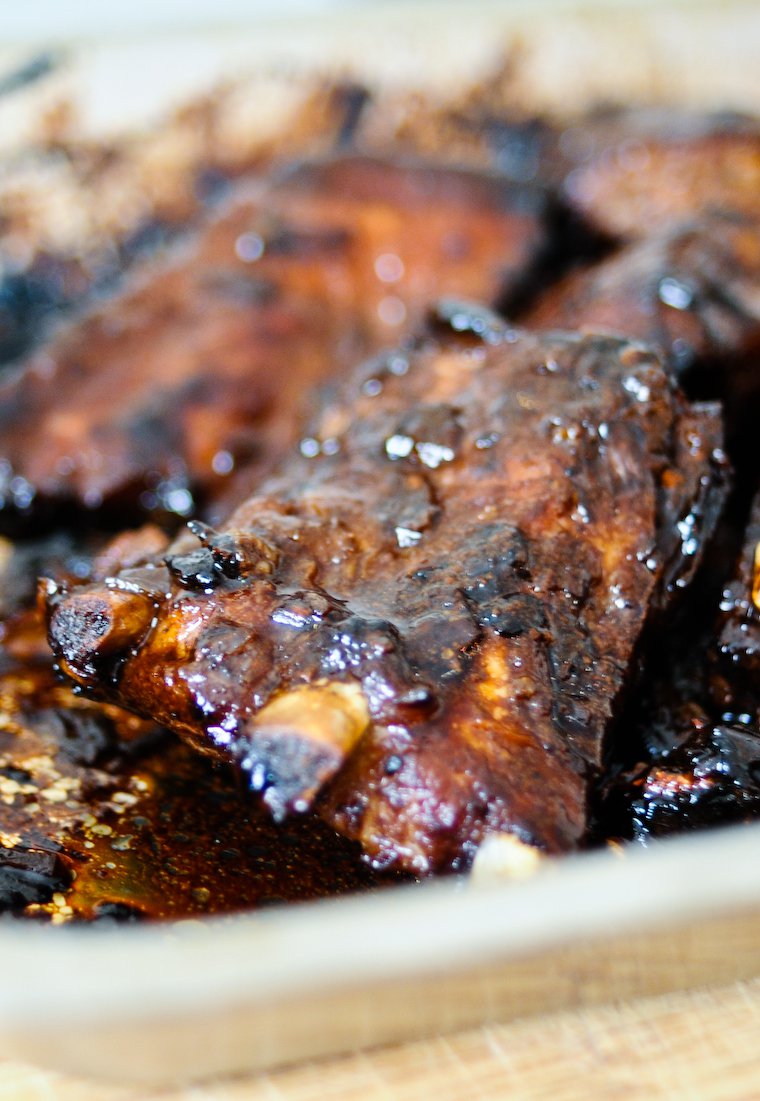 A week later, having purchased some pork ribs — travers de porc in French — from my butcher**, I set out to follow the recipe. I lowered the oven temperature a bit, and found that it would have been good to cover the dish for the first half of the baking (as I recommend in the recipe below) to avoid excessive coloring, but aside from those details it was a smooth ride.
I cooked some short-grain white rice and made a spicy cucumber salad with rice vinegar, sesame oil and garlic, and we sat down to a felicitous lunch.
The next day, I used the leftover rice and meat to make (what else?) fried rice, with radish leaves stirred in. I also kept the bones in the freezer for my next tonkotsu ramen, happy as ever to be getting three different dishes out of one hunk of meat.
* I'd brought her a round of starter bread slashed in her initial — or rather, the inital of her nom de plume — and a little jar of my starter. She later made a wonderful drawing of that loaf, and then embarked on her own bread-baking adventures with her freshly baptized starter, Anatole.
** I encourage you to seek out ethically raised pork meat from a provider who can answer your questions. The overwhelming majority of pork meat available in Western countries comes from concentrated animal feeding operations that have disastrous consequences on the environment, their workers, animal welfare and human health. To learn more, you can for instance read Jonathan Safran Foer's book Eating Animals.

Have you tried this? Share your pics on Instagram!
Please tag your pictures with #cnzrecipes. I'll share my favorites!
Chinese Marinated Pork Ribs Recipe
Ingredients
1 kilo (2.2 pounds) pork ribs, organic and/or from a provider you trust
4 tablespoons hoisin sauce (more info)
4 tablespoons oyster sauce (more info)
2 tablespoons soy sauce
2 tablespoons rice wine (Mingou recommends Shao Hsing Hua Tiao Chiew; I used a Japanese cooking sake)
a thumb-sized knob of fresh ginger
3 scallions
2 tablespoons runny honey
Instructions
Start marinating the meat the day before. Cut the ribs in about 6 equal pieces. In a medium bowl, combine the hoisin sauce, oyster sauce, soy sauce and rice wine. Add the meat and turn the pieces to coat well. Cover with plastic wrap and place in the fridge.
The next day, remove the meat from the fridge about an hour before baking, and preheat the oven to 180°C (360°F).
Transfer the meat and marinade to a baking dish large enough to accommodate the meat in a single layer. Slice the ginger in thin slices (scrub it first, but don't bother peeling it), mince the scallions, and add to the dish. Cover the dish loosely with foil.
Insert the dish in the oven and bake for 2 hours, turning the meat regularly and basting it with its juices. Remove the foil after the first hour, turning the meat more frequently for even browning.
Brush the meat with the honey and return to the oven for another 10 minutes.
Slice the meat between each bone, and serve over steamed rice (I generally make 120ml or 1/2 cup uncooked rice per person), with a cucumber salad.
Notes
https://cnz.to/recipes/meat-charcuterie/chinese-marinated-pork-ribs-recipe/
Unless otherwise noted, all recipes are copyright Clotilde Dusoulier.