I am not sure why I thought buying beef cheeks in mid-July was a good idea.
It was a crime of opportunity, really: I was returning to the farmers' market at the Batignolles for the first time in a while (having a second baby will do that to you) and I was eager to pick up organic meat from one of the farmers there, not quite knowing when I'd have a chance to go again.
Fresh organic meat is still inexplicably hard to find in Paris, as most butchers — even the fancy, pricy ones — offer conventional meat only. It may be well raised and from smaller farms, though it's always hard to know for sure, but the organic certification is never a selling point.
I stopped by one of my favorite meat stalls at the greenmarket, one run by a boisterous butcher lady who comes with her young apprentice and her teenaged daughter. I spotted a beef cheek in the display case, and set my heart on it immediately: it's one of my favorite cuts for braised dishes, but it's a little-known one that you usually have to special-order. It's also fairly cheap, compared to other stew-friendly cuts, but it has lots of flavor and a rich, satisfying texture brought on by the high collagen content.
Beef cheek is fairly cheap, compared to other stew-friendly cuts, but it has lots of flavor and a rich, satisfying texture brought on by the high collagen content.
The butcher said, "Do you want the entire cheek?" and I said, "Sure!" not having any notion of how big that would be. I watched her trim and prepare the whole thing, and ended up with a good four pounds of meat.
A great purchase by any cook's standard, except… we were in the middle of a heatwave and the last thing anyone wanted to eat was braised beef cheeks. Thankfully, I was able to find room in my tiny freezer to stash the package away, and dutifully updated the list I maintain to keep track of my frozen supplies so things don't camp in there for a decade. (Do you do the same? I recommend it.)
Fast forward a few weeks, and I was patting myself on the back for such accidental preparedness. In the midst of the hectic, my-eldest-is-starting-school, my-youngest-is-starting-daycare, I-have-a-zillion-projects-I-want-to-work-on weeks, I was able to put together this incredibly aromatic, soul-warming spiced stew in a matter of minutes.
I use a pressure cooker for this recipe, which saves a significant amount of time and means the stew is ready in — wait for it — an hour. You can, however, prepare it in a Dutch oven or a slow cooker: the active time is just as short, but the meat will take longer to cook. And in all cases, I recommend you prepare it the day before; all stews benefit from a good night's sleep.
The amounts listed serve a gang — a gang of eight, to be precise — which makes it perfect for a fall dinner party, or means a family can get two to three dinners out of it. If you're the kind of person who dislikes eating the same thing two days in a row, you can transform the dish on subsequent nights: shred the meat with two forks and toss it with pasta and freshly grated cheese, or layer it across the bottom of a baking dish, top with mashed broccoli and breadcrumbs, and place under the broiler of the oven to make a green hachis parmentier.
And of course, leftover servings may be frozen for another pat-on-the-back dinner down the road.
Join the conversation!
Have you ever cooked with beef cheeks? Is there another semi-obscure cut of meat that you love? Is it stew season yet where you live?
PS : Perfect mashed potatoes to serve with this, and a lovely plum tart to finish.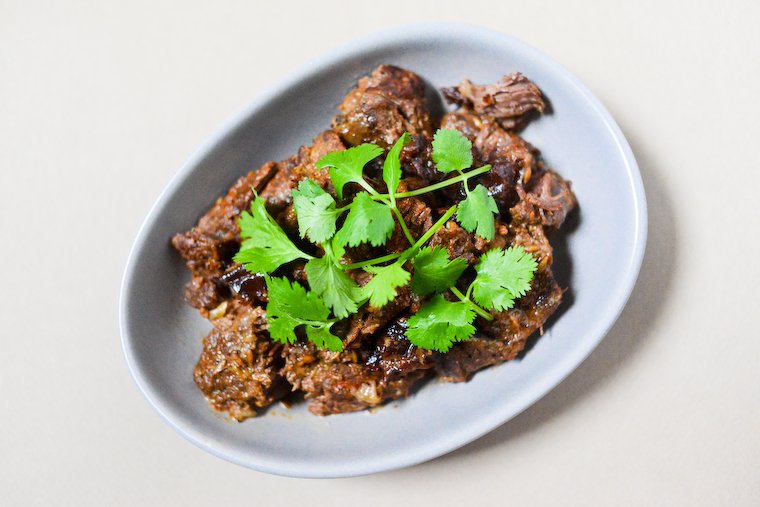 Have you tried this? Share your pics on Instagram!
Please tag your pictures with #cnzrecipes. I'll share my favorites!
Spiced Beef Cheek Stew Recipe
Ingredients
1.8 kilos (4 pounds) beef cheek (see note for substitutions)
2 tablespoons smoked paprika (hot or not, as you prefer)
2 tablespoons ground ginger
2 tablespoons ground cumin
2 teaspoons fine sea salt
1 teaspoon ground cardamom
1 teaspoon ground chili pepper (optional; skip if you've used hot smoked paprika)
1 teaspoon freshly ground black pepper
1 medium red onion, finely sliced
8 prunes, pitted and chopped
3 tablespoons tomato paste
1 tablespoon balsamic vinegar
2 cups homemade stock (water will do if you don't have it)
Fresh cilantro or flat-leaf parsley, for serving
Instructions
Cut the meat into 5-cm (2-inch) cubes and place at the bottom of a pressure cooker, Dutch oven, or slow cooker.
In a small bowl, combine the smoked paprika, ginger, cumin, salt, cardamom, chili pepper if using, and black pepper. Add to the pot and stir well to coat all the pieces of meat.
Add the onion, prunes, tomato paste, and vinegar, and stir to combine.

Pour in the stock.

If using a pressure cooker:

Close the pressure cooker tightly, place on the stove over medium heat, and bring it up to full pressure. Lower the heat to just maintain the pressure and cook for 40 minutes. Allow the pressure to release naturally.
Check that the meat is fork-tender; if it's not, bring the cooker back to pressure and cook for an additional 5 minutes before checking again.

If using a Dutch oven:

Cover the pot and bring to a simmer over medium heat. Lower the heat to maintain a simmer and cook for 3 hours, until the meat is fork-tender, stirring from time to time and adding a bit of water when the liquids run low.

If using a slow cooker:

Close the cooker and cook on low for 6 to 7 hours, until the meat is fork-tender.

In all cases:

Remove the meat from the pot with a slotted spoon and set aside.
Return the pot to medium-high heat (if using a slow cooker, transfer the sauce to a large pan), bring to a boil, and allow the sauce to reduce until velvety. Add the meat back into the sauce and warm up as necessary.
Serve over perfect mashed potatoes or steamed rice, with cilantro on top and your choice of green vegetable on the side (roasted zucchini, green beans, sautéed kale...).
Notes
If beef cheeks are unavailable, substitute another stew-friendly cut, such as chuck roast; see a full list of possibilities.
Like all stews, this one gets even better the next day and the day after that.
It also freezes perfectly. Allow to thaw in the fridge for a day before warming back up over gentle heat.
https://cnz.to/recipes/meat-charcuterie/spiced-beef-cheek-stew/
Unless otherwise noted, all recipes are copyright Clotilde Dusoulier.