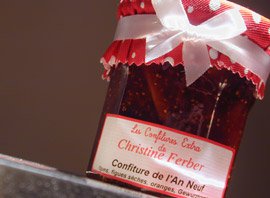 [New Year Jam]
Just a couple of days ago, I happened to be around La Grande Epicerie de Paris, the quite huge gourmet food store attendant to the store Le Bon Marché. This kind of place works like a magnet on me, and although I was laden with different heavy items to carry, I still went in to browse around. This is really heaven for food lovers, but I didn't stay long : there is only so much cumbersome aisle space negociation even I can take, as filled with tempting things as said aisles may be.
I did, however, have time to pick up the cutest jar of jam in history, with its little red polka dot hat and white knot. Christine Ferber is known as "la fée des confitures", the jam fairy. I have mentioned her before, and how she makes fruit jams the old-fashioned way, in her little Alsacian village of Niedermorschwihr (pronounced whichever way suits your fancy). I have bought a couple of jars of her creations in the past, one Nougabricot (Apricot jam with honey and bits of almonds and pistachios) and one Framboise-Chocolat (Raspberries and Valrhona Guanaja chocolate). Both were memorably succulent.
She makes a lot of "plain" fruit jams (blueberry, blackcurrant, plum, raspberry…), but I'm more interested in her unusual flavor pairings. And this time, it's a seasonal flavor that caught my eye, this "Confiture de l'An Neuf" (New Year Jam), made with fresh figs, dried figs, oranges and Gewürztraminer (an Alsacian white wine). On New Year's day, it is the tradition in some families to give loved ones small gifts, "des douceurs pour que l'année soit douce" (sweet things for a sweet year). These sweet things would traditionally be dried fruits and oranges, hence the jam's name! We don't do this in my family, but I figured I might as well take things into my own hands, and got myself this douceur.
I gave my little jar a taste test yesterday, and it is really as good as it sounded. I've had fig jams before, but they were often a bit thick and sticky, or so sweet it overpowered the fig flavor. But there is no such objection here : it has the smoothest texture, with delicious strips of figs and orange rind. The taste of the fig is intact, you can actually tell that there is both fresh and dried fig in it, and the wine gives it a subtle tingly taste.
If this jam is any indication, 2004 is going to be very sweet indeed.
La Grande Epicerie de Paris
38, rue de Sèvres
75007 Paris
01 44 39 81 00
Mon to Sat, 8:30am to 9pm