I adore speculoos, those spice-rich, snap-crisp cookies from Belgium.
They are made into a very popular and very decadent cookie spread — kind of like a speculoos incarnation of Nutella, i.e. undeniably palatable but nothing I'd want to promote from a nutritional standpoint — and I myself was inspired to turn them into sweet dumplings.
I love the idea of bringing that irresistibly sweet and spiced flavor to plump and tender little pillows, and I also like the North-meets-South twist of such a concoction, as the Belgian cookie and the Italian dumpling join forces in the same dessert cup.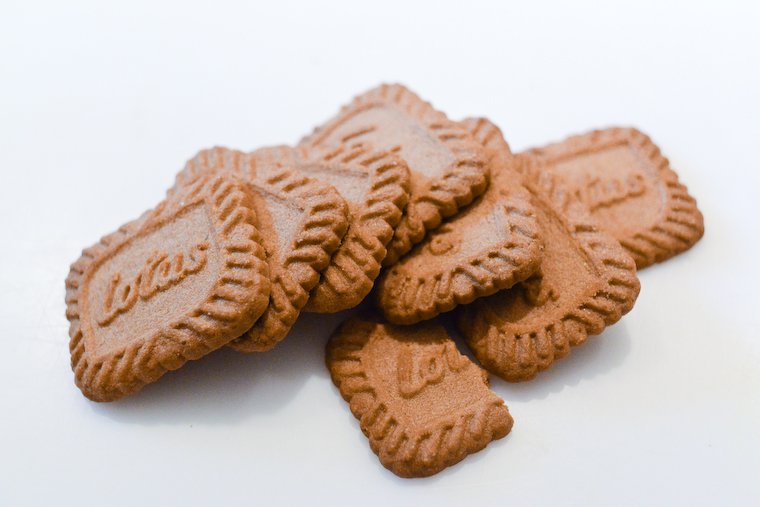 You'll find that it's a really fun recipe to make, too, as you crush the speculoos with a rolling pin (stress reliever!), pipe little logs of batter to poach in simmering water, and sear the gnocchi in butter to give them a golden crust.
You can prepare the batter the day before if you like, but it's best to poach and sear just before serving. Speculoos gnocchi are best eaten warm, with a dollop of crème fraîche that will slowly melt, and a light shower of freshly grated cinnamon.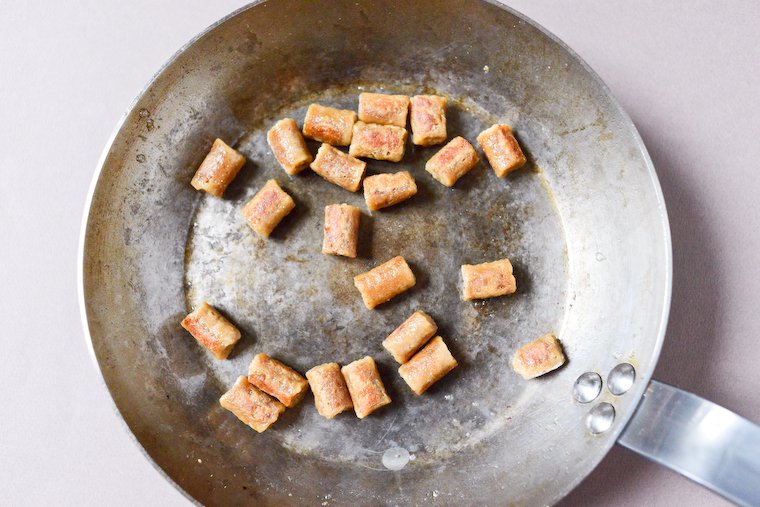 This is such a good recipe that my friend and super talented video journalist Katie Quinn suggested we create a video around it. It was a treat to do this with her, and the resulting video is now on her YouTube channel, which you must subscribe to this minute. It was also picked up by FWx, Food & Wine's lifestyle site for millennials.
PS: Oh, and don't miss my recipe for buckwheat speculoos, a wonderful treat any time of year, but particularly fitting during the holiday season!
[sc:cinnamon_note]

Have you tried this? Share your pics on Instagram!
Please tag your pictures with #cnzrecipes. I'll share my favorites!
Ingredients
50 grams (1 3/4 ounces) speculoos cookies (substitute graham crackers, ginger snaps, or other such crispy, spice-rich cookie)
30 grams unrefined cane sugar, such as rapadura
1/4 teaspoon salt
1 large egg
30 grams (2 tablespoons) crème fraîche or mascarpone cheese
90 grams (3/4 cup) all-purpose flour
2 teaspoons unsalted butter

To serve:

Cinnamon [sc:cinnamon_link]
Crème fraîche or vanilla ice cream
Instructions
Grind the speculoos finely in a food processor, or just put the cookies in a freezer bag and run a rolling pin over them until finely ground. You should get about 1/2 cup of crumbs.

In a medium mixing bowl, combine the crumbs with the sugar and salt. Add the egg and crème fraîche, and whisk together well.

Add the flour and blend it in with a fork; the batter will be thick.

Pour the batter into a pastry bag with a straight 1-cm (1/3-inch) tip, or a thick freezer bag on which you'll snip a 1-cm (1/3-inch) opening in one corner. This can be prepared up to a day ahead; keep refrigerated.

Bring water to a simmer in a wide saucepan. Squeeze the pastry bag gently over the simmering water and, using a paring knife, cut off little logs of dough so they'll fall into the simmering water as you go. Be careful not to burn yourself.
As the gnocchi fall into the water, some will stick to the bottom of the pan. Nudge them gently with the knife to loosen.
Cook the gnocchi for about 4 minutes; they're ready about 2 minutes after they've bobbed up to the surface.

Remove from the pan with a slotted spoon and drain thoroughly in a colander.
Melt the butter in a skillet. Add in the gnocchi and sauté for a few minutes, tossing the gnocchi every minute or so, until golden all over.

Divide among 4 bowls, add a dollop of crème fraîche to each bowl, and grate a little fresh cinnamon on top. Serve warm.
https://cnz.to/recipes/desserts/speculoos-gnocchi-recipe/
Unless otherwise noted, all recipes are copyright Clotilde Dusoulier.