February 2 is La Chandeleur (Candlemas), a holiday that welcomes the first signs of spring. In France, it is traditionally celebrated by making crêpes, with a variety of superstitious little tricks to bring happiness and prosperity upon your household.
One of those tricks involves holding a coin in your left hand while you flip the crêpe pan with your right hand: if all goes smoothly and you haven't dropped the crêpe or the coin or killed anyone, chances are you're lying. But if you're not, that is a very good omen. Another one is to throw the first crêpe of the batch (which is always a dud anyway) on top of a high cupboard, and leave it there for the rest of the year. Well, do you want good luck or no?
If you're experiencing sudden pangs of anguish because you missed La Chandeleur, fret not: Mardi-Gras is coming soon (refer to this page to know this year's date), and the French like their crêpes so much that they eat them to celebrate Mardi-Gras, too!

The recipe I use for crêpes was handed down to me by Maxence's mother a few years ago. We had our own little crêpe party with our neighbors on Saturday night (the perfect equidistance from La Chandeleur and Mardi-Gras entirely fortuitous) and enthusiastically tested a variety of toppings — from nutella to crème de marron to maple syrup to lemon juice — only to conclude, as we unfailingly do, that beurre-sucre (salted butter and sugar) is really your best bet.
(Check my recipe for Savory Buckwheat Crêpes, , or galettes de sarrasin.)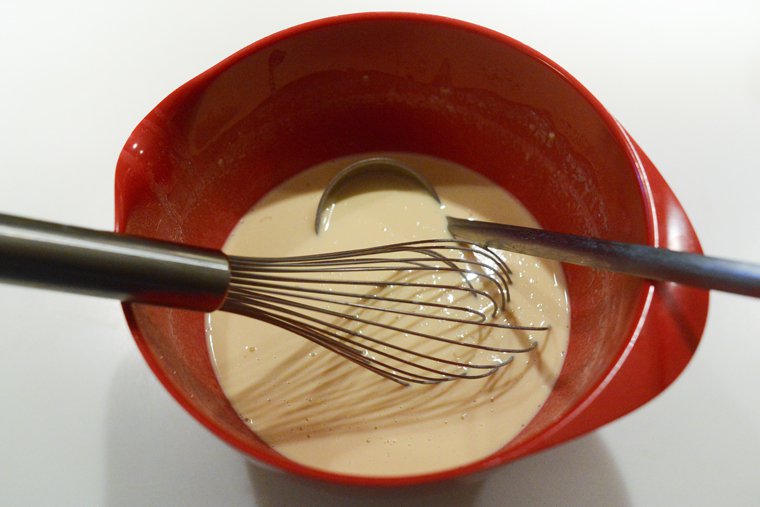 Have you tried this? Share your pics on Instagram!
Please tag your pictures with #cnzrecipes. I'll share my favorites!
Ingredients
250 grams (2 cups) flour
1/4 teaspoon fine sea salt
50 grams (1/4 cup) sugar
3 eggs, lightly beaten
240 ml (1 cup) milk (dairy or non-dairy)
240 ml (1 cup) purified water
2 teaspoons pure vanilla extract
2 tablespoons rum (optional)
vegetable oil for cooking
Instructions
Pour the flour in a large mixing bowl, and form a well in the center. Add the salt, sugar, vanilla, and eggs into the well. Whisk gently in the center so the eggs will blend with part - not all - of the flour. Pour in the milk and water slowly, whisking as you pour. Keep whisking until all the flour is incorporated; the batter will be thin. Add the rum, if using, and whisk again. Cover the bowl with plastic wrap, and refrigerate for 2 hours, preferably overnight.
Remove the batter from the fridge and whisk it again. Set a thick-bottomed, low-rimmed skillet over high heat. Wait until it is very hot, enough to make a drop of water sizzle. Spray the pan with good-quality vegetable oil, or dip a folded paper towel in a ramekin that contains a little vegetable oil, and wipe it over the pan to grease it lightly (watch your fingers).
Ladle a little batter in the pan, just enough to cover the pan thinly, and swish the pan around in a slow circular motion so the batter forms a round disk. Cook for 40 seconds, or until the edges start to turn golden and pull slightly away from the sides. Run the tip of a hard spatula around the crêpe to loosen, peek underneath, and flip the crêpe when you see that it is nice and golden. Cook for 20 more seconds on the other side, or until golden as well, and slip out of the pan onto a plate. (Note that the first crêpe of the batch is usually a dud.) Grease the skillet again every two or three crêpes.
Serve the crêpes from the skillet as you make them, or pile them on a heatproof plate set over a saucepan of simmering water, covering the crêpes with foil until ready to serve. The batter and crêpes will keep for 2 to 3 days in the fridge, tightly covered.
Notes
This recipe can be used for savory crêpes also: just hold the sugar, vanilla and rum.
https://cnz.to/recipes/breakfast/french-crepes-recipe/
Unless otherwise noted, all recipes are copyright Clotilde Dusoulier.