My favorite kind of cookbook is the kind that provides you with exciting little jolts of "Why didn't I think of this sooner?" As long as a book generates at least one of those light bulb moments, however tiny, I consider my money well spent.
The one-egg omelet I want to tell you about today is one such brilliant idea, coming from Nikky Duffy's River Cottage Baby and Toddler Cookbook, a book I really really like.
Geared toward parents of a young child — you'd gathered that much, I'm sure — it begins with a thorough section on how to feed one, which happens to be in line with my own views on this thorny topic*. But the bulk of the book is devoted to recipes designed so you can cook the same thing for the children and the grown-ups in your household, explaining how to adapt the dish to the former and the latter so everyone's happy.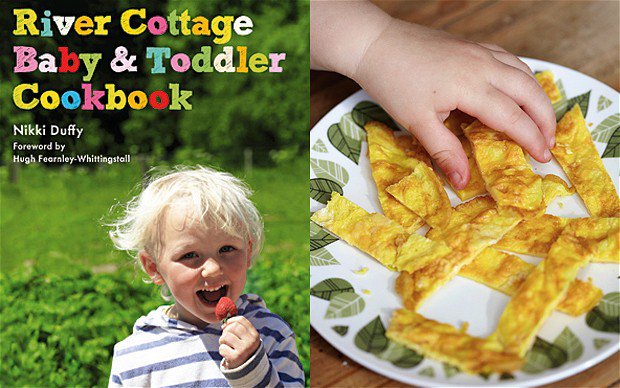 It is full of simple, nutritious, yet tempting dishes — courgette polpette, pork and apple hash, spinach and onion puff tart — organized by season, but the one I've soonest adopted is a year-round basic she calls the Mini Omelette, which is simply an egg, beaten and cooked undisturbed in a skillet, with or without a touch of cheese and herbs.
This results in a thin little egg crêpe, golden-brown and pliable, that you can use in all manner of ways:
– Cut into strips, or rolled up and sliced, to give to a young child,
– Coated with the spread of your choice (say, beet hummus or peacamole or muhammara), rolled up, and eaten as a lovely snack, or sliced and served as a pretty apéritif nibble, or added to top a green salad,
– Garnished with the ingredients of your choice (especially a crunchy salad such as the Ginger and Dill Cabbage Slaw or the Grated Carrot Salad with Avocado) and use like a tortilla, folded up like a taco,
– Cut into half-moons, to be stuffed and rolled and wolfed down like a temaki.
All of these are very transportable ideas, and since the one-egg omelet can be eaten hot or cold with equal delight, it is your lunch box's new best friend.
I will note that I don't use a nonstick skillet for this; in fact, I no longer own a nonstick skillet. What I use for eggs nowadays is this very sturdy, nicely hefty, French-made iron skillet from De Buyer that I bought last year, and is more nonstick the more I use it.
Join the conversation!
What other uses would you dream up for this one-egg omelette? And what's the latest light bulb moment you got from a cookbook?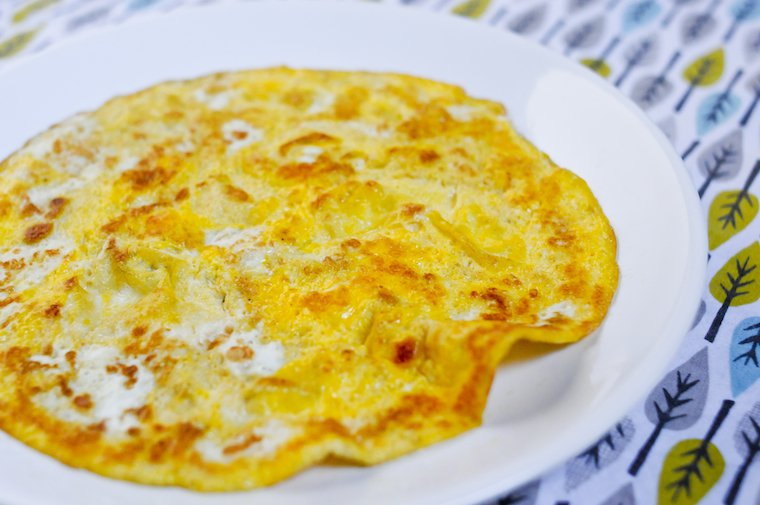 * If you want to get a better idea whether this book is for you, you can read this Q&A with the author.

Have you tried this? Share your pics on Instagram!
Please tag your pictures with #cnzrecipes. I'll share my favorites!
The One-Egg Omelette Recipe
Ingredients
1 large egg
a pinch of fine sea salt
1 to 2 teaspoon grated cheese, such as Parmesan, Comté, or Gruyère cheese (optional)
1 to 2 teaspoons finely chopped fresh herbs, such as flat-leaf parsley, cilantro, chervil, chives, or tarragon (optional)
1 teaspoon olive oil or other cooking oil
Instructions
Crack the egg into a small cup, add a pinch of salt, and the cheese and/or herbs if using. Beat with a fork to combine -- just a few seconds, or a little longer if you like your omelet a bit more mousse-like.
Heat the oil in a small skillet, about 20 cm (8 inches) in diameter, over medium heat. When the oil is hot (test by sprinkling tiny droplets of water into the skillet; if it sizzles, it's ready), pour in the egg mixture and swirl the pan around so the egg covers the entire surface.
Cook for a minute or two, until the edges of the omelet are set. Use a spatula to lift the omelette delicately and check the color underneath. When it looks golden brown, flip it over, and cook for 1 minute on the other side.
Slide onto a serving plate and use as desired (see suggestions above).
https://cnz.to/recipes/eggs/the-one-egg-omelet-recipe/
Unless otherwise noted, all recipes are copyright Clotilde Dusoulier.